--
"OUTSTANDING POST RWI AWARD"
STAINLESS STEELS FOR WATCHES GEN AND REPLICAS
TECHNICAL STUDY
INTRODUCTION
The main purpose of this Thread is to select the Stainless Steel (SS) more appropriate to be chosen when you are going to buy a replica.
As you can consult in my public profile at this forum, I'm an engineer, and I have worked for many years using and evaluating all kind of materials including Stainless Steels (SS). I would want to apply my accumulated experience during those years, doing an evaluation of the SS which the good replicas are made of.
The SS you can find at the dealer catalogues and in the good replicas market in general are the following:
SS AISI 316L, 316F, 440, 904L
. All them are SS austenitic type, with high corrosion resistant properties, and good machining and polishing performance.
SS 440
Firstly, I have to say that there are not replicas made with SS 440. All dealers know that perfectly. Therefore, the dealer who indicates replicas made of SS 440 on his catalogue, be sure, he is lying to us and we cannot trust him.
SS 904L
There are not at all replicas made with SS 904L
either. All dealers know that, it is economically impossible making a replica with 904L. Therefore, the dealer who indicates SS 904L on his catalogue, be sure, he is lying to us and we cannot trust him absolutely.
The SS 904L is the steel used by Rolex for its watches. It is a SS with a high content of Ni, Cr and Mo and it costs almost three times more than the SS 316 series. Anyway, we will speak about it in this study for comparative purposes.
SS 316L & 316F
At this moment (June 2011), most of the good quality replicas (and watches in general) in the market are made of SS 316L.
Now, the makers are increasing the use of the SS 316F.
Currently, the replicas made of 316F are more expensive, and the makers and dealers, in a little deceitful way, are trying to convince us of they are better replicas. Below, we will discuss about this matter.
Sometimes, mainly in Rolex replicas, the dealers are offering, for the same replica model, two versions of material: SS 316L, and a version made of SS 316F proclaimed as the super-white, Ultimate, Best …
Therefore, we are going to analyze the characteristics of these two SS and to compare them with the characteristics of the SS 904L. That will be very useful in order to establish which is the best SS for Rolex and other brands replicas.
CHEMICAL COMPOSITION
We are starting with the Chemical Composition which is the "identity card" of a material. That will be the key to study and determinate the physical properties of the three analyzed SS.
An alloyed steel is basically composed of Iron (Fe) and Carbon (C) and a group of other chemical elements which give it a certain kind of physical properties.
In the case of Stainless Steel, the chemical elements which determine the stainless quality are mainly Nickel (Ni) and Chromium (Cr), helped by other elements like: Mo, Cu…
Besides, there are other elements which the content must not exceed a certain percentage.
We are indicating in the below TABLE, the Chemical composition of the three SS we are studying.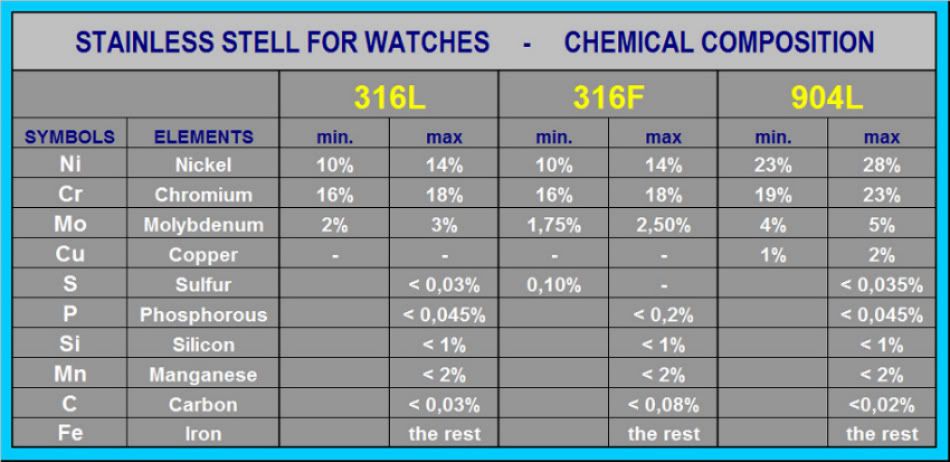 As you can find in the above TABLE, each SS has a fixed percentage of a group of chemical elements. Which give it, as above said, a certain kind of different physical properties.
A similar Chemical composition means normally similar physical properties, the differences on percentages of some elements will give the physical properties differences.
In the case of watches manufacturing, the physical properties that attract our interest are as follows:
-
COLOUR & BRIGHTENESS-MACHINING AND POLISHING PERFORMANCE
-
HARDNESS (scratch resistance)
-
CORROSION RESISTANT PROPERTIES
All these properties are given by the percentage of some elements or their combination.
COLOUR & BRIGHTNESS-MACHINING AND POLISHING PERFORMANCE
We are going to analyze these characteristics jointly because they are very related among them.
We will study here the differences between the colour and brightness of the three SS. But, from this moment, I must say that the differences concerning visual results you could see are very subtle and they depend not only on real colour, but other different factors. Besides, we cannot forget, in this case, the subjective interpretation (the possible differences will change a lot depending on the observer)
The real colour of a SS (important characteristic in the case of the replicas) depends mainly on the contents of Ni and Cr (due to their high percentage) and on less proportion on other elements such as Mo and Cu.
Nickel is more "yellowish" than Iron, but Chromium are more "white" and shiny.
The higher Ni content, the more "yellowish" will be the SS. This yellowish colour is partly compensated for the "white" and more shiny character of the Cr contained in the SS.
From objective laboratory tests the SS 904L is a little bit more "yellowish" than the two SS 316. That is due to its higher content of Ni. Although, it retains a very shiny character due to its high content of Cr.
Concerning SS 316F and 316L, they almost have the same chemical composition (see Table). The 316F has a bit more quantity of no metals C, S and P, but they don't have influence on colour and shine. The 316F also has a little less Mo. Therefore, you cannot expect significant differences on colour and shine due to above mentioned contents.
Some people (and makers and dealers agree) say the 316F is more "white" and shiny. Supposedly, due to it has less content of Mo. But this is a statement without foundation for the below considerations.
As you can see on the composition Table, the SS 316F can have a Mo content between 1,75% and 2,5%, and the SS 316L between 2% and 3%. Thus, you could have a 316F with 2,4% of Mo and it would be an authentic 316F, and you could have a SS 316L with 2,1% of Mo and it would be an authentic 316L. In this way, if the reason of the "witheness" is the percentage of Mo, in the case above mentioned we would have a 316L more "white" than the 316F.
Then, why the SS 316F has a reputation as more "white" and shiny SS?
The reason is very simple: it is a matter of machining and polishing performance.
A higher tolerance in content of P and, mainly, the relative high percentage minimum of Sulfur (S=0,1% min. see Table) give to the SS 316F a special gift for machining and polishing.
Really, at the industry in general, the SS 316F is considerate as a 316L version with more easy machining and polishing. We can say that SS 316F is a "free machining" version of SS 316L.
Concerning "whiteness" and brightness visual results, it is very important bear in mind this special performance. In fact, with the same work of polishing, the 316F can reach a visual result more "white" and shiny. The differences will be little and, with a more intense and careful polishing, the 316L will have the same visual results in practice.
Above mentioned machining and polishing performance of the SS 316F is an advantage for makers who will be able to achieve the same finish quality with less costs. There is another advantage for makers: a SS "free machining" saves money in machining tools. Therefore, we should buy these 316F replicas cheaper.
But, let's take it step by step, this interesting matter will be the leitmotiv of the Final Conclusions.
From a subjective point of view (the most important in practice), the visual results colour-brightness of a metal doesn't depend only on the real colour, it depends on polishing or brushing degree, on the surface shape of the piece and on the subjective interpretation of the observer.
In this regard, it is not the same a polished or a brushed surface. Let's take a Milgauss bracelet for example, the polished mid links seem more "white" and shiny than the brushed external ones. A flute bezel of a Datejust, due to the light and reflections effect, will seem more shiny than a simply polished bezel of a Milgauss or Explorer
Besides above mentioned, the cleaning degree of the watch surface has a great influence on the visual results. A watch (rep or gen) will look like more shiny and "white" after a deep surface cleaning.
I like cleaning the watches because that enhances a lot their beauty (be careful with the gold plated replicas). Curiously, I feel the necessity of cleaning a replica when I'm going to wear it. However, it doesn't happen with the gens, except with my old gen Hublot MDM which improves a 50% with a soft soap cleaning. Surely, that happens because I think that the replicas need a support to seem gen and the gens don't need it.
In my opinion, if a SS is very slightly "yellowish" is not a problem, because that gives it a certain "nobility" (more like a "precious" metal and more like gen). Therefore, I prefer a SS very slightly "yellowish".
The low-grade replicas are made of low alloy steel and they are plated, by electrolysis, with a thin layer of Ni and over another thin layer of Cr, achieving a very "white" and shiny, but no "noble", finish. And these replicas have not good corrosion resistant properties.
As we can see by the above mentioned considerations, the SS 316L, 316F and 904L, although they have very little differences, they have, in practice, the same visual effect. Since there are other factors which have a noticeable influence on the visual perception: surface shape, kind of finish, cleaning… even subjective interpretation.
As a practical and definitive test
, I have compared side by side two Rolex replicas made of SS 316L (my DJII and DSSD, both from Noob) with three gen Rolex: my old gen Datejust Jubilee bracelet, my wife's old gen Datejust Oyster bracelet (as you can see all my gens are "old", because at this moment I buy only replicas) and my daughter's gen Explorer, and it is impossible, for all practical purposes, to appreciate significant differences.
In any case, if the comparison is not side by side it is absolutely impossible to establish any difference.
Therefore, it is not interesting to consider the SS 904L to make replicas, because it will not give advantages, neither economically nor visually.
We must admit that the visual aspect of a gen Rolex (mainly new) is awesome in quality and shine, but it depends mainly on the manufacturing quality and the finish and polishing degree applied by Rolex factory.
Thus, we can assert the SS 316L, 316F and 904L don't have significant differences on colour and visual aspect for all practical purposes. And, we will not get any advantage on colour and visual aspect using SS 316F instead a well finished and polished 316L.
HARDNESS
The hardness is a physical characteristic of materials which indicates its resistance to be scratched.
This characteristic is measurable, and thus, completely objective and there is not possibility of subjective interpretations.
There are some problems to establish the hardness of these SS. When you consult their hardness data you will find a lot of different results depending on makers, type of presentation (sheet, bars…) and other factors out of the goals of this study.
Fortunately, I have the above mentioned three gen Rolex and two replicas at my disposal. And I have been able to make some experimental hardness test with them.
The hardness experimental test is very simple: if a material "A" scratches a material "B": the material "A" is harder than "B".
In all carried out tests, the three gen Rolex scratched, without any room for discussion, the materials (case and bracelet) of the two replicas (now the back of my reps Rolex are full of scratches!).
Therefore, we can assert, without possible discussion, that the SS 904L of gen Rolex watches is harder than SS 316L of the replicas (Congrats. Rolex owners!!. How much have you paid for?)
Following the consulted sources, the average hardness of SS 904L is between 85-90 HRB (Hardness Rockwell B scale). On the gens Rolex, judging by the resistance which presents to be scratched should be near 90 HRB.
Following the consulted sources, for the SS 316L you can find results between 79 and 90 HRB. But, specifically for the SS of the replicas, judging by the lower hardness showed against SS 904L, we cannot expect a hardness higher than 82-84 HRB.
The SS 316F, as we know already, have, in practice, the same composition. So, we can expect the same hardness approximate. Some sources say the SS 316F are a little less hard than the 316L, perhaps due to a lower content of Mo. But you cannot expect great differences for all practical purposes.
In short, the winner is the SS of gen Rolex 904L with a hardness of approximately 90 HRB. The SS 316L and 316F would have a very similar hardness around 82-84 HRB.
Anyway, these SS 316L and 316F have enough hardness for the practical purposes into the watches manufacture. I mean that, despite their lower hardness against the 904L, they are not at the softness level of the reps made of Titanium (isn't it? Chronopassion owners?). These SS are perfectly useful. That is showed by the countless replicas and gen watches on the market made of these materials.
CORROSION RESISTANCE
This is also a measurable physical characteristic, like the hardness. But we need to define the environment where we wish a specific material is resistant.
A group of environments are compulsory for watch materials but others don't be applicable to watches in most of the cases.
A watch has to endure oxygen oxidation, human sweat corrosion, marine atmospheric environments, marine water corrosion, chemical products used in daily life…
In these cases all three SS are perfectly resistant and useful.
In the strict sense of corrosion resistance and in a laboratory level, the SS 904L, due to its higher content of Ni, Cr, Mo and the content of Cu on its composition, is more corrosion resistant in general than the two SS 316. Mainly in environments of strong reducing acids (sulphuric) and chloride attack, which usually are not useful in practice for watches. But SS 904L has also more corrosion resistant properties in warm and continuous sea water environments. In this cases, it will be more advisable the SS 904L.
As usually, I'm not meaning that the SS 316 is not useful in these environments, but the SS 904L is just better.
Curiously, the high content of Ni in the SS 904L of Rolex, could produce some allergic skin reactions in some sensitive persons.
Concerning the two SS 316. Due to its usually higher content of Mo, the 316L is slightly more corrosion resistant than the 316F.
The SS 904L would be better corrosion resistant, with some differences in extreme and warm sea water environments.
To be applied in watches the SS 316L is a little more corrosion resistant than the 316F.
PRICE
The price of a SS depends on the contents of "expensive" metals in its chemical composition: Ni, Cr, Mo, Cu…
Thus, the SS 904L, with its high content of Ni, Cr, Mo and also a bit of Cu, is almost three times more expensive than the two SS 316.
In the case of the two SS 316, if you bear in mind their composition, they are almost the same. Anyway, you can observe on the SS 316F less amount of Mo and more wide tolerances in contents of "impurities". Therefore, the price of the SS 316F should be lower or at the most the same than the SS 316L.
At this moment, due to the huge amount of SS 316L that makers are consuming, it is likely these makers buy the SS 316F at very good price, and, perhaps, they must buy the 316F a little more expensive. But this is a problem to be solved by the makers. In any case, it is not our problem and we cannot to pay for it.
FINAL CONCLUSIONS
SS ROLEX 904L
Concerning the SS 904L we can conclude saying as follows:
- Economically the 904L has not application to replicas manufacture.
- The 904L has more hardness
- The 904L has more corrosion resistant properties, mainly in extreme and warm sea water environments.
- Your visual appearance, colour and finish are very good and "noble"
It is worth making a watch with SS 904L?
In the case of the replicas, the answer is very easy and definitive: NOT AT ALL
In the case of a gen watch 50-100 times more expensive?
In the gen watches market, that is a question of: exclusiveness, marketing, excellence, glamour, maintenance for ages… So, in this case an only and simple answer doesn't make sense.
SS 316L vs. 316F
That is the most important of the conclusions and of this Thread.
Replicas made of SS316 vs. replicas made of SS 316F. Which do we have to buy?
Let's bear in mind some statements:
-
Concerning colour and polishing quality, the difference is that the 316F is easier for machining and polishing. Therefore, with less working time you could achieve the same visual results than using the 316L.
-
The 316L has the same hardness or even is harder than 316F.
-
The 316L has a little better corrosion resistant properties than 316F.
-
The 316L has, in practice, the same price than the 316F.
THE SS 316L IS MORE THAN ENOUGH SUITABLE AND ACCURATE FOR THE REPLICA MARKET, AND THE BEST CURRENT OPTION IN THE MARKET
Now, there is a strong trend, from the makers, to increase the use of the SS 316F
to get the same finish with less working time, in this way the makers can get more profit. Besides, don't forget that using the SS "free machining" 316F the makers save money in machining tools. Due to above mentioned, almost all replicas will probably be made of 316F in the future.
However, if we consult the market catalogues, we can see the replicas made of 316F are between 15-30% more expensive than replicas made of 316L
The dealers are keeping out of this matter (they say: "we sell what the maker make and we offer the characteristics that the makers inform"). But they are using the new SS arguments to sell more watches and to sell them more expensive. So, they don't get involved in this matter. They have not interest in fighting against that.
Since the cost of making a replica with SS 316F is lower than the same replica with SS 316L, we must not pay more for a 316F replica.
Therefore, this is a subject of interest to buyers and it must become a fight for our profit.
This is a work to start by ourselves and to follow from the forums. And we must reinforce this work directing and choosing adequately our purchases.
Now, we must try to achieve two options:
-
We could buy replicas made of SS 316F, with same quality than current 316L replicas, but with lower price
-
We could buy replicas made of 316F, with the same price than current 316L replicas, but with higher quality.
THE FINAL VERDICT
- WHEN DO WE HAVE TO BUY REPLICAS MADE OF 316F?
-
WHEN THEIR PRICES ARE LOWER THAN THE 316L REPLICAS
-
OR WHEN MAKERS GUARANTEE A BETTER FINISH IN GENERAL FOR THE SAME PRICE
.
-
NEVER IF THEY ARE MORE EXPENSIVE
Please note I'm not saying that The SS 316F is not suitable to make replicas. The 316F is a very good SS to make replicas and achieves a very high quality of finish and polishing.
If you have bought a replica made of SS 316F, be sure, you have a very high quality material and finish. But, sure you have paid a price higher than its real value.
What I mean is that we must not pay more money for a replica made of SS 316F!!
- WHAT SS DO WE HAVE TO BUY?
AT THIS MOMENT, WE MUST BUY ALWAYS THE VERSION MADE WITH SS 316L OF A REPLICA, FOR THE TIME BEING IT WILL BE CHEAPER, IT WILL HAVE PRACTICALLY THE SAME COLOUR, FINISH AND HARDNESS, AND IT WILL HAVE MORE CORROSION RESISTANT PROPERTIES.
I hope this thread had helped to clarify some doubts, misunderstandings, details… among other issues, about the SS for watches and their selection. And I hope it could serve as a guide to evaluate a SS.
This Thread is open. Therefore, I remain, of course, waiting for your comments, corrections, suggestions, discussion… in order to improve it for all people in this forum.
Many thanks for your attention.
ALE7575



UPDATE MAY 2017



When I wrote this thread in 2011 there were a lot of reps (mainly Rolex) made of two materials: SS 316L and SS 316F. These reps were sold, as commented in the thread, at different prices. Being 316F reps about 15-30% more expensive than the reps made of 316L

Some months after the release of my thread, and maybe due to it, makers and dealers started, little by little, to avoid the differences between the two types of materials, either characteristics or price.

Nowadays, there are not two versions of reps, made from the same maker, made of 316L and 316F, and the prices of the reps made of 316L and 316F are equivalents.

Makers are using more and more 316F, due to its easier machining and polishing, but buyers are no affected by increases of prices