Patek Philippe and friends (Vacheron Constantin, A. Lange & Söhne, Breguet & Richard Mille)
-
an inspirational thread
A few persons have been asking about my collection and a whole shot or something like that. It's very kind of you. So i wanted to make this thread as a kind of quick overview with small reviews of each watch. And please do not see this post as some narcissistic outbreak "look at me and my watches", that's not the purpose.
My thought is to give some inspiration and give a little entertainment. While he have the crisis in China i thought maybe this could cheer people up a bit. And i know many enthusiasts here will love it.
I would like to thank RWI to give me the opportunity to have this collection and i would like to thank all the RWI colleagues to give inspiration and knowledge which have made it possible to me. Also the inspiration i got for the strap combinations.
First i would like to say, that my thought has been to have variation regarding types of watches, case materials, dial types, complications and colors. But as you can see i'm mostly a dress watch kind of guy.
Because i have mainly Patek's i've put the thread here. Before we begin with the Patek's, a collection shot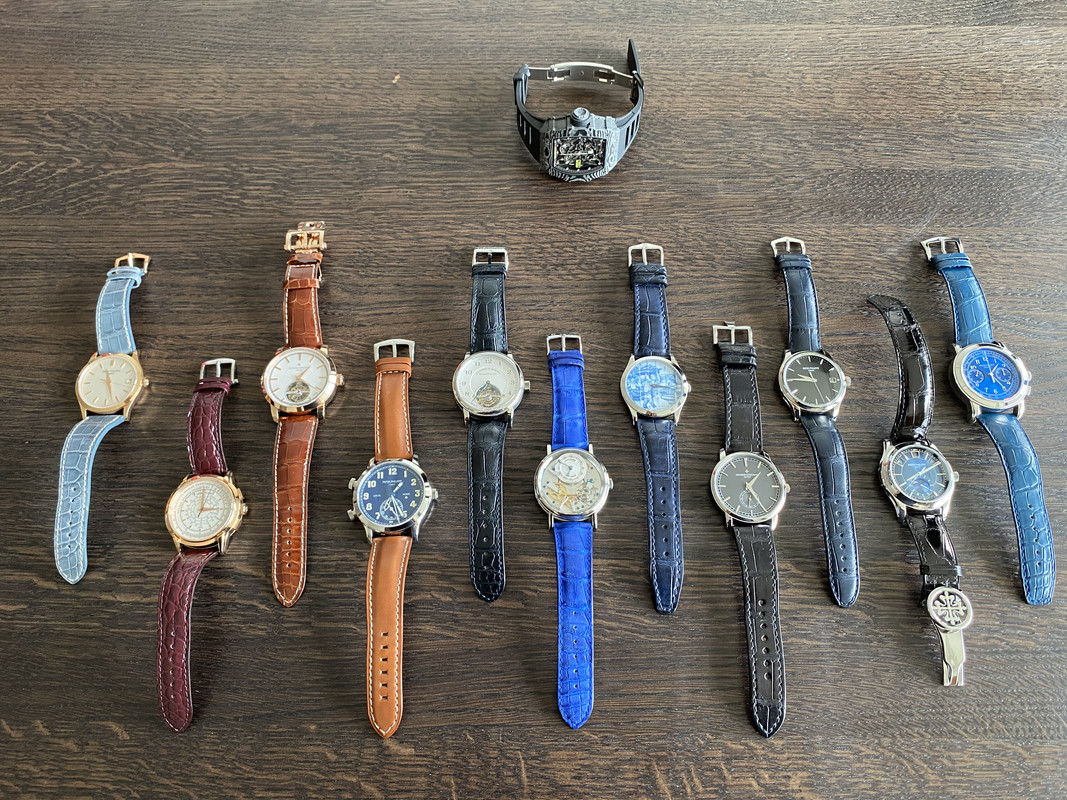 The 5711 Nautilus and the 6102R Celestial are not in this shot.
The key points written below are the elements i value the most, that the watch adds to my collection.

Patek Philippe
Patek Philippe 5089G-062 Azulejos "The Porter"
Key points:
Enamel dial (real), Micro-rotor movement, white gold case (SS).
This watch i'm writing a review on, but here i would like to give a little information on it. It's 38mm, thickness is 11mm with the crystal, but without, it's only 8,6mm. Gen is 9.17mm with crystal and 9.0mm without.
This watch is one of the most incredible creations in the repworld. It has a real enamel dial! And it's such an incredible view. Have a perfect porcelain like shine. Painting is really good and gen-like.
The flaws are the open caseback and the engravings on the movement lack space. The watch is a bit expensive because of the enamel and despite the flaws it's worth it.
I'm awaiting a dark blue shiny CF strap with platinum stitching for it.
Patek Philippe 5070P Saatchi London Limited Edition
Key points:
Chronograph (functional), Platinum case (SS), sunburst blue dial.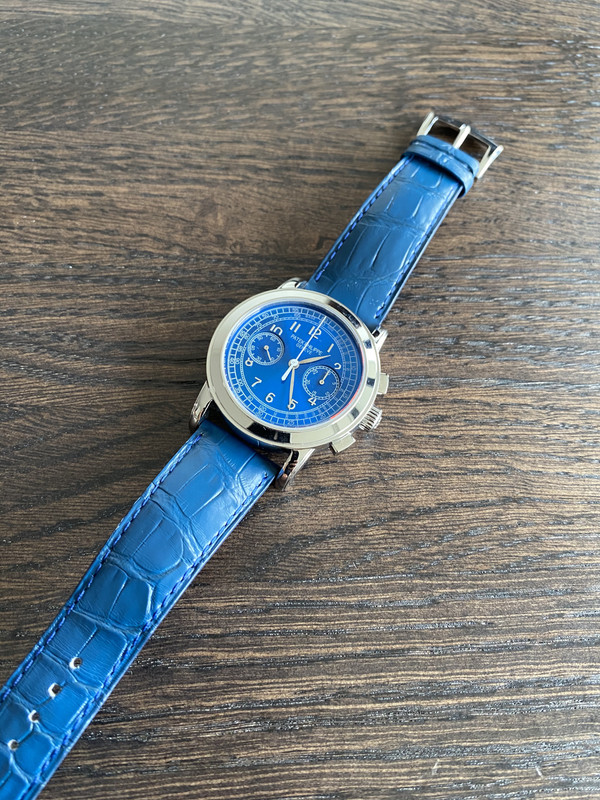 I've written a full review of this watch
here
. I just got it back today after it has gotten Prof's AR coating on the crystal and the hand has been painted white. I got a custom made strap for it inspired by an sales article on A Collected Man. The strap is an azure blue Camille Fournet (CF), with blue stitching.
The watch is a very nice fully functional chronograph, as the movement is a Seagull ST-1901. The dial looks beautiful and it's just perfect to have Patek Chronograph in the collection. Also the Seagull is known as a reliable chrono movement.
Patek Philippe 5205G-013 Annual Calendar
Key points:
Annual calendar (functional calendar), blue gradient dial.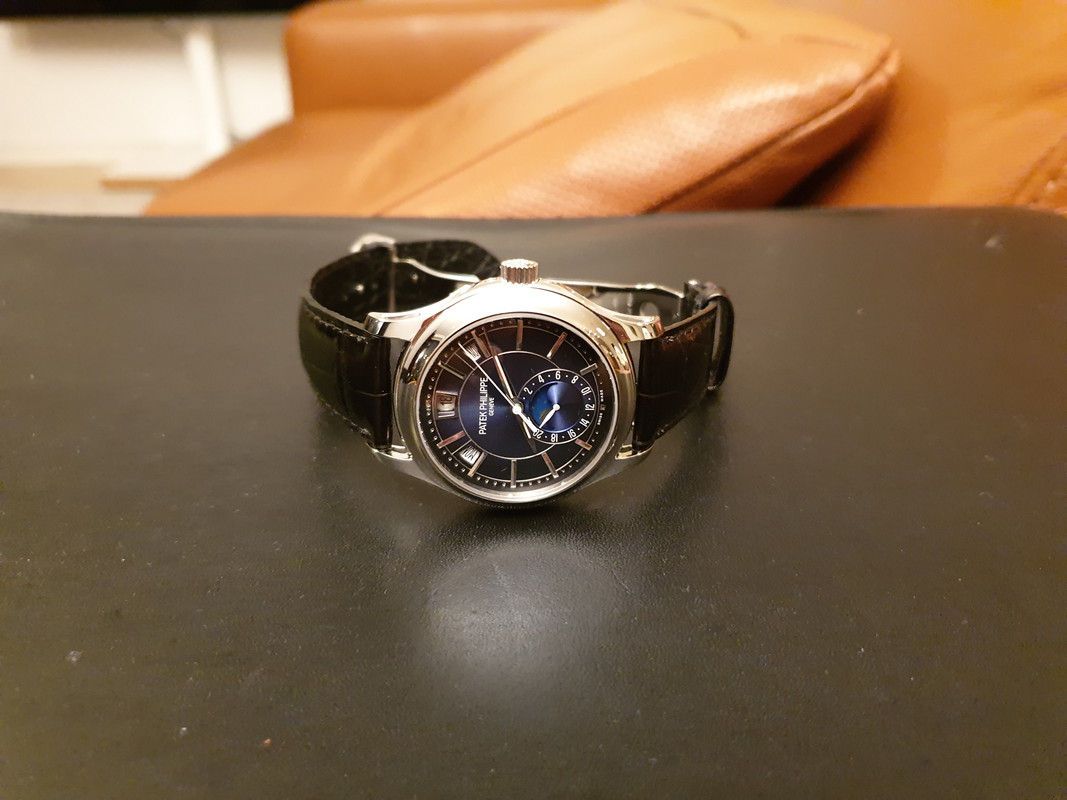 This is one of my absolute favourite pieces. It has a beautiful black-blue gradient dial, giving it a very vibrant and modern look. The case has a traditional and curved look, which is stunning. Lilke the gen the case is 40mm. It wears smaller because of the sloped bezel. It has a functional calendar, with date, day, month, moon phase is a 24h indicator. A piece that is perfect for travels and work.
A perfect dress watch, which i had to put on one of my most expensive straps, which is a shiny black CF with a round scale alligator lining.
I've written a full review on this watch
here
.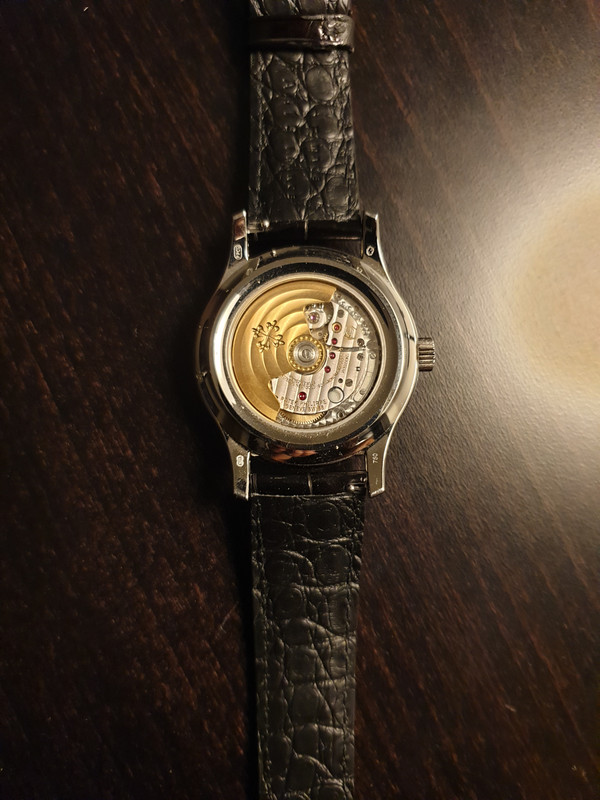 Patek Philippe 5227G-010 (ZF)
Key points:
Black dial, officer's case-back, Calatrava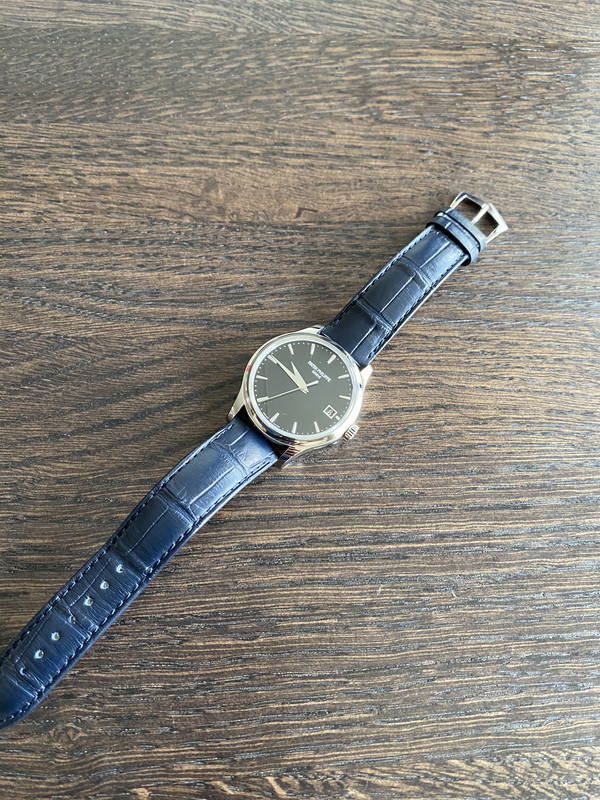 The iconic calatrava or it's siblings is a must-have in any collection. Much has been written about this watch, and
Godfathar
has made an excellent review on this piece. I have put it on a navy blue alligator strap. The gen comes with a . Over all this is a very nice dress watch, understated but in an iconic design, with the same case shape as the 5205. Watch wears small and is thin.
Patek Philippe 5524G Pilot watch
Key points:
Pilots watch, date complication w/hand.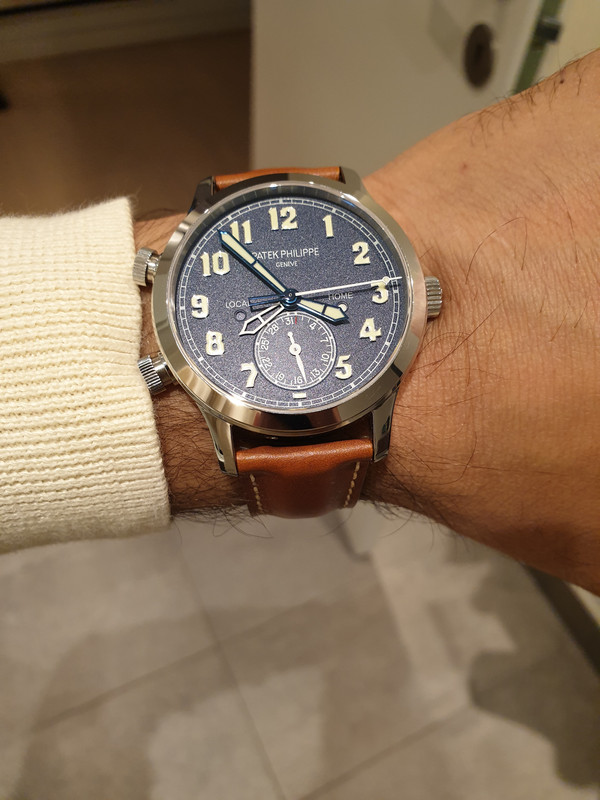 This watch is a very versatile watch, which can be used with a shirt, dress, casual wear or on more relaxed occasions. It's a really beautiful design, which has come to stay as a future classic in the Patek range. As they have made other watches in this design line.
My particular watch has had the crystal changed to a sapphire AR crystal, as the stock crystal is not sapphire and coating is not good. Reflects too much. Also the GMT hand's central pinion area has been painted blue for a more gen-like look. The strap is a CF calf strap with chamoisine calf leather and ecru stitching.
I've written a full review on it
here
.
Patek Philippe 5296R Calatrava (ZF)
Key points:
Rosegold dial, classic dress watch.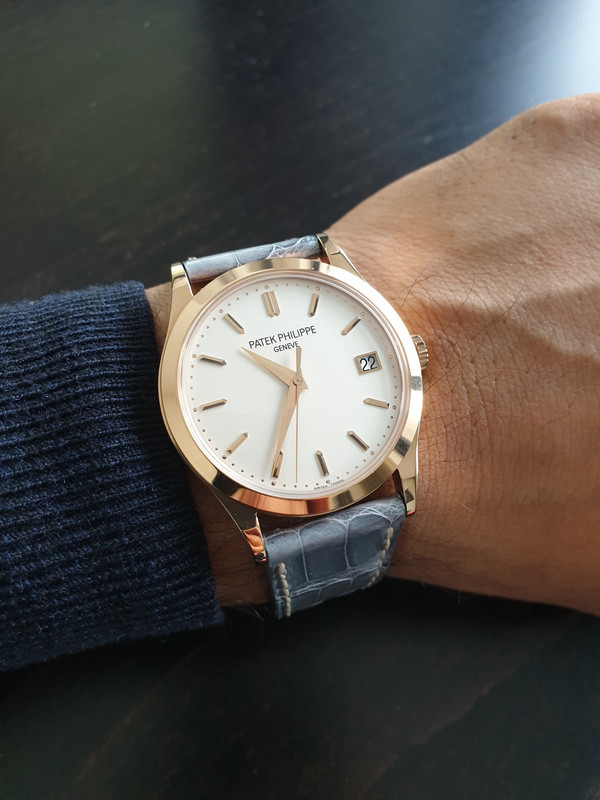 Another iconic Patek, not much to be said about it, other than it's one that i never get tired of. It's a piece that is on the Forum's NWBIG list. It's understated nature makes it perfect for work and the rosegold for more formal occasions too. The strap is a CF with chamoisine lining and ecru color hand-stitching.
Patek Philippe 5975R
Key points:
Multiscale chrono (non-functional), anniversary edition Patek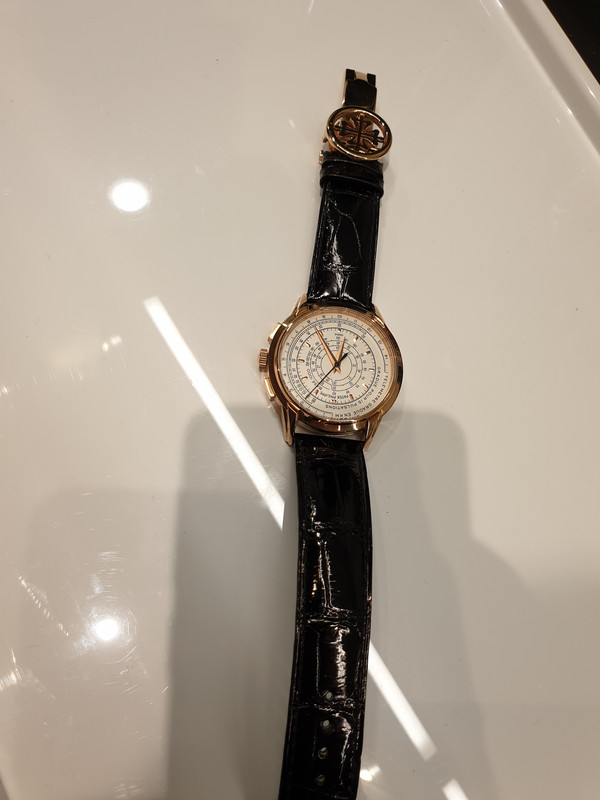 This is a really amazing piece. It's just so amazing that you can have the possibility to have a limited anniversary edition of a rare Patek. The dial is a very beautiful classical sector dial type. It has flaws: It's not functional (the pushers are fixed) and the "15" is a "1S", which can't be seen easily though. But it really doesn't have many more flaws than that. It has a closed caseback and thickness and diameter is spot on.
It also come as 5975P black dial, platinum case (SS in rep) and a 5975G white dial, white gold case (SS in rep). IMO the 5975R is the less flawed as the coating on the case makes it visually more correct. And the black dial platinum edition comes with a seconds hand that is silver, unlike gen which is white. And lacks the diamond at 6 on the case, also the crystal looks cloudy.
Godfather
has made an excellent review on that and the mods in the Forum if you want to know more.
I have ordered a Dark brown matte square scale CF strap for this as i would like to have a classic rosegold watch-dark brown strap in my collection.


Patek Philippe 5711/1A-010 Nautilus blue dial (PPF V2)
Key points:
Luxury sports watch.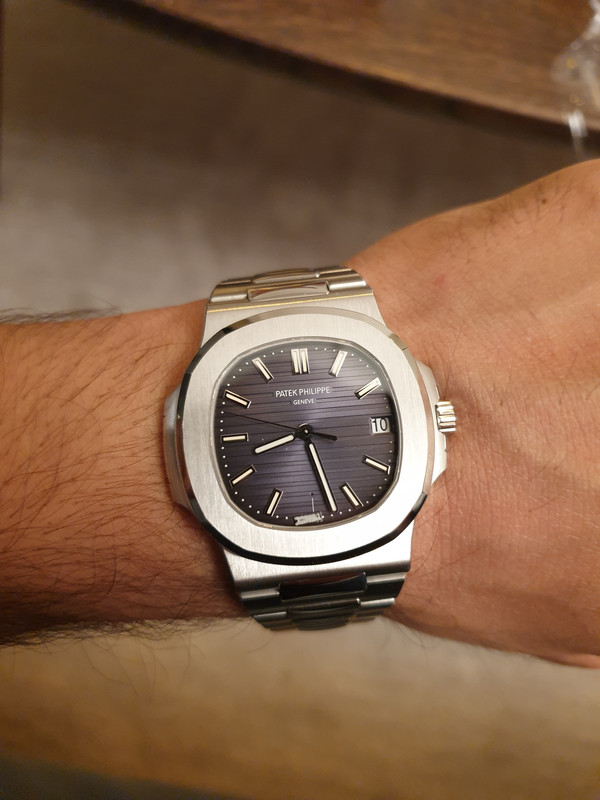 I was a tad unlucky with this piece, as the 6 marker had gone off during transport. The watch has gone for a repair. I can understand why this watch is so popular. It's one of the most elegant sporty watches around. And i have preferred to have this in my collection rather than a Daytona or a Sub.
Patek Philippe 6102R Celestial Moon Age (TWF)
Key points:
Celestial complication.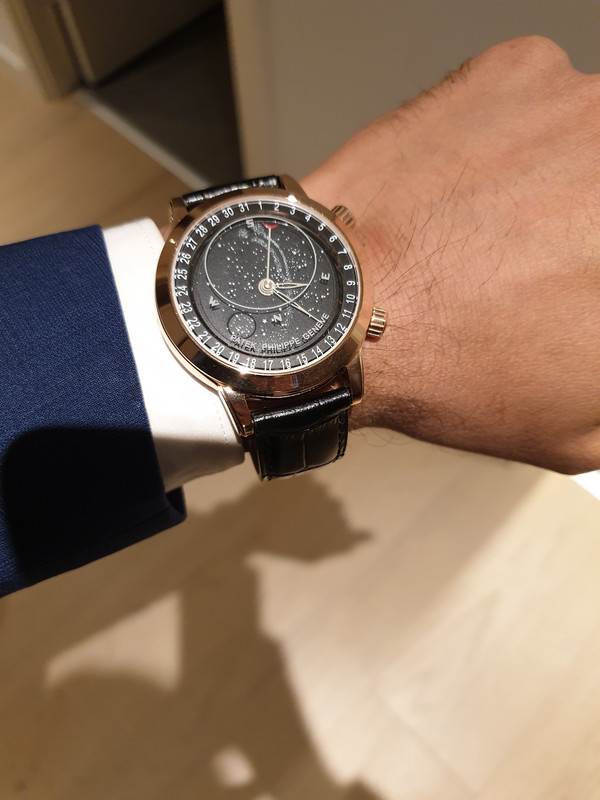 This watch is a very special piece. Although it's more of a project really. OOTB it's not very good to be honest. It could've been so much more, but the flaws are pulling it back:
1. It has rotating seconds hand disk, which rotates like a seconds hand. That is a feature which is not nice. That can be removed easily though. 2. But then it will leave the main disk then with too few stars and more stars will have to be painted on it. Also i'm looking into if the main disk can be made shiny like the gen. 3. The moon phase disk has silver wrongly shaped moons, and i'm looking into correcting that.
But it's a long time project.
The full review i made on this watch is
here
.
Vacheron Constantin
Vacheron Constantin Traditionnelle Tourbillon
Key points:
Tourbillon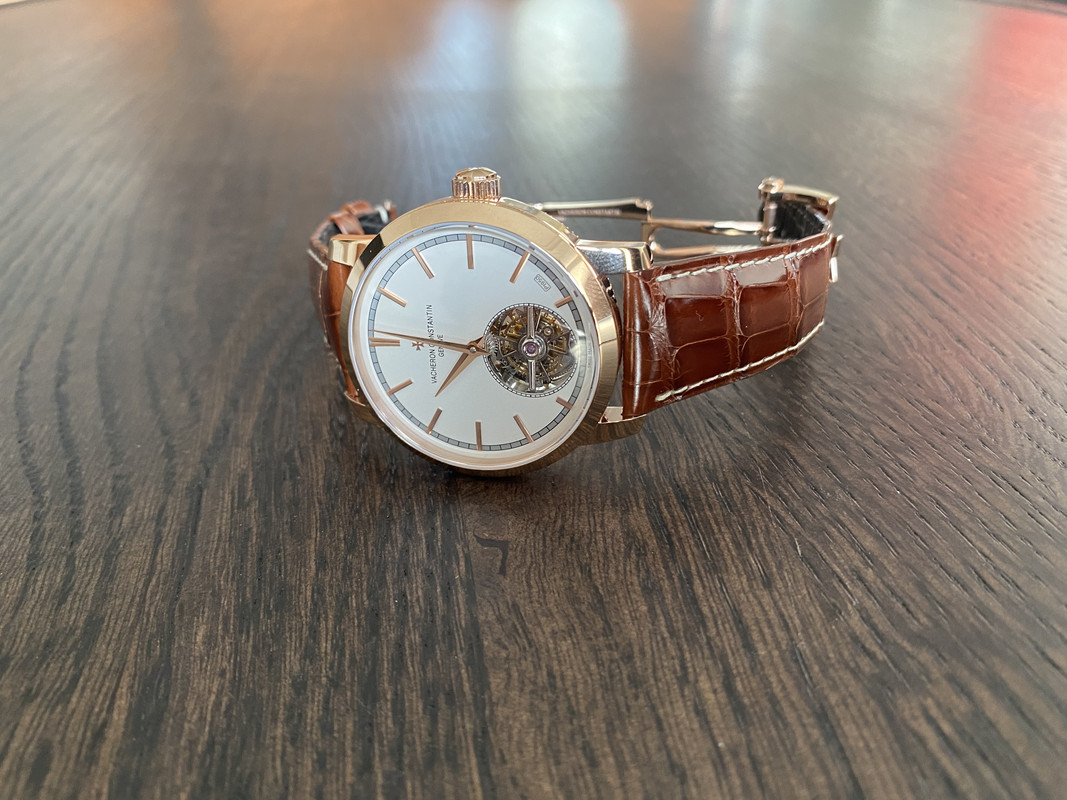 I recently did a full review of this watch
here
. It's a really high quality piece. The watch is amazing. It shows the tourbillon in such an understated and uncomplicated clean way. Just amazing!
The case shape/thickness/diameter is not like gen, which makes the watch different than gen. But as a watch itself it does it incredibly well and looks very convincing. Unless someone has the whole VC catalogue memorized they wouldn't even think it being a rep IMO. The strap is a CF brown shiny alligator, with ecru stitching and dark brown round scale alligator lining.
Vacheron Constantin Traditionnelle Small Seconds Grey
Key points:
Small seconds complication, grey dial, manual wound classic dress watch in platinum (SS).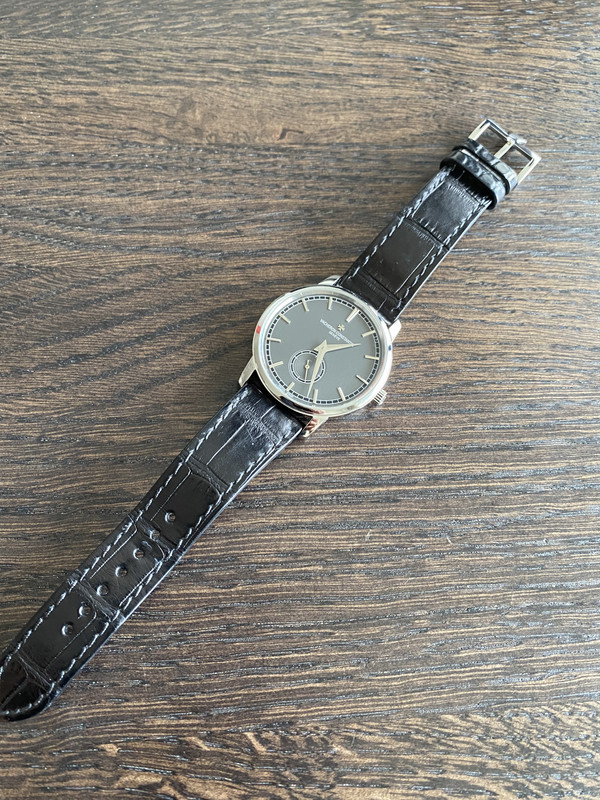 This watch i've done a review of
here
. All in all it's an amazing dress watch. The main flaws being that it's case is 39,6mm, while the gen is 38mm. The thickness is approx. 1 mm more than the gen. And the sub seconds dial lacks the two shiny rings. But else than that the dial is really beautiful. I just got it back with AR-coating (Prof's) and it looks like such a high quality piece now. The crystal is almost invisible. The stock crystal reflects too much. The movement is very well decorated and most of the elements have the correct placement compared to gen. Over all a very nice piece.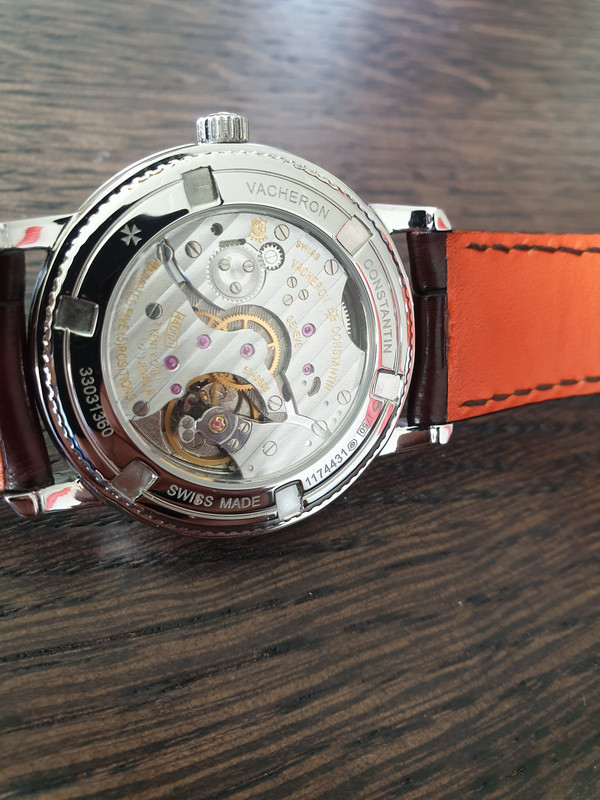 A. Lange & Söhne 1815 Tourbillon (OXF V2)
Key points:
Tourbillon, A. Lange & Söhne (!).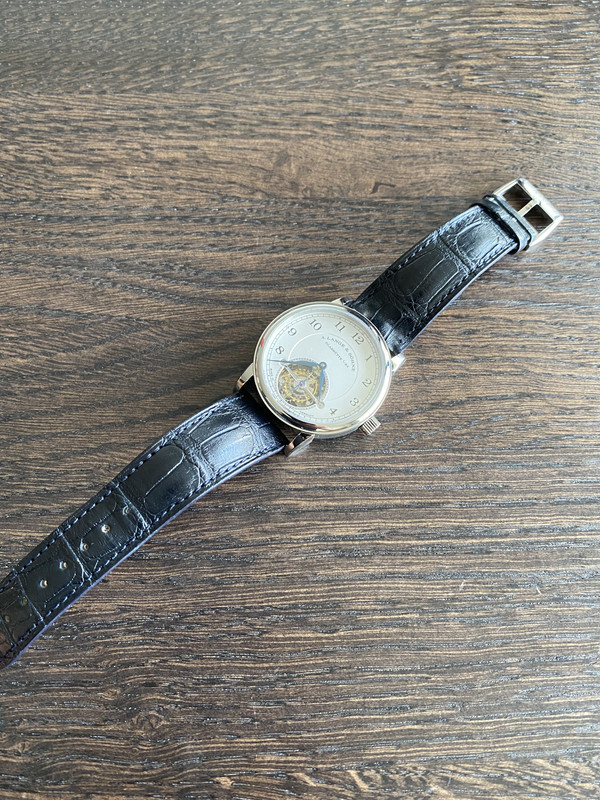 I've given a full review of this watch
here
. It's a really lovely tourbillon watch with a lot of upgrades from the V1. The sides are now polished and they haven't slacked on the quality. The dial is the same excellent one with a shimmery shiny surface. And the movement is crisp and nice to wind. They've also put a seconds hand on the tourbillon, although the hand is a bit short. The diameter of the V1 was 42mm, which has been made to 41mm, which is nice. Although the gen is 39,5mm, it doesn't feel like a big difference. Thickness is a bit off being 13,7mm, while gen is 11,1mm, which is the biggest flaw. Although much of this is due to the crystal; 12,36mm without the crystal. And some of the case lies below the lugs, why it doesn't feel very thick on the wrist.
Breguet


Breguet 7057 Tradition
Key points:
Skeletonized watch, power reserve complication (functional).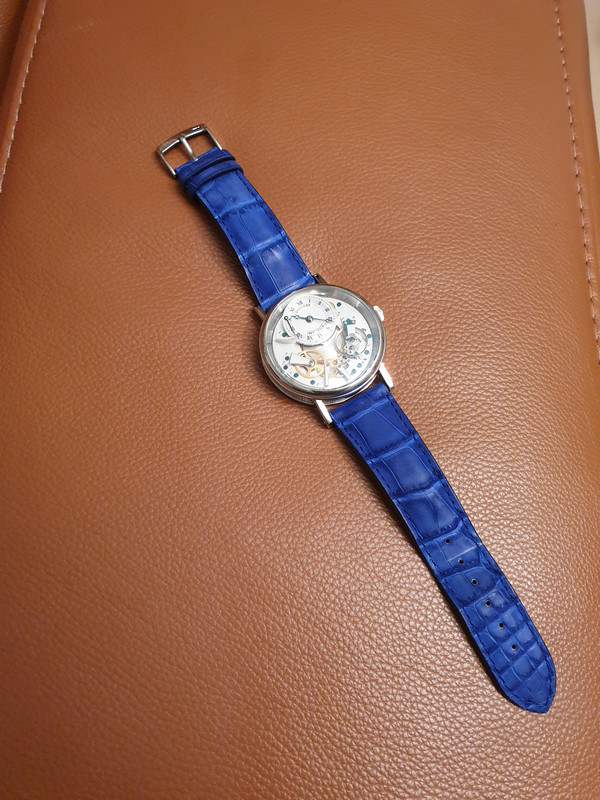 This is a masterpiece that has a very special place in my collection. It's one of the first reps i bought and also a nice skeleton watch. Earlier i had it on a dark blue strap, but the watch is very classical and it made it look like an "old mans" watch. I therefore ordered this special custom colour blue nubuck leather strap from Jean Rousseau (France) and it gave the watch a more vibrant and younger look. I really enjoy this watch every time i wear it. The dial depth is incredible and it exposes the basic elements of a mechanical watch movement. Very Breguet-like, when looking at there history and inventions they made. For example Louis Breguet invented the tourbillon. Who else was entitled to show the basic principles of a mechanical watch?
Richard Mille
Richard Mille RM 035-02 (ZF)
Key points:
Carbon fiber case, automatic skeletonized watch, rubber/velcro strap watch.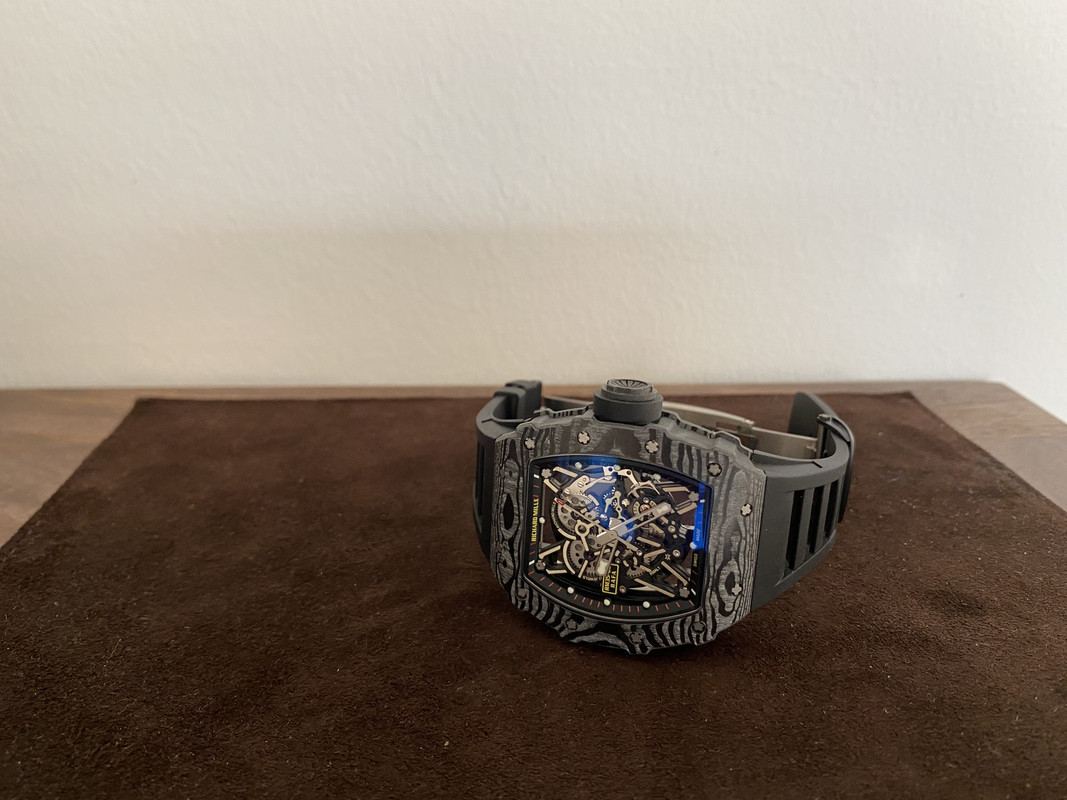 I was recently hit by the RM bug. And did a lot of research and ended up buying this, as i thought it's one of the better RM reps- Such an incredible piece this is. There's a lot of discussion regarding the Carbon Fiber pattern on the dial. And yes, it's a little off. But the watch is one of the thinnest RM reps (other than JB RM001) and is so well built. The movement is also really well decorated. It wears really well.
Here i have put on a black crown rubber. It also has a red one.
As you can see there's no Rolex in my collection, which will probably shock many. I had a Hulk but passed it on. I have a maximum number of watches i can have and therefore chose the 5711 instead. I didn't find myself being a Rolex person. Also i had a JLC moon phase, a IWC Tourbillon YLF, AP Royal Oak and a VC Chronometre Royal all of which i sold to come to my current collection.
What could be nice to have?
Patek Philippe World Timer 5131J / 5131G / 5231J?
I'm really hoping for them to rep the Patek Philippe World Timer. I have a gen Montblanc World Timer and i love world timers. But now that enamel dials are possible for the repmakers to do, we could really hope that they rep it.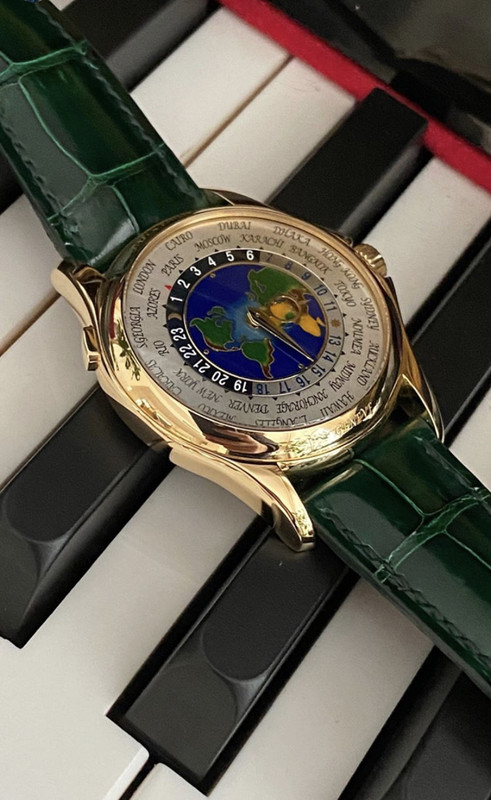 Have a nice evening gents and thanks for your time reading this.