I ordered graphite dial Skyland Avenger, from Joshua /Perfect Clones, the H-factory remake of their V2 from 2008, I suppose. Some things were corrected, like superlume. There are several excellent reviews of Noob and H-factory versions of this watch so I found it matured rep project and decided to make that little departure from my usual Panerai gusto. I allowed myself to put all pros and cons in one table:
More details:
- I got the watch on Pro-2 SS bracelet with additional croco print walnut strap with rep Breitling buckle
- the AR is very nice - it is very easy to hold the watch in such a way where sapphire totally "disappears".
- it is my first rep with A7750 where chrono minute totalizer advances exactly at the right moment!
- I love matte grey dial! I don't think black one is right for this watch - too much contrast and it hurts eyes, I suppose…
- the softly embossed hour digits (gen and Noob have it sharp embossed) - are not a problem, You need to inspect it closely to spot this flaw.
Bracelet:
- quite well executed with some weak points - it's easy to call it "rep" for these awful bolts for bracelet length regulation
- bolts are biggest tell, there are not "almost-flat", they are different to each other - heads shapes are all over the place. Only ONE bolt is correct to the gen, as you will see that on the video.
- when you adjust clasp elements a bit, it starts to close with a nice, powerful click
- correct markings with production date set to year 2007
- need additional polishing (few minutes with CapeCod polish will do) since edges had some glue(?) residues
Leather strap:
- nice quality, probably one of the best rep straps
- nice printed croco pattern
- all correct markings apart from the stamp "Cuir Veritable" where "Croco Veritable" would be correct, since the strap has croco pattern.
It is a matter of personal taste, but I would suggest to buy this watch with a nice rep strap instead of a bracelet which is awful light reflecting thing, way beyond my taste :/ Even in gen.
The bracelet "eats" the watch while nice strap works particularly well. No mentioning metal parts scratch everything (i.e. caseback) and get scratches and swirls from everything, too.
Ordering this watch with a strap has an additional benefit of avoiding scratches between lugs - inevitable thing during the process of bracelet installation, especially in rep-factory
Short advice - skip the bracelet
Some photos:
Photos from QC procedure: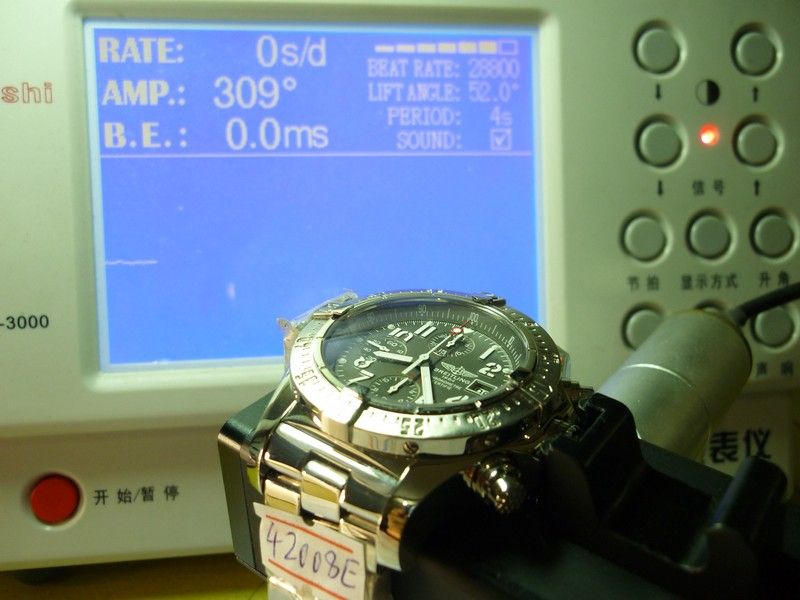 Overall, I am VERY impressed by this watch. Visited local AD, the gens are not more impressive than this, really. Skipping the bracelet, of course
Lume is OK, since it is Luminova but You cannot expect too much with these small points and tiny hands. It is not Panerai's "demolish them with lume" thing, not at all.
Little HD showcase:
[ame="http://www.youtube.com/watch?v=y8K3TYDGDGo"]Avenger - YouTube[/ame]