This is barely a rep, it's more a sort of "owed to" the RM027. It's not accurate, at all, so if you were hoping for a blow by blow account of how many millimetres larger all the case dimensions are or how the jewels are slightly the wrong shade of pink then I'm sorry to disappoint you but that would be missing the point of this watch entirely. Instead let's discuss the less obvious things about this watch!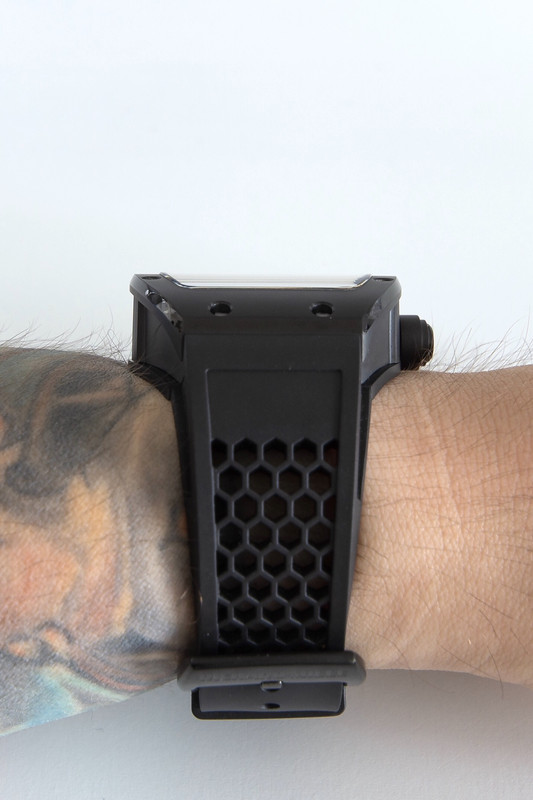 The first thing to note is that I can barely hear myself think right now because this thing is ticking so loudly in my ear. I've had some loud watches in my time, the ST19 vintage Daytonas are famously rather noisy, but this takes it to a whole new level!!!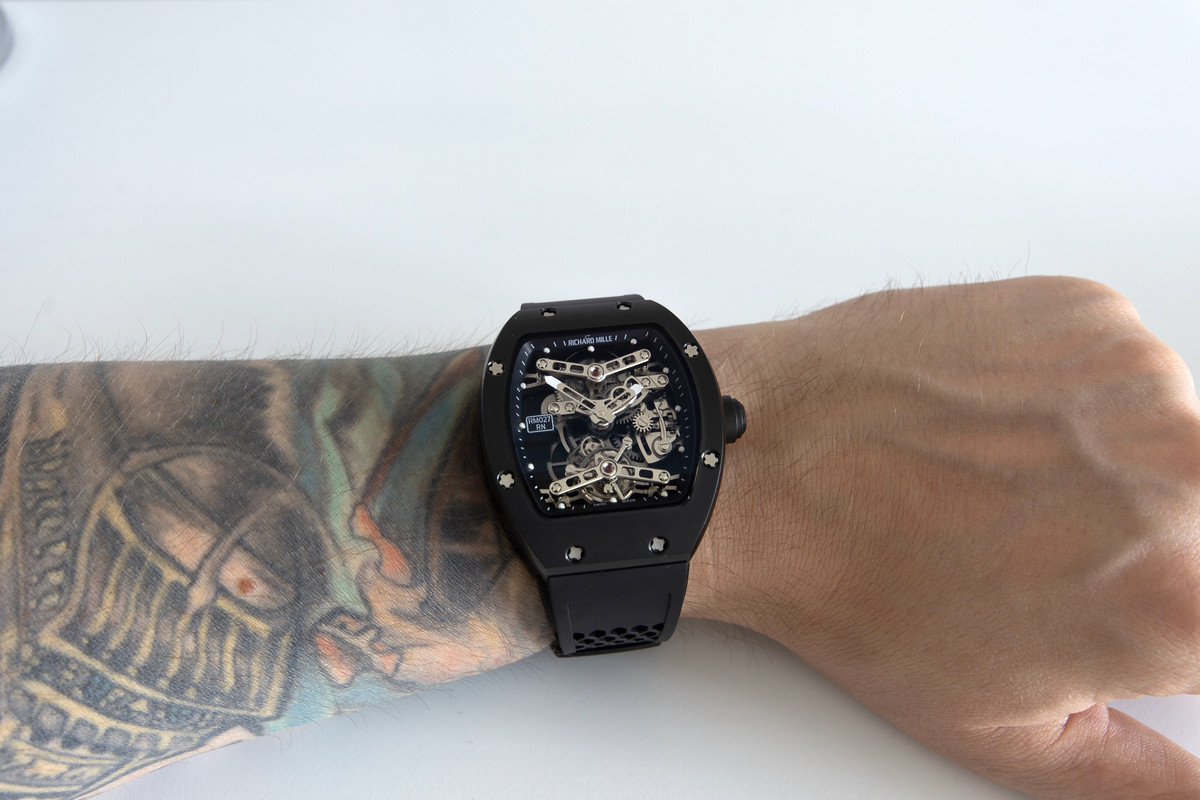 That said, once you get past the fact that it's basically shouting at you constantly, you start to appreciate its looks. The interplay of matt and polished black surfaces on the case immediately catches your eye, and is both sharp and crisp. Then you notice the chamfered polished recesses for the bezel and strap screws.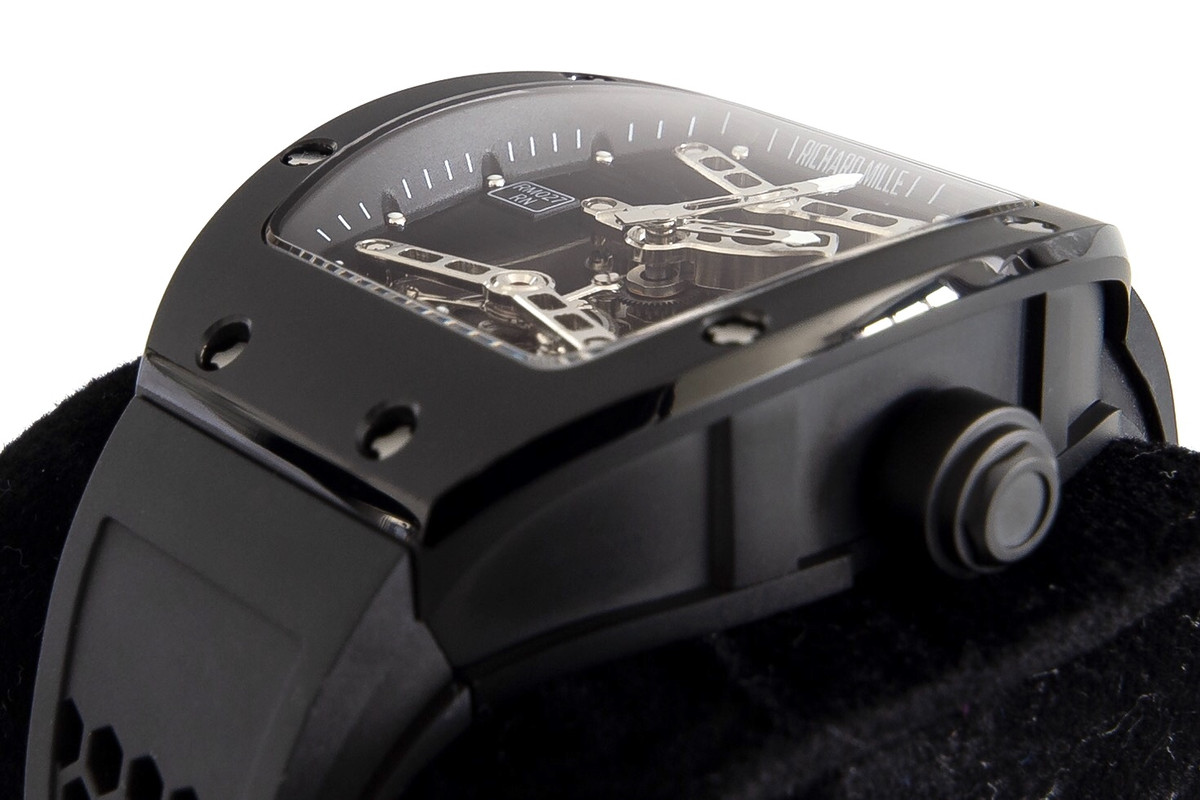 After seven years of this hobby I've come to accept that such details rarely appear on reps, and if they do they are generally sloppy and rough, and you just have to kind of live with it. But not here, this case, as black and ominous as it is, has been superbly executed.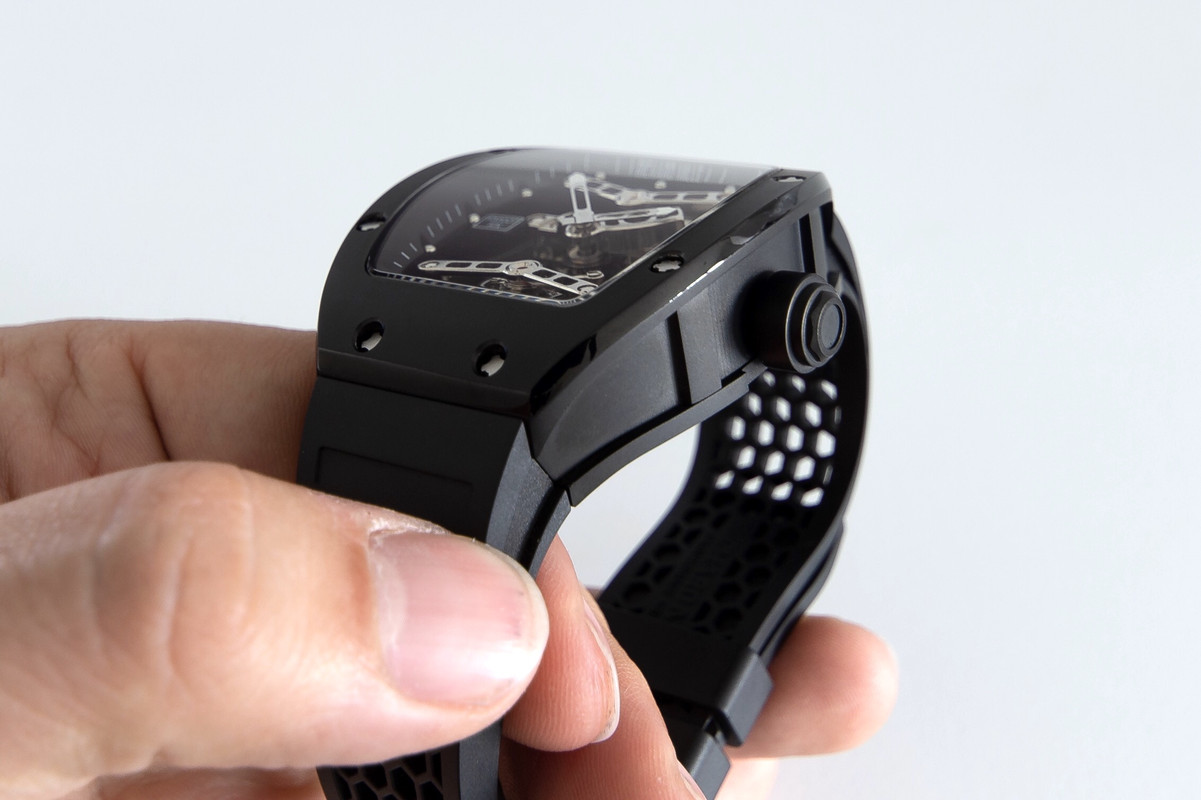 It doesn't take long for your attention to shift to the shiny insides though, where you can get lost in its sheer depth. The movement is dominated by the two chevron bridges, which are also well finished with drawn brushed faces and polished chamfers. They are secured with tiny RM style spline screws, which means the factory has gone to the lengths of manufacturing a specific tool just for the purpose of attaching these four screws to this watch... that's attention to detail that impresses me and goes some way to justifying the astronomical price!
The upper bridge sits over the mainspring barrel, which is also skeletonised allowing you to see the mainspring itself and check the state of the wind. The lower bridge houses the tourbillon, which at first appears to be completely un-related to the rest of the movement which is a neat illusion. After some inspection, however, you spot the gears nestled in the depths of the case and realise they aren't faux gears (like we've come to expect these days) but actual real moving gears, albeit very slowly of course... well ok there is one faux gear, but come on it is a rep, what did you expect?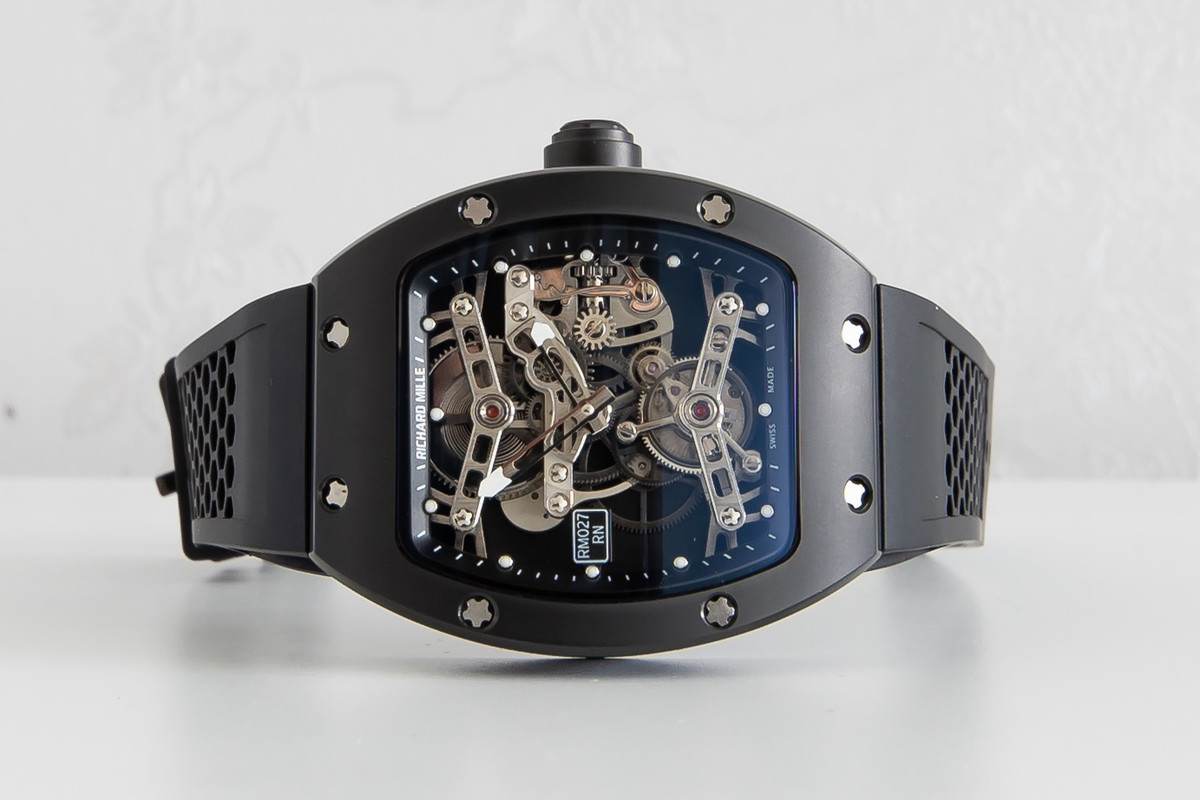 As previously mentioned the movement is loud, I'd guess because there's such a lot of room in the case for the sound to amplify, but the winding is also satisfyingly loud and clicky with nice resistance (this is what everyone wants from a manual wind watch... fact! A quiet and loose winding crown is like a limp wristed handshake, it's no fun at all) but best of all you can see the keyless works and the winding gear turn as you wind. Then you pull the crown and again watch the keyless works click into action, followed by more moving gears as you set the time. This does have its drawbacks, namely the fact that it's so much fun compared to every other watch that you find yourself constantly changing the time, which is rather impractical!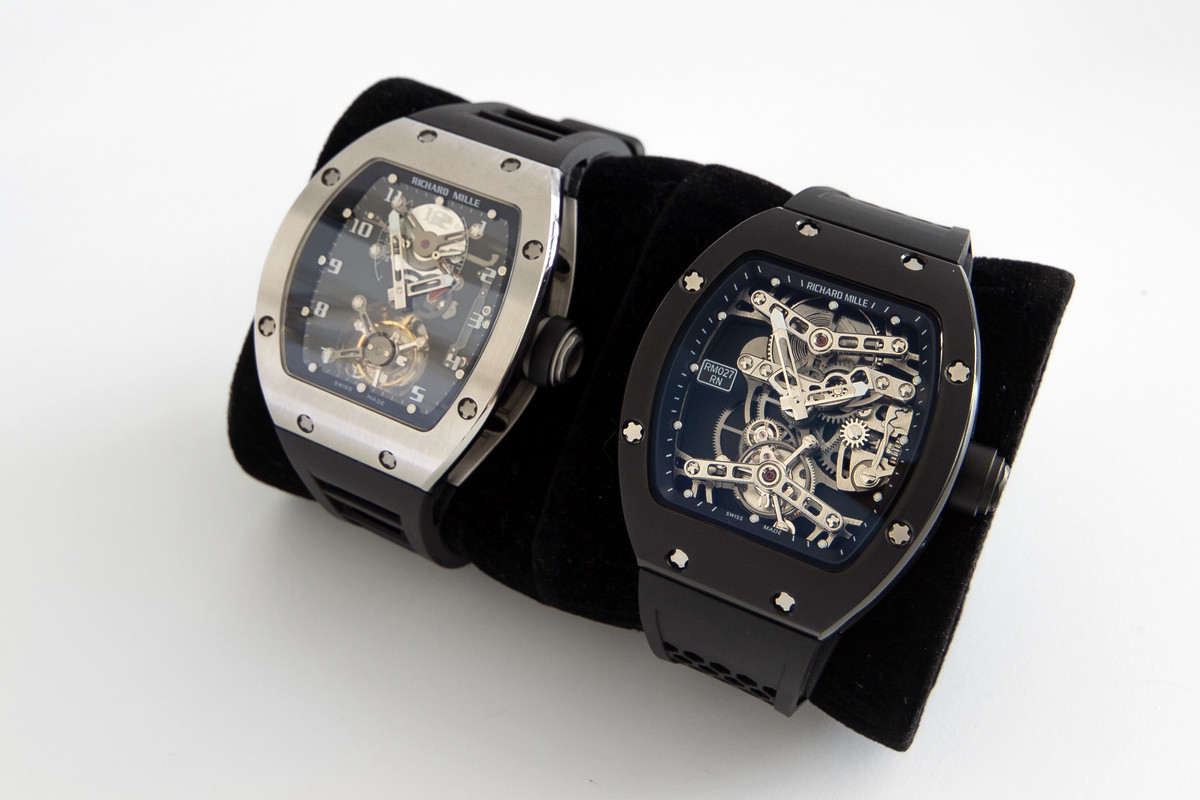 So if this isn't really a "good rep" in terms of being accurate to gen, then why spend $1,300 on it?! Well it's simple really. It might not be a good rep but given the number of times I see people saying "I will wait for the V2" every time a new rep is released it seems there really isn't such a thing as a good enough rep in any case these days, and certainly if you're someone who likes the RM027 aesthetic then you're not ever expecting there to be an accurate rep of it. But if you are that person, and black tonneau shaped tourbillon watches is your jam, then what this rep is exceptional at is being a watch. It's easily the best, coolest, most contemporary, most technical, most eye catching and of course loudest watch I've ever owned! It's bloody brilliant!!!
Like RM and can afford one? Buy it! You won't be disappointed!!
DC