Hi folks,
I'd like to tell you a little more details about my recently experience dealing with PureTime. I hope it can make you more understand how they work and also help them improve their service. I choose PureTime because of their reputation here and one of my friends in China (also a dealer) told me they had very rich experience doing the overseas export trade. But what just happened to me wasn't that good as they said.
About half year ago, Angus (AKA
puretime
) started a project that to modify JF Royal Oak Offshore Sincere Tantalum with cyclops and dial wheel. It turned out to be an excellent result. It was a limited release, the waitlist was long. At the end of June, I saw their website, the watch was still there (
https://puretime.io/featured-product...rap-a7750.html
) so I e-mailed them to inquire the availability, they replied me shortly it was still in stock and told me place the order asap because it is real rare.
As every smooth transaction, I placed the order, made the payment, and waited for the QC pictures. Two days later, I got it.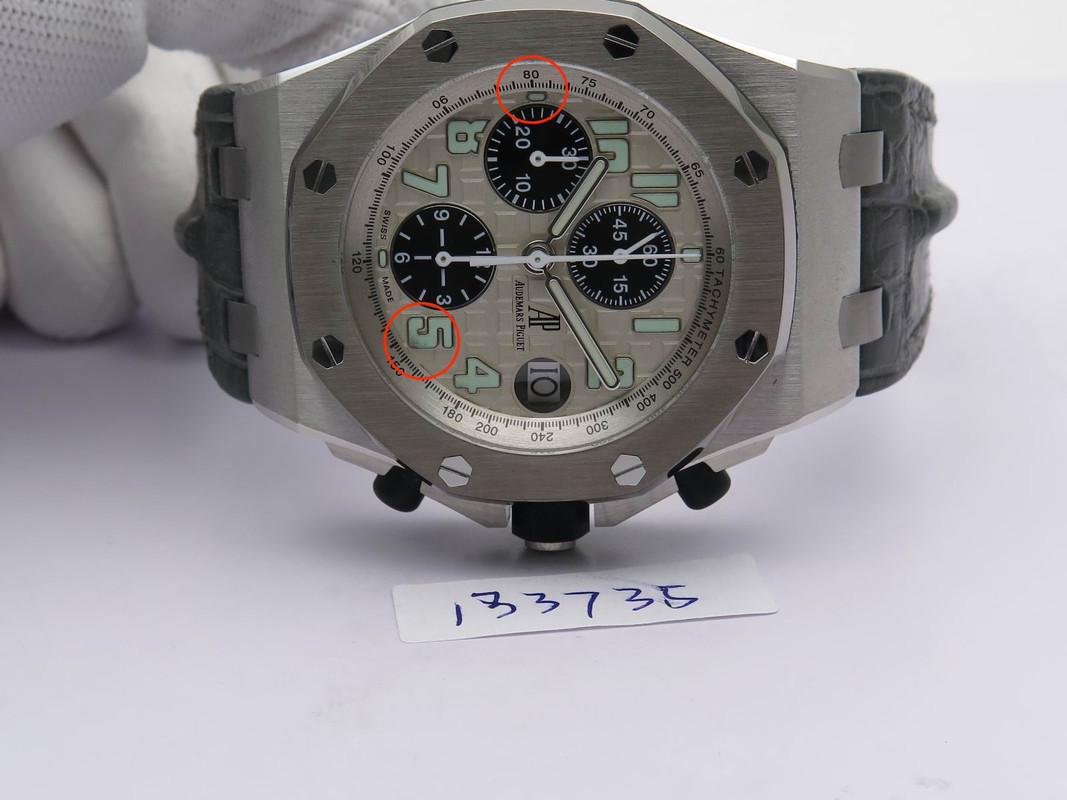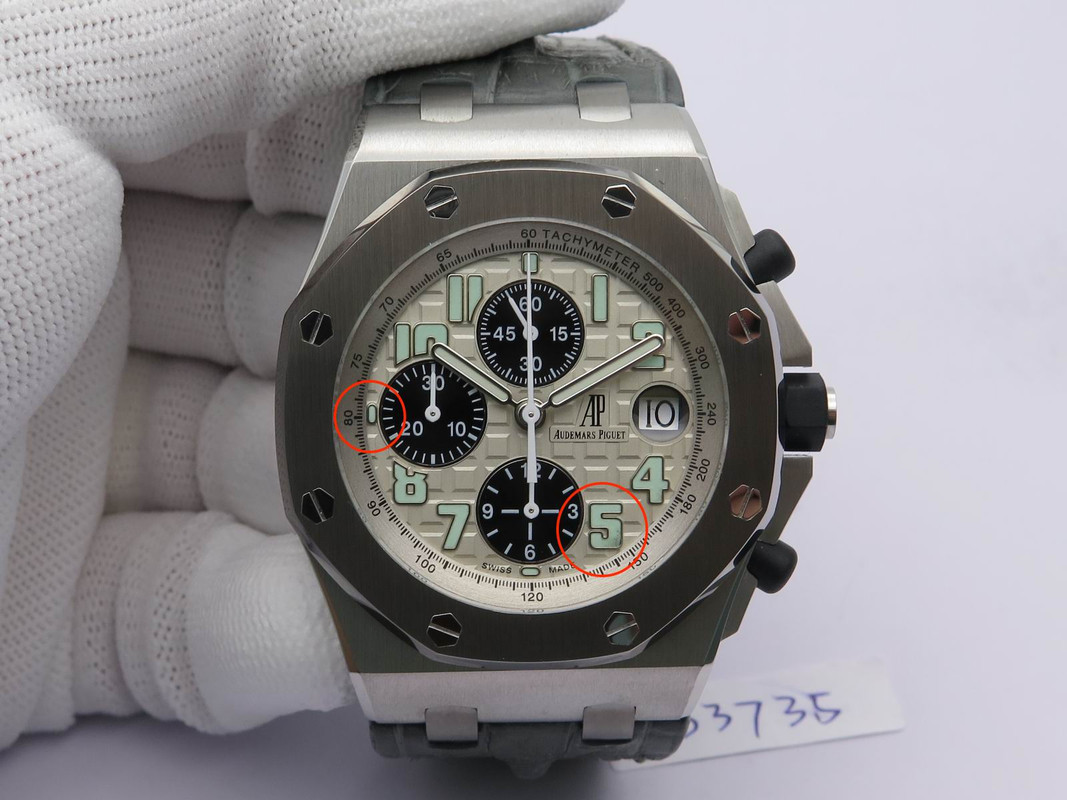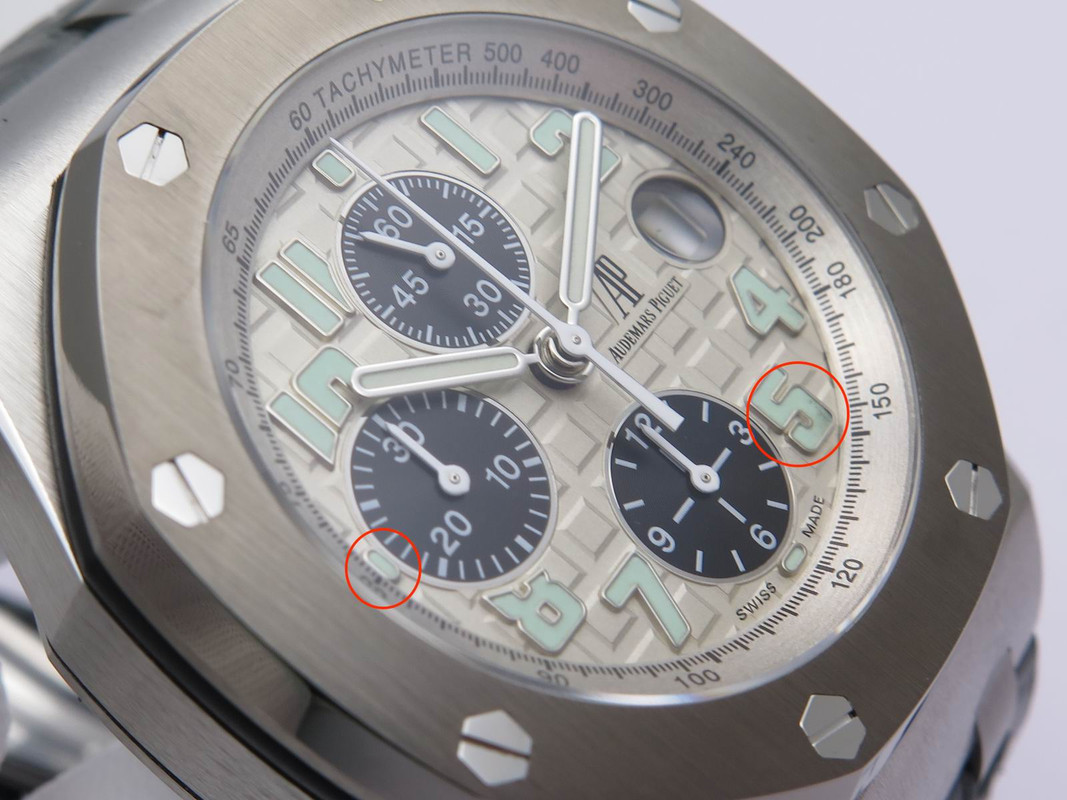 I don't want to waste time to describe what the flaws are. The misalignment mark might be kinds of perfectionism, but the dirt on mark 5 is totally unacceptable. So, I replied them within 24 hours (as their rules stated), rejected the QC pictures. From that moment on, the thing goes to another direction. They didn't replied my rejection e-mail. I was thinking they were doing some adjustment or cleaning on the watch, (obviously, these issues were not that big, they can handle it easily.) or they were selecting another one for me.
Again two days past, I didn't got any QC e-mail. Instead, I got an e-mail saying the watch was SHIPPED OUT with their automatic generated system. So that means they IGNORED my rejection e-mail! Immediately, I contacted them through their 'Live Chat' (Yes, it works). Jenifer replied me that they tried to recall the package. But next morning, I received an e-mail saying the package was shipped and can't get back to them. So that means, I have to ACCEPT it or return to them to request a replacement.
For my story, I'm thinking these issues wasn't that big and could be avoid easily. But as a customer, I want to get your respect. The best result for me is to get a replacement, but I assume that will spend me 21 or more days (considering 3 ways) with extra shipping cost, plus the customs risks.
I started a thread here not only to ask what they can do for me, but also ask your guys to give them suggestions and discuss what process went wrong and how we can avoid it. Thanks for listening to my long story.