With all the credit going to Pierre Maillard and Europa Star December-January 2007 Magazine Issue I wanted to bring this interesting article to all movement nerds and those who simply wanted to know a little more and what "powers" the movement behind the movements in our watches.
A recent post about Sellita SW500 here on RWI and it's soon or current availability it led me to go back and find this article. It really gave me some insight and I learned some cool things about some genuine high end movements as well.
Hope you enjoy.
__________________________________________________--
As we write at the end of the year 2006, tension is mounting in the market for that basic of all components in Swiss timekeeping – the movement. A veritable locomotive of the fabulous added value that watchmaking has created over the last decade, the functional core of the product, and, above all, the emblematic heart of the renewal of the Swiss watch industry, this essential 'component' has become rare. This is to be expected, perhaps, since the demand largely exceeds the supply. However, things are slowly changing, and the initiatives are multiplying.
January 22, 2007
By Pierre Maillard
At ETA, the Swiss giant of the Swatch Group that equips the vast majority of mechanical watches bearing the label 'Swiss Made', it has been confirmed: the order books for 2007 are 'crammed full' and the factories are working at maximum capacity. Result: the large company will not fill all the orders that it has received and, de facto, the deliveries will be limited to the level of the preceding year.
How did we get to this situation? You only need to take a glance at the statistics to understand the full extent of the phenomenon. In five years, the number of mechanical timepieces exported by Switzerland increased by nearly 1 million units, going from 2.5 million in 2000 to nearly 3.4 million in 2005. At the same time, the value of these exports shot up from an average price of 1,783 CHF in 2000 to 2,114 CHF in 2005 (as compared to 200 CHF for quartz watches). Not only did the number of mechanical movements seriously grow, but also the degree of finishing and decoration of these same movements also considerably increased, therefore creating a slowing in the flow of production.

Sellita ETA compatible movement
The decision that sounded the alarm
In 2002, by announcing its decision to reduce, then later to discontinue, the delivery of ébauches (movement blanks) starting in 2006, the Swatch Group provoked a generalized dread among the many subcontractors who used the ETA movement kits as the basis for assembling and finishing other movements. However, in November 2004, the Swiss Competition Commission, COMCO, refused ETA's decision, and granted a reprieve to buyers of the ébauches. The COMCO decreed that ETA would be obliged to deliver these products until 2010. This additional time would allow various other companies (which, up to then, had been solely concerned with assembly, decoration, and movement finishing, as well as adding modules to the ETA movements) to take the opportunity and start their own autonomous production.
This decision turned out to be a huge stimulus for the Swiss watch industry, suddenly faced with the reality of its own dependence on the deliveries of a quasi-monopolistic manufacturer. As a result, initiatives of all types began to sprout up. Subcontractors began developing their own movements, while watch brands embarked on a race to progressively integrate the necessary savoir-faire, which they lacked before, into their own production.
The Swatch Group's decision would also have repercussions in the supply of essential components needed to create a mechanical movement, such as the balance spring. Aware of being in the same situation of near dependence with the balance spring (supplied by Nivarox, also belonging to the Swatch Group), several companies came up with initiatives to create independent supplies of balance springs. (This is notably the case with Rolex [see sidebar], Parmigiani Fleurier, and A. Lange & Söhne.)
The ETA 'clones'
With the patents of several of the ETA 'tractors' having fallen into the public domain, the companies, which formerly worked in assembling the ébauches supplied by ETA, were now making what are called ETA 'gauged' movements.
Totally compatible, these ETA 'clones' could fit in the same manner into the same cases, and receive the same dials and accept the same additional modules.
In this respect, Sellita, which announced that it can produce a total of one million movements per year (of which, up to that fateful day, were included a very large proportion of ETA ébauches), now manufactures its SW 200 movement (clone of the famous ETA 2824) and its SW 300 (clone of the celebrated ETA 'tractor' 2892). Starting next year, it will offer the SW 220 (clone of the ETA 2836) and the SW 240 (clone of the ETA 2834).
Sellita says that it sells movements to a total of 350 different clients, and that its products equip about 30 percent of 'Swiss Made' mechanical watches. Miguel Garcia, owner of the movement maker, remains circumspect as to the company's's future projects. "We do not do any marketing,†he says. Yet, he does let out a few titbits on the company's development plans, affirming that he has united a group of subcontractors all located in the Jurassian arc region of Switzerland, with the goal of constructing a new factory. Over time, this new facility will directly and indirectly employ nearly 1000 people. But beyond that, Garcia remains tight-lipped.
ETA's new mechanical calibres

The new ETA 2826-2 big date calibre
Thanks to the new ETA 2826-2, the exclusivity of a large date is now within reach for less expensive timepieces. It provides a date display almost twice as large as the vastly popular calibre 2824-2 movement with a display area of 3.7 mm x 2.8 mm. Two discs are fully superposed, the lower disc being imprinted with the numerals 1 to 16, while the upper disc carries the dates from the 17th to the 31st plus a window that allows the dates on the lower disc to be seen. Thus, from the 1st to the 16th day of a month, the window of the upper disc is congruent with the equal-sized aperture in the dial, revealing the current date on the lower disc. The transition from the 16th to the 17th day is performed by the upper disc which also advances by one interval for the 15 days that follow. After the 31st, the window in the upper date disc again lines up with the dial aperture, exposing the numeral 1 on the lower disc.
This mechanism allows a logical date display in which the 1st automatically follows the 31st day. Moreover, double-digit dates appear without a gap. Unlike other solutions, the position of the big date on the dial is not fixed. It can be arranged in many different ways to accommodate signature dial configurations with brand-typical layouts.

Skeletonized ETA 2894S2 chronograph calibre
ETA's Ref. 2894S2 chronograph calibre is a beautifully skeletonized movement with high-tech perfection and decorated with gold-filled engravings. ETA has used the latest-generation CNC machines to produce this delicate skeletonizing. This new capability will make skeletonized movements, so far priced in the bracket of jewel-set timepieces, much less expensive. However, there will hardly be a widespread skeleton trend, because even with modern machines, the process is still extremely challenging.
For its skeletonized watch project, ETA picked the column-wheel controlled 2894-2 chronograph calibre. The dial side of the chronograph module and the basic movement are both skeletonized. The owner of such a chronograph can now see, from the dial side, how a column-wheel works or how the chronograph hand, as well as the minute and hour counters, are driven. A glance at the other side shows the wheel train of the basic calibre and the gold-plated, mirror-polished balance, which, with its large diameter and high inertial mass, accurately dictates the beat of the movement.

New dimensions: the 16 1?2´´´ A07.171 Valgranges® calibre with analogue 24-hour display and time zone mechanism
The trend towards larger wristwatches continues. But usually, even in watches with diameters of 40 mm and more, the movement is of modest proportions and can only be secured in the case with an oversized adapter ring. Concurrently, a smaller sapphire-crystal back must be chosen under these circumstances, but it will nonetheless reveal that the watch is far larger than the calibre. To offer buyers of large watches a stately solution, ETA has created a completely new family of movements: the Valgranges®.
It is a round, all-metal self-winding calibre with:
- a diameter of 16 1?2''' (37.22 mm)
- a height of 7.9 mm
- a Swiss lever escapement
- a frequency of 28,800 vibrations per hour (4 Hz)
- 24 jewels
The new Valgranges® A07.171 calibre displays hours, minutes, and seconds, and has an aperture date. An additional complication features an analogue 24-hour dial that can be rapidly set to the desired time zone. Despite this complement of functions, the A07.171 is still only 7.9 mm thick like the other Valgranges® calibres and is also operated with the winding crown (except the chronograph). This makes it possible to configure, in one and the same case, a broad spectrum of different watches that distinguish themselves with extra features such as a power-reserve indication or the time zone function.
The rise of La Joux-Perret
Sellita is quite close to another company, La Joux-Perret (formerly Jaquet), which was its ally in voicing opposition to ETA's decision to suspend deliveries of its movement blanks. The two companiess have "divided up the tasks,†explains Frédéric Wenger, Director of La Joux-Perret. Wenger is also one of the company's major shareholders, along with, notably, Eric Loth of British Masters. "Sellita manufactures large volumes of ETA 'clones,' while La Joux-Perret specializes in the mech-anical haut de gamme,†adds Wenger.
Manual 7 days power reserve, Chrono Manual and Automatic Alarm +GMT+Calendar+Date
Benefiting from the current favourable economic situation, and at the price of a severe rationalization of its production tool, La Joux-Perret has made a qualitative and quantitative jump in only a few years, passing from a workforce of some 60 employees to over 150 today, of which 35 are qualified watchmakers.
In reality, La Joux-Perret has become a veritable and integrated manufacture, mastering the chain of production, from design concept and development to the integral production of mechanical movements. Overall, ETA movements or clones, which are assembled, personalized, or equipped with additional modules by La Joux-Perret, make up about 50 percent of the company's activity. As an example, we can cite the many versions based upon the automatic Valjoux 7750 Chronograph: GMT, date indicated in a window or by a hand, Bi-compax, Tri-compax, dual-time, power reserve, or even the flyback models. Another ETA calibre giving rise to many versions and personalized models is the automatic 2892A2 'tractor', which is also used as a 'platform' for many other variations.
In light of the delivery suspensions by ETA, La Joux-Perret is also developing a series of in-house movements that can replace the ETA calibres. Already in the pipeline are a chronograph movement and an automatic whose "appearance will be much more 'manufacture',†says Wenger. Besides this offer, La Joux-Perret has several in-house movements, including: manual winding; 73/4 and 83/4 tonneau shaped; round automatic instantaneous flyback chronograph measuring 1/4 of a second; manual winding with 7-day power reserve; manual chronograph with or without a flyback function; manual winding single pushbutton chronograph; and the calibre 5900, an automatic alarm with a dual-time mechanism. Moreover, the firm has developed an in-house tourbillon, which is already being used by several brands (Maurice Lacroix, Louis Vuitton, and Chanel).
"In fact,†continues Frédéric Wenger, "we want to concentrate on industrial scale production, and on long-term movements for 15 to 20 major brands. Our clients are essentially the brands belonging to the large groups, such as the Richemont group (notably the Luminor Rattrapante and the Radiomir Alarm by Panerai), the LVMH (primarily the Calibre 360 for TAG Heuer and the tourbillon for Louis Vuitton), Franck Müller, the Concord-Movado group, as well as a series of important independent companies, such as for example, Corum, Harry Winston, Hublot, Raymond Weil, Graham, Arnold, Eberhard, and Paul Picot."
A visit to La Joux-Perret's manufacturing facilities supports the ambitions expressed by Wenger, and the firm's determination to become, over time, "totally autonomous vis-Ã*-vis ETA, and to have the capability of offering an alternative worthy of the names of its clients in the haut de gamme,†insists Wenger. A former banker, he has infused into this ex-family company the rigour that it lacked: structuring the product as a function of well-defined strategies, rigorous planning as a function of clear priorities… "We don't want to do everything, and cannot do everything,†says Wenger. "But, for what we do, we bring the excellence that we are capable of doing.â€
La Joux-Perret seems to be a nearly totally integrated manufacture with its: office for the technical development of movements, modules, and decoration; office for cost control and productivity; office for quality control of external and internal component parts; pre-assembly and assembly; mechanical department with a design section for creating the necessary tools (a key department since the autonomy, quality, reactivity, and rapidity of the company depend on it); workshop with a press for cut-outs and rectifications; workshops dedicated to decoration and chamfering (polishing by CNC or by hand, Côtes de Genève pattern, sunburst design, circular-graining); a room for polishing brilliant or mat finishes, sandblasting, technical treatments, and washing; CNC machining and engraving; electro-erosion, workshop for cutting tools and special milling; office for production control; office for CNC programming; department of cutting and shaping. We could go on, but it is clear that this is a nearly complete manufacture, capable of "doing everything†that needs to be done to create its component parts. La Joux-Perret is a veritable industrial tool that will certainly count in the future (and that 'counts' today).
Rolex innovates with the Parachrom® balance-spring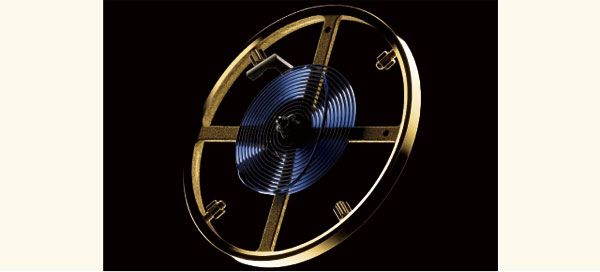 After having mastered the fabrication of the ferromagnetic balance-spring in the 1990s, Rolex developed and patented a balance-spring made of a new alloy called Parachrom®. Composed of niobium, zirconium, and oxygen, it has the advantage of being up to ten times more resistant to shocks, and insensitive to magnetic fields.
The research and development work took five years and required the creation of the most advanced techniques. Rolex used its own high-tech methods to create Parachrom® in order to ensure perfect quality, while maintaining complete independence. Unwound, the balance-spring is as fine as a human hair. It is like a 20 cm long ribbon, with a rectangular cross-section of 45 µm x 150 µm (microns). Its fabrication starts by the fusion of niobium and zirconium at a temperature of about 2,300 °C in an oven with electronic bombardment, which was elaborated specifically for this application. A bar measuring 30 cm long and 10 mm in diameter is obtained, which then undergoes a series of operations to create a wire that is 3 km long and 0.1 mm in diameter (the diameter of a hair). Next, the wire is transformed into a long ribbon with a rectangular cross-section that is cut into lengths of 20 cm. Each length is wound into a balance-spring, with its shape fixed by a high temperature thermal treatment in a vacuum.
In 2000, the Parachrom® balance-spring was introduced in Rolex's Cosmograph Daytona, followed in 2005, by its placement in the brand's new GMT-Master II. Its blued colour pays homage to the prestige of the watch, and reinforces the stability of the balance-spring's properties. In fact, in the history of watchmaking, blueing a balance-spring was reserved for the most precise and most exclusive timekeepers.
Technotime takes the plunge
Another player that has made a veritable entrance into the movement game is Techno-time. The company started in 2001 on the 'vestiges' of France Ebauches that was having a very difficult time. Orchestrating this renaissance were the gentlemen Gerber and Rey, who, at first, wanted to re-launch a complete manufacturer of mechanical movements on an industrial scale. Their principal asset: recognized expertise in the production of an entire family of quartz movements (1.5 million pieces per year, one-third 'Swiss Made', two-thirds 'Made in China'), of which many were equipped with additional modules that are, in fact, purely mechanical. This tradition of mechanical modules on quartz movements is the base on which Technotime launched the development of a whole new family of original movements, all, this time, 100 percent mechanical.
"We are not talking, at all, about ETA 'clones',†insists Philippe Marti, the company's General Director, "nor are we talking about ETA 'compatible' movements. What we make are totally original movements.â€
After five years of research and development, Technotime is now selling its first family of movements composed of three calibres designed around an identical base of 13'''1/4 , featuring a double barrel, power reserve of 120 hours, 28,000 vibrations per hour, manual or automatic winding, and a tourbillon. "We are situating ourselves between the haut de gamme manufacture and the mass movement maker. We occupy a middle niche,†adds Marti, "with prices that vary between 400 CHF and 800 CHF – but between 12,000 CHF and 22,000 CHF for the tourbillon, crafted by hand in small series.†Currently in its delivery start-up phase, Technotime sees itself as "both ambitious and realistic†and sets its production goals to be "of the order of a few tens of thousands of mechanical movements per year.â€

Technotime Movement TT718 and Technotime Movement TT791

Technotime Movement TT738
"The demand today is enormous,†continues Marti, who formerly worked for TAG Heuer, "and the present economic situation is extremely favourable, but we want to expand gradually and reasonably, with high standards of quality, while giving our products the time to mature. This progressive expansion is the key to success for all industrial development.â€
With its industrial tool (overseen by a holding group located in La Chaux-de-Fonds), located between its site in Valdahon, France (120 employees involved in blanking, profile turning, cutting, and machining) and in Switzerland (43 people work in assembling the component parts and the movements), and its recognized expertise in supplying mechanical components to the large Swiss haut de gamme brands, Technotime enjoys an important level of autonomy.
A symbol of the renaissance from France Ebauches, Technotime recently announced that it has totally mastered the production of its own balance-springs. This project has been conducted quietly over the past several years, in collaboration with the University of Franche-Comté, and has resulted in finding both the composition of France Ebauches' last balance-spring production in the 1980s (at that time, France Ebauches owned the company, Spiraux Français, which during the 1970s produced 40 million balance-springs per year, before being liquidated), and the old rolling mills that had been sold around the world, and which served as the basis for re-creating new machines.
Technotime is thus capable, at present, of not only producing its own balance-springs, but also of making all the strategic component parts for its movements: balance, pallets, pallets wheel, escape wheel, plate, pinions, gear trains, etc.
"The offer of our own original independently produced movements comes just at the right moment,†affirms Marti, "because, historically, the sophistication that we have seen in the haut de gamme sector, with its new functions and indications, is now going to move down to the mid-range mechanical sector. The market for customized movements is considerable. And, another capital point is that a production tool such as ours permits the creation of original and reliable products on an industrial scale. This is an opportunity that the prestige brands are sure to jump on.â€
Between renaissance of the manufactures, and new offers in terms of the movement, the future of mechanical timekeeping seems rich in developments and surprises to come. The number of new players is greater than those that we have cited here. Due to lack of space, we cannot discuss examples such as STT (ex-Progress) or SFP or Soprod, which are also active in the movement field. And then, there are those such as Christophe Claret and BNB, which are producing movements for the haut de gamme sector. Europa Star will return to all of these in more detail at a later time.
Launch of Blancpain Calibre 13R0
mouvment
Blancpain has recently presented a new hand-wound base movement. The Calibre 13R0 is equipped with a titanium balance with an adjusting screw system, a Breguet overcoil balance-spring and three barrels ensuring an 8-day power reserve. Simplicity, precision and performance are the main characteristics of this new movement, adorned with extremely refined finishing details.
Due consideration was given to the diameter of the balance, in order to achieve the best possible ratio between mass and inertia, thanks to a larger-diameter balance made in a titanium alloy. (This is far less sensitive to variations in temperature than glucydur, which is used in most modern balances. It is anti-magnetic and is also distinguished by its amazing lightness, which accordingly reduces differences in rate between horizontal and vertical positions, consuming less energy.)
To guarantee the sprung balance a maximum of isochronism (regular oscillations whatever the amplitude), Blancpain has opted for a so-called 'Breguet' overcoil balance-spring with the outer coil raised and slightly tilted towards the centre on a plane running parallel to the spring. This astute device enables the balance-spring to maintain its round shape at all times (whether in contraction or expansion phases).
The new Calibre 13R0 (in its current hours/minutes/seconds/date version) has an 8-day power reserve (192 hours). To achieve this feat, Blancpain has equipped it with three series-coupled barrels.
Another technical improvement lies in the fact that the date change at midnight and the fast correction may be done in either direction: the finger piece driving the date disc simply slides backward over the teeth and thus runs no risk of being damaged itself or of impairing the disc.
The new Calibre 13R0 was first and foremost conceived as a base movement intended to accommodate various complication modules. This perspective will oblige Blancpain to rework all the famous complication 'plates' that have contributed to forging its reputation. This movement is also intended to evolve towards a self-winding version. Calibre 13R0 and its future developments should therefore herald a significant renewal in the Blancpain movement collections.
The new Vacheron Constantin Calibre 2450 automatic movement
Designed and developed exclusively by the Vacheron Constantin Manufacture, the new calibre 2450 automatic movement is a highly strategic development, designed from the outset to receive additional plates, and will be used to create a new family of complicated movements.
It integrates watch and calendar functions, displaying the date, hour, minute and, by means of a central hand, the seconds. Beating at a rate of 28,800 vibrations an hour, the 2450 has a power reserve exceeding 40 hours. The use of ceramic ball bearings in the rotor system dispenses with the need for lubrication, giving the movement a longer than average life span. Its proportions – 3.60 mm high and 25.6 mm in diameter (111/2 lines) – are perfectly suitable for a men's range of models.
The 22 carat gold rotor is decorated extensively, polished and engraved – with a guilloché effect – in accordance with the exclusive Maltese Cross design with an exterior brushed sunray finish to reflect the light. The movement plate is circular-grained with 650 small circles. The hand-chamfered bridges are decorated with the famous Côtes de Genève pattern perfectly aligned when the pieces are assembled. The gear trains and the heads of the screws with their chamfered grooves are highlighted with a highly polished finish.
The teeth of every wheel, every pivot and every sharp angle are patiently polished, burnished and chamfered, Some of the manual finishing, however, like the chamfering of the steel parts, the moulding of the wheels and the polishing of the pinions, is not carried out for aesthetic reasons alone, but to meet indispensable functional requirements. The 2450 meets, of course, the rigorous standards set by the Poinçon de Genève, the most prestigious official distinction that can be given to a mechanical movement.
Source: Europa Star December-January 2007 Magazine Issue