FIRST: PLEASE DON'T PM ME AND ASK ME TO FIND OR RECOMMEND A WATCH (OR DEALER) FOR YOU.
I DID THIS GUIDE SO YOU CAN DO IT YOURSELF!
Don't hesitate to reply this thread and ask questions and give suggestions. There are lots of knowledgeable people in the forums who can help. I don't get paid for this, it's just a hobby... and I certainly don't have time to be every newbie's personal watch consult. So
please
don't take it personally when your PM gets ignored.
Also keep in mind that all these descriptions always refer to
one particular replica version
. Only the best individual replicas of each model are listed here and it's
your job
to find out which dealer has the best one. Typical ignorant question sounds like this: "Is Joshuas Aquaracer better than Kings?" There are no such things as "Joshua's Aquaracer", these watches always come from different factories and all dealers (usually) get the exact same ones from
the exact same sources
. And if you can't find a particular replica model listed here, you can be sure it's not worth purchasing. THANK YOU FOR READING THIS AND UNDERSTANDING!
Also note that you have to be a member (and logged in) at RWG.cc and RepGeeks to be able to read all the member reviews.
I finished the Omega Guide 2005, Breitling Guide (with the help of other members) 2006, so I guess 2007 is a perfect year to release a TAG Heuer replica buyer's guide. There's bigger demand for this now, because the factories have concentrated on TAG more, and released some amazing replications.
The first version of this Guide was something I parsed together during the slow office days. I hope it helps (especially the new) members again to figure out what they like... and what are potentially good purchases.
If I have forgotten to add an important or essential review of some specific watch, please let me know and I'll add it. Specific watch reviews are linked to RWG.cc. Readers of Repgeek and RWI have to be members of RWG.cc (and logged in there) in order to view them.
Please note that availability of some of the TAG replicas is limited, and not all dealers carry them. Once again I don't endorse any dealers so you have to find out yourself which dealer(s) sell the specific versions.
Special thanks to all community members for their reviews and pictorials. Also special thanks to TTK, Keyhole, Ruby and Perfect Clones for some reference pictures.
TAG Aquaracer Chronograph Day-Date Asian 7750
Incredible replication. Besides the day/datewheel, (which is always more or less crooked on the Asian 7750) it's almost impossible to find a flaw from this rep. The paint on the caseback markings is a bit darker on the replica. If you're really, really obsessive it can be "lightened" easily with an abrasive compound. In my opinion this replica surpasses even the Link Chronograph in accuracy and feel. Amazingly beautiful watch, and definitely one of my all-time favorites.
My review of the TAG Aquaracer Chronograph is HERE.
My comparison between genuine and replica Aquaracer Chronograph is HERE.
How close is the rep? World Traveller put it side-by-side with the gen
HERE.
TAG Link Automatic Chronograph Asian 7750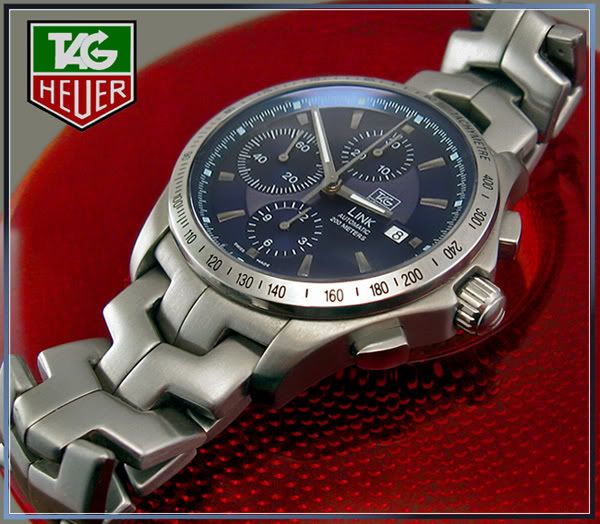 This watch was among the first "Super Reps". Its accuracy was quite shocking when it was released August, 2006. It's not perfect though, the datewheel should be ETA-type, and the rep uses standard Asian 7750 date. Also, the 3' hour marker is a bit misaligned (barely detectable though). The bracelet quality and finish are remarkably good, and even the original resizing method has been copied flawlessly.
There's also a quartz (fantasy) version of the Link Chronograph, which is very inaccurate but according to member reports it's rather nicely built. There's also a neat (but again highly inaccurate) quartz replication of the TAG flagship model, Link Calibre 36 chronograph.
MEMBER REVIEWS:
My TAG Link Chronograph review covers the whole Link replica compilation, and has a PDF instruction file for bracelet resizing. You can view it HERE.
Read how the Link compares against another "Super Chrono replication", the Omega Seamaster Chronograph HERE.
Maxim reviews his "brushed bezel" version
HERE.
TAG Carrera Automatic Chronograph Asian 7750
This watch comes in various dial colors and combinations. The special models are the sporty "Racing" with black rubber strap and red stopwatch hand, and the dressy two-tone version. This watch comes from the same factory as the Link and Aquaracer Chrono. The replication is excellent, even the glass transparent caseback looks relatively close to the genuine article.
Here's Colinmgzt's observations of the replica:
"Bracelet is classy, there is a small difference in the spacing between the centre links. Otherwise perfect, including clasp and quality of engraving. Case, horns, pushers and crown are all identical. Besides the datefont being a bit off of the genuine ETA wheel, the main difference is the 6 and 12 sub dial chapter rings, they are wider than on the gen, initially I thought it was because of the silver on black making them look larger but they
are
larger."
MEMBER REVIEWS:
Colinmgzt made excellent gen vs. rep comparison of the Carrera Chronograph. You can view his review
HERE.
TAG Mercedes SLR Quartz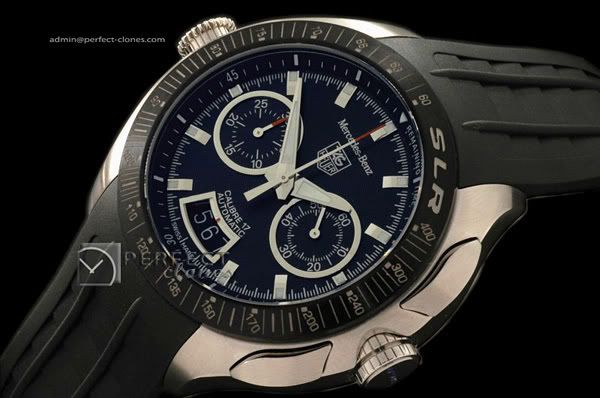 A new Super-rep? Well, it certainly looks that way. The new 7750-powered "seconds at '3" SRL has a double AR-coating and all the good stuff from the gen. Looks like the rep is very accurate, but I'm still waiting for a full review of this watch.
MEMBER REVIEWS:
Takashi made a great review of the SRL. Read his impressions
HERE.
TAG Link Automatic ETA
Excellent replication. Unfortunately the Link Automatic never got the attention it deserves, because the release of this rep was hugely overshadowed by the Link Chrono. Chrgod thinks the non-chrono might be even better replica of the two. I gotta admit the rep is excellent. Actually the genuine Link should come with polished bezel, and it's brushed on (at least most) replicas. This is an easy fix though, you only need some abrasive metal polishing paste if it bothers you.
MEMBER REVIEWS:
Chrgod reviews his magnificent ETA Link
HERE.
TAG "Tiger Woods" Professional Golf Watch
Here are Keyhole's observations of the rep:
"The Tiger Woods Tag Heuer Golf Watch has finally been repped properly. Previous versions have left us wanting a more accurate replica, and this time around the replica makers have left me satisfied. The dial is properly reproduced to represent the dimples of a golf ball. These are highly pronounced and give the dial a personality not found on other watches.
The Tiger Woods Tag Heuer Golf Watch is a great value for the price. It can generally be found for between $110-$130. For a little bit more you can even receive a box set that includes a Tag Heuer hang tag, circular zipped box, warranty card and papers. If you are an avid golfer or just a fan of the sport, I highly recommend picking one up!"
Please note: The genuine watch is made of titanium, and all the replicas are brushed stainless steel, which gives the case a bit different appearance.
MEMBER REVIEWS:
Read the whole review by Keyhole
HERE.
Taiji's excellent review can be found
HERE.
TAG Link GMT ETA/Asian 21J
I'm not sure if all Link GMT's have the "200 meters" writing on the dial. The "serious" flaw on the "plain" version is the GMT hand "triangle", which is wrongly shaped. The bezel numbers seem to be thinner on the gen as well. The another Link GMT (with pushers) is also available in Asian 21J, which makes it very interesting "bargain" buy. According to reports the bracelet is the same high quality one that's used on the more expensive Link Chronograph.
Please note that the white dial version of the "pusher" GMT is a fantasy watch. No genuine white version exists.
MEMBER REVIEWS:
Timepiece wrote a great review of the Link ETA GMT
HERE.
TAG Carrera & TAG Carrera "Twin Time"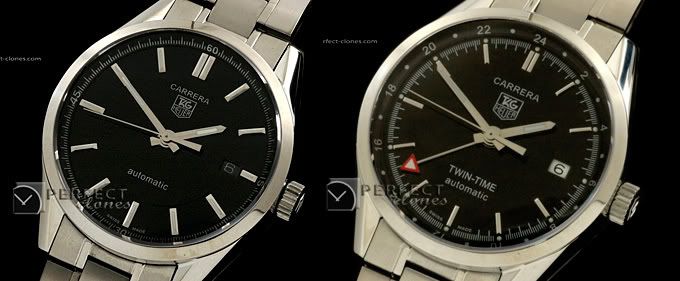 The non-chronograph Carrera is TAG's "casual dress model", and it competes against the likes of Omega Aqua Terra and Rolex Explorer I. These are rather new replications. Both look quite accurate to my eye. But here comes the major BUMMER: The factories have made an utterly idiotic mistake again, the "Twin Time" version should have black datewheel (instead of white), and the standard version should have white date (instead of black). At least the current models should. On the reps the dateweels have been installed other way around.
The "Twin Time" version is a GMT watch, which uses the good old "faux" ETA 2836-2 GMT modification. My personal experiences of this "GMT hand below the hour hand" faux GMT have been excellent. Both of these reps come with gorgeous transparent glass back.
MEMBER REVIEWS:
No member reviews of this watch yet.
TAG Carrera Classic Chronograph, seconds at '3 Asian 7750
Here we have the "Tricompax" version of the Carrera. This is actually very good replication, but who in God's name mixes up the colors on the datewheels? Guess what, this one has the same idiotic issue as the Carrera Twin Time. Black version should have black datewheel, and the white one should have white. But apparently this is too complicated for the lobotomy patient who installs them into these watches.
Other than that, a brief comparison against the gen gave good results. Looks like a winner. Ziggy has given his ok to the seconds at '3 7750 modification as well.
MEMBER REVIEWS:
No member reviews of this watch yet.
TAG Monza Calibre 36 Asian 7750
The rep looks quite accurate, but the subdial spacing is off. The rep also has very nice glass transparent glass caseback (as per genuine). I'm looking for detailed description/review for this watch. If you can help, please do so.
MEMBER REVIEWS:
No member reviews of this watch yet.
TAG Grand Carrera
It's actually quite amazing that this kind of watch has been replicated. We couldn't have DREAMED about replica like this 3 years ago. All is possible due to seconds at '3 modification, which gets an "ok" from Ziggy. Actually the gen doesn't contain any new horological innovations (despite the "Grand" label). The gen uses a 2894 movement, and the Asian version probably has thicker case (because 7750 requires that). Other than that (and the usual misaligned date), the rep looks mighty good.
MEMBER REVIEWS:
Read Morlock's review of this great replica
HERE.
TAG Carrera 2008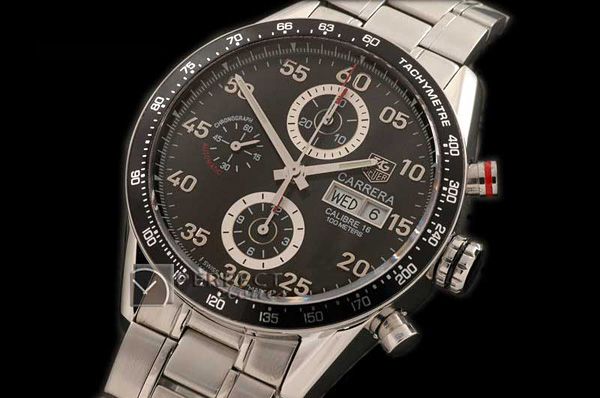 Nice looker. Too bad about the subdial rings, which (according to reports) aren't accurate. There's also some questions about the actual size of this watch. Gen is 43mm, but King says the rep is just 41mm, which leads us to believe that they just used the case of the standard/classic Carrera chrono. This hasn't been verified yet.
MEMBER REVIEWS:
Morlock reviews this watch
here.
Onzenuub's great article is
HERE.
TAG Carrera Calibre 1
First TAG rep to use the Asian Unitas movement. Very nice "budget buy" as the selling price is very reasonable. According to chrgod it's a nice big watch, with double AR. Crown seems a bit thicker on the rep, but it actually suits the design better. The red on the seconds hand also seems a bit rough.
MEMBER REVIEWS:
Mastrmindalliance reviews this replica
HERE.
TAG Indy 500 Chronograph Quartz
Azerbyjam's observations of this rep: "Underneath the 1/10th second register, the 'Tag Heuer Indy 500' text is clear, but perhaps not as crisp as you'd expect to find on the gen. At a glance it's perfectly legible, but close up it looks ever so slightly blurred. The Tag Heuer Logo underneath the 12 o'clock marker, also suffers from this very minor problem. On the Tag Heuer Indy 500, there's a coating to the hour and minute hands as well as the markers (except 12 o'clock) and around the rehaut, next to the hour markers. It's pretty weak and won't last long, but it's nice that the rep makers have gone to the trouble of adding it to the rehaut as well.
The movement is a Swiss Eta quartz G10 711, 4 jewel. I know nothing about quartz movements, but I understand they're pretty bullet proof and if the worse does happen, are cheap to service or replace. One of the nicest features though is the chronograph records to 1/10th of a second accuracy."
MEMBER REVIEWS:
Read the whole brilliant writeup of this model by Azerbyjam
HERE.
TAG Link Ladies' quartz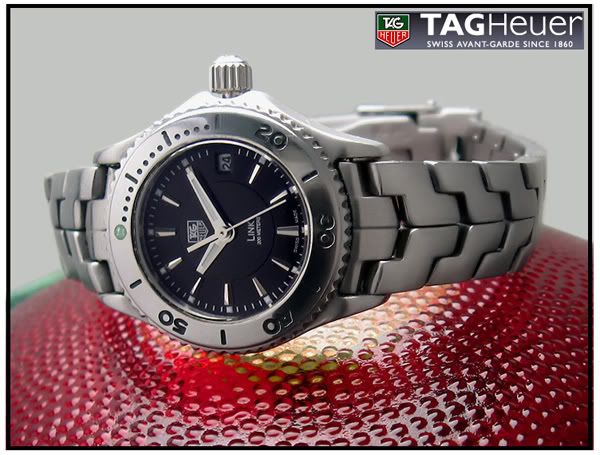 There have been various very good quartz versions of the ladies' Link. Besides the standard Link, there have been "Ayrton Senna", "Tiger Woods", MOP dial/diamond and two-tone versions. The genuines use quartz movements as well, so the replications are technically faithful and accurate.
MEMBER REVIEWS:
My review and story of the rep TAG Link that I bought for my girlfriend is
HERE.
P4GTR's MOP dial version is presented
HERE.
TAG Formula-1 Quartz
Another very nice "budget rep". The genuine "Kimi Raikkonen / Lewis Hamilton" watch is quartz as well, which makes the replication technically accurate. The new rep looks quite amazing, and visually accurate as well. This would make a great beater watch for anyone.
MEMBER REVIEWS:
Amazing review by chrgod can be viewed
HERE.
Morlock wrote another really nice review of the red version
HERE.
TAG Aquaracer 500m Automatic
Thanks to ***b16a2*** for the overview.
Let's make it short and simple this time. Very nice replication.
Conclusion of flaws
Conclusion of flaws on front
Lack of AR
Some reports of misaligned logo's (not all watches)
Conclusion of flaws on rear
Lack of perlage on movement
Smooth instead of toothed rotor bearing edge
MEMBER REVIEWS:
b16a2's amazing full review is
HERE.
TAG Monaco Asian 21J / quartz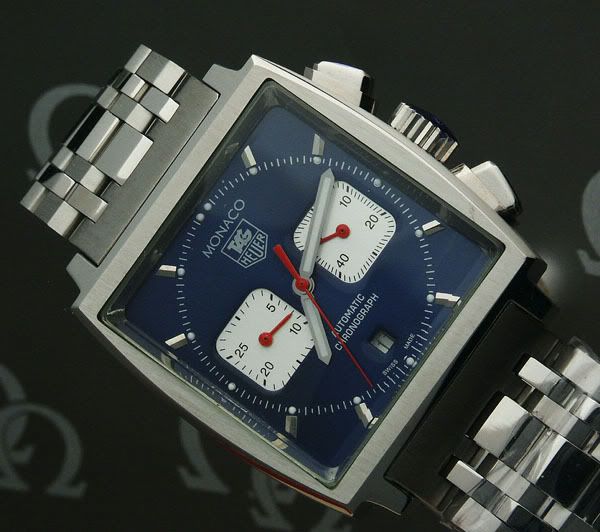 We constantly hear the question: "Why there's no great replica of this legendary watch?" The answer is that the Monaco uses an ETA 2894 movement, a movement that has seconds at 3. There's the new "seconds at '3" Asian Valjoux 7750 "hack", but I doubt it could be adapted for this watch.
So it looks like Monaco has the same problem as the another highly requested TAG, Autavia. There simply isn't a way to replicate it properly (with the current available rep movements). But there have been rather nice faux chrono 21J and quartz versions. Usually, I'd usually choose a working quartz stopwatch over faux 21J Asian. But Monaco is a bit special watch, and it doesn't visually resemble a typical, traditional sports chronograph. Simply for this reason I'd choose the the faux 21J for Monaco. I can imagine that the constantly running "stopwatch" hand wouldn't bother me on this watch. And besides, having a quartz-powered Monaco sounds just, well... rather silly. This just my personal recommendation between the two versions, nothing more.
MEMBER REVIEWS:
No member reviews of this watch yet.
Will be updated frequently.