Well a little downtime in the sales section gave me a few hours to throw something together.
What is our fascination with this sociopath, misogynistic, alcoholic, emotionally dysfunctional, sickly charming, ruthless killing machine? He might be all these things but the films and the character exude style, taste and there is a little bit in all of us that wants to escape into the fantasy world in which he resides. One really has to question the effectiveness of a secret agent whose preference for alcoholic beverages is known to every bartender in every exotic location throughout the world.
Anyway, lets re-visit the much written about Bond Watches. Along with Cars and women this is another area where the character displays great taste and style. However, the only thing he really chooses or seduces is the women, we know that Q (not ) chooses his cars and watches. So, Q is the man. The great thing for Bond, unlike us, is he gets them all for free.
So here we go some but not all of the 007 watches. Hours of research watching and freeze framing went into this thread lol. Joking of course but now since this watch hobby (addiction) has overcome me I cannot watch a Bond film without my finger hovering over the pause button for those miniscule glimpses of 007 arm candy.
See also
https://forum.replica-watch.info/for...read-pic-heavy
Rolex 6538.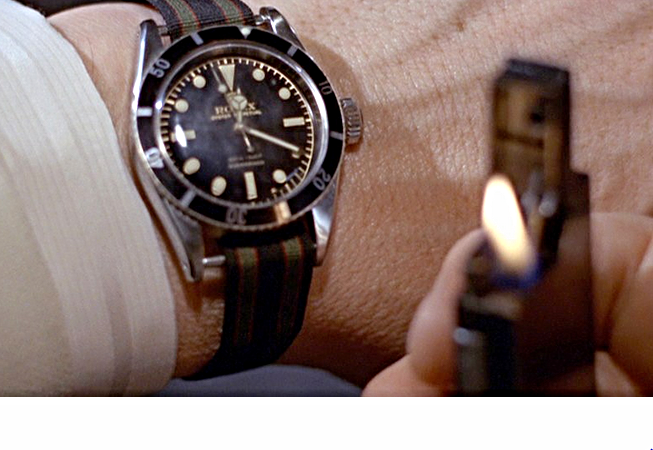 There has been some debate over the years regarding what Rolex Sean Connery wears and the provenance of it. However due to the advent of DVD and Blue Ray it is now fairly obvious. As is tired telling people the Connery sub is a 6538 big crown, with a silver triangle and a 2 line metres first gilt dial. The strap was generally considered to be an admiralty grey nato. We now know it was a black red and green undersized RAF strap. It was also worn on a Black leather strap in Dr. No. and From Russia with love. The RAF strap appeared in Goldfinger. Again, in Thunderball the 6538 tells the time while the Breitling Top Time supplies the Geiger counter.
My version is the Helenarou Connery Submariner. It is a work of art in my biased opinion.