Mega(12) review: ARF Datejust v3 126334 blue & grey dial and GMF 126331 Roségold with wrapped bracelet brown dial 41
Hi guys, decided to do a little review before this babies will get frankened.
This time I ordered from Li (@JTimeWatch).
It was my first purchase from Li.
Usually, I ordered my watches from puretime. However, credit card payment causes sometimes problems over there....
Nonetheless, the PT team is always quiet helpful and replies very fast, but if I can't pay, I can't pay
Thus, I recalled that Li from JTime accepts PayPal from serious RWI members - for what I counted myself. I contacted him and he was also very supportive.
Originally I intended to buy and do a review of Noob 126331 as there seems not to be any review of a Roségold Datejust model yet.
Li recommended the GMF 126331 instead. He said that Noob has no good price for the quality. I wasn't aware of the GMF version and followed his advice.
QC time and shipping time was ok. Not the fastest but also not very long. Just normal I would say.
You need to know, I didn't comment or ask for any replacements after QCs as I wanted to get "what they chose". I told them before that I will do a little review and therefore I was just curious to see what I will get. Most of the parts will be replaced anyway. Thus, whatever comes - lets see.
Now first onto the SS review:
ARF 126334 v3 latest version
Took the grey dial as Lana from JTime told me that the blue dial was currently out of stock. However, purchased a blue dial on a local m2m section in parallel.
Both (blue and grey) had slightly misaligned cyclops. No big deal. Just removed the bezel and corrected the crystal.
The blue one has a great date font. One of the rare ones I guess.
The grey one from JTime has the typical ARF shitty bold date font which represents most of the ARFs I guess.
Had a gen grey dial some time ago and a gen complete 126300 watch with blue dial. Honestly speaking, the ARF gray dial is bullshit. Way too light, not even close to the dark rhodium of the gen. But the blue dial is amazing. It's really very close to gen. Originally, I intended to change the blue dial to a gen white dial including gen hand set, but after seeing this I will definitely keep it as it is. And also no gen date disc needed on this one. The blue one is great and will remain as it is. Just replaced the crystal by a prof crystal. Now it's perfect. Ok, you could replace the bezel, as the gen is slightly more elegant and more bling bling. But I don't want to spend 2k on this bezel... No one will notice this during my daily life.
Pics show the gen dials and watch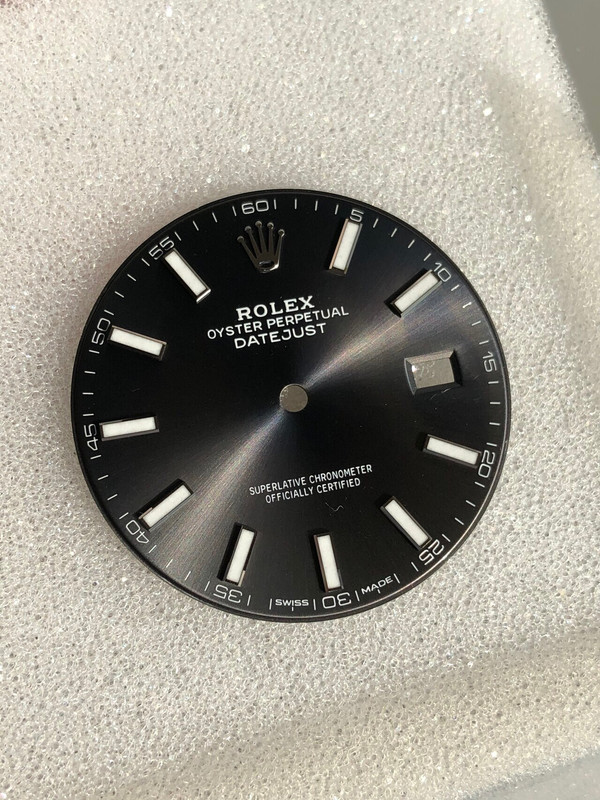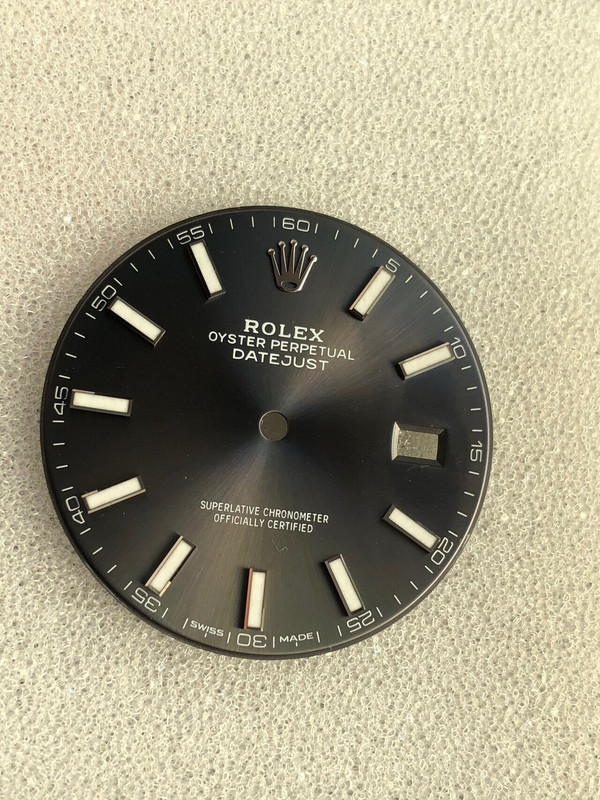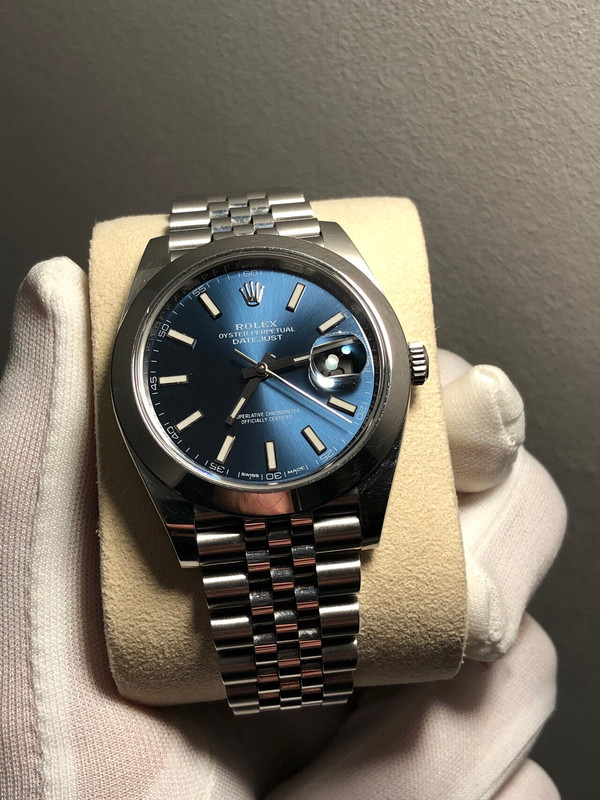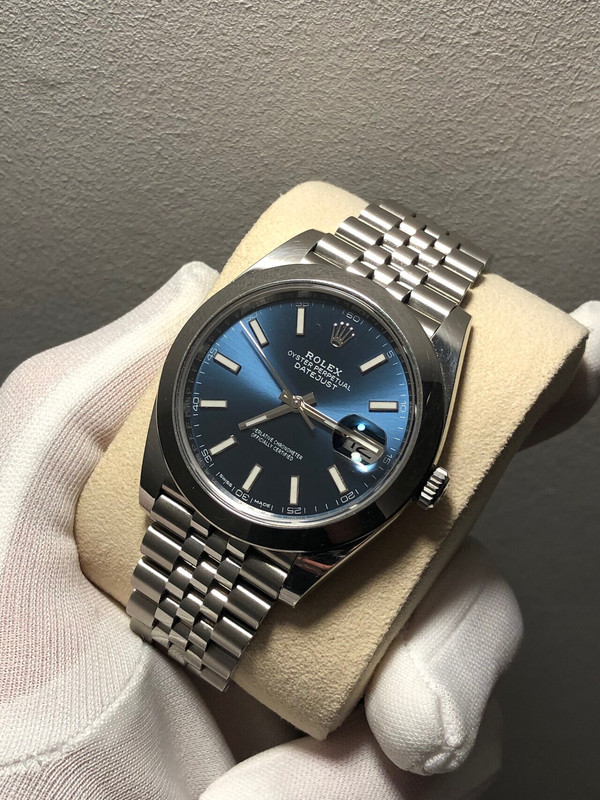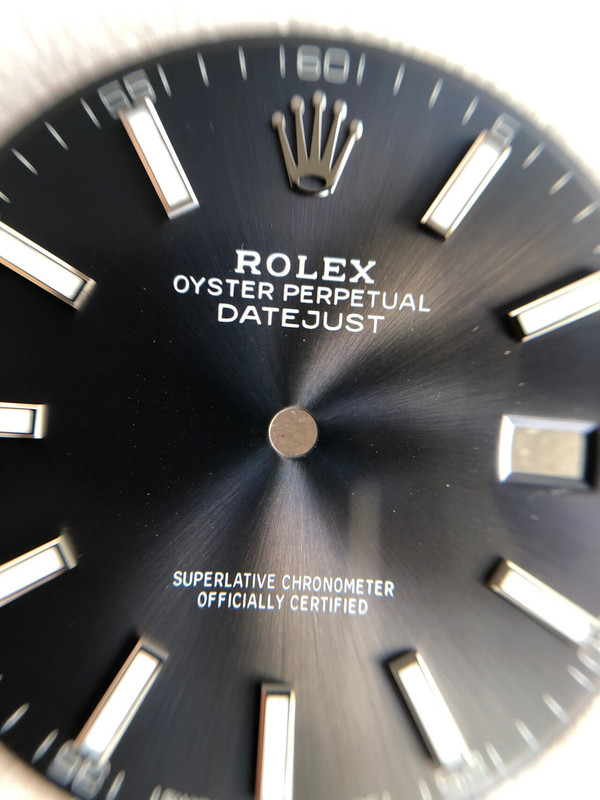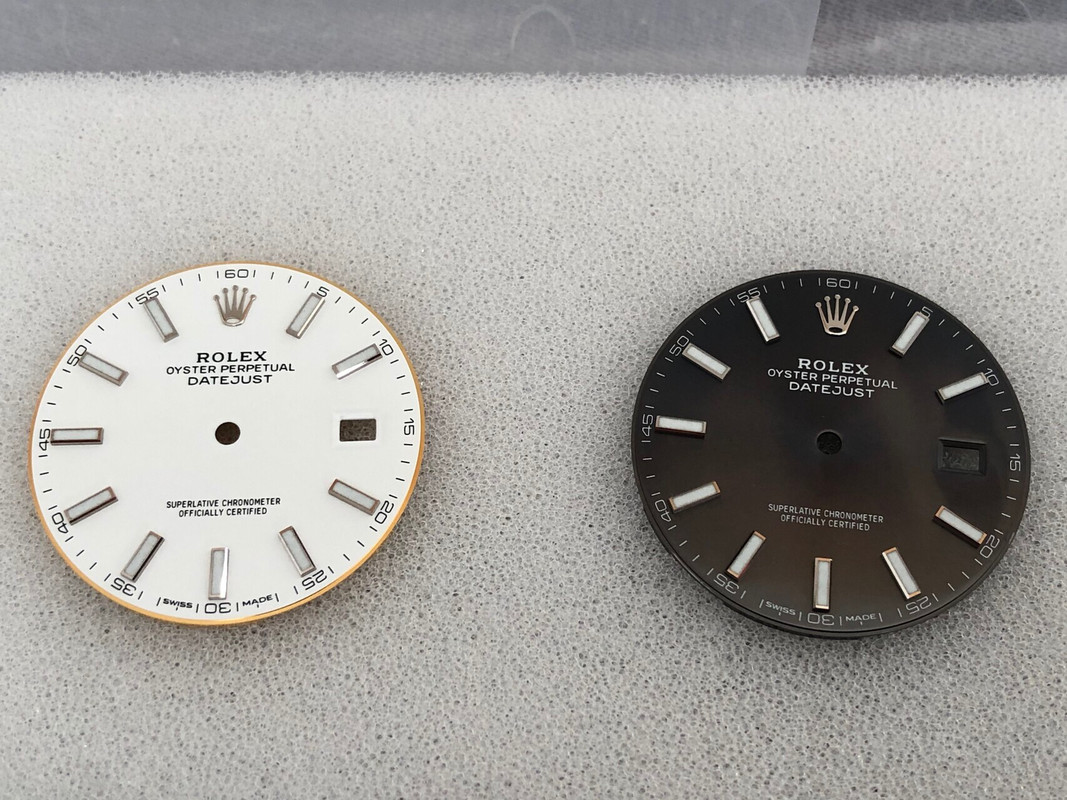 Bracelet
Both, grey and blue dial have the typical good ARF jubilee (smooth after giving it a WD40 bath) and all the other details are made very fine as well. Even the ARF crystal has a great black whole effect nowadays. Although magnification seems slightly more than gen has, but this could be also caused by the crystal heights.
Date change during winding is on the blue one exactly at midnight, while the grey one is around half past twelve (apart from this, both have the typical slow 2824 date change, taking 30min or so).
The grey one will be base for my rosegold franken. Thus, I don't care about the dial and date disc as both will be replaced anyway.
And the delayed date change will be corrected after placing the new and gen hands again.
Overall I can say that ARF made a great watch. The blue one seems slightly "better" assembled and features definitely a better dial.
In fact, there is two date fonts available.
If I would have been Li and the team, I would have tried sending me the thinner date font to do a better review as there is two version available. But the rest is normal variances on a rep and can be corrected easily.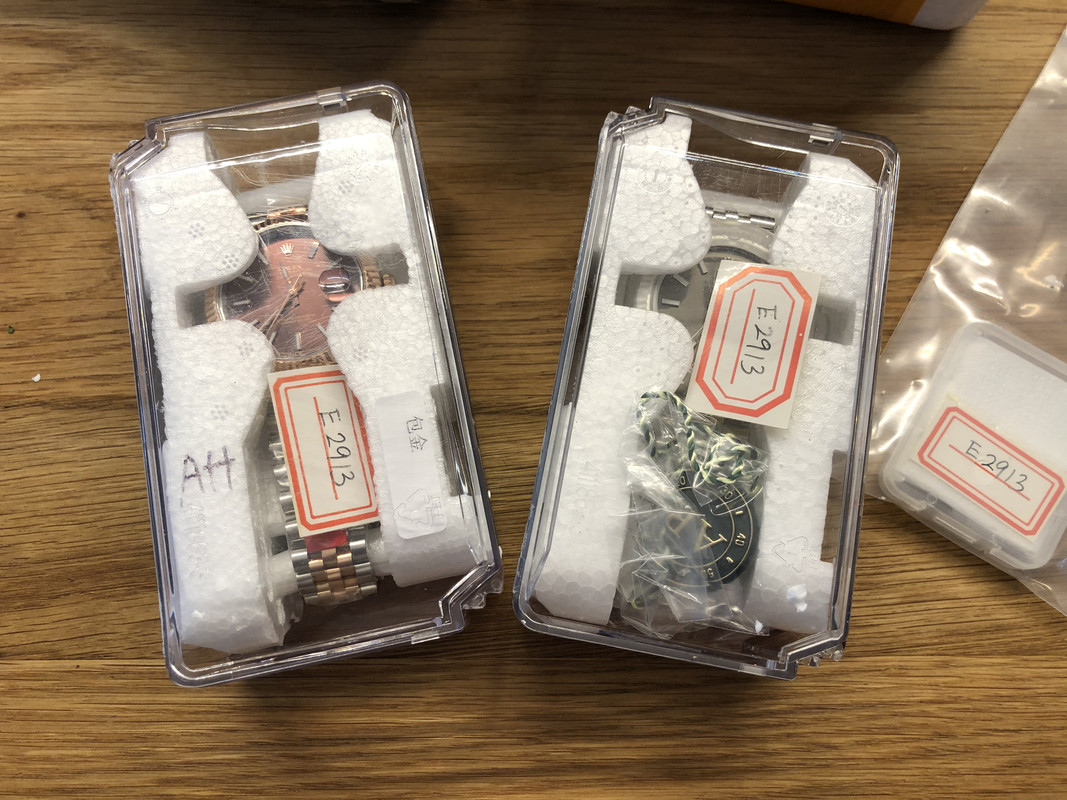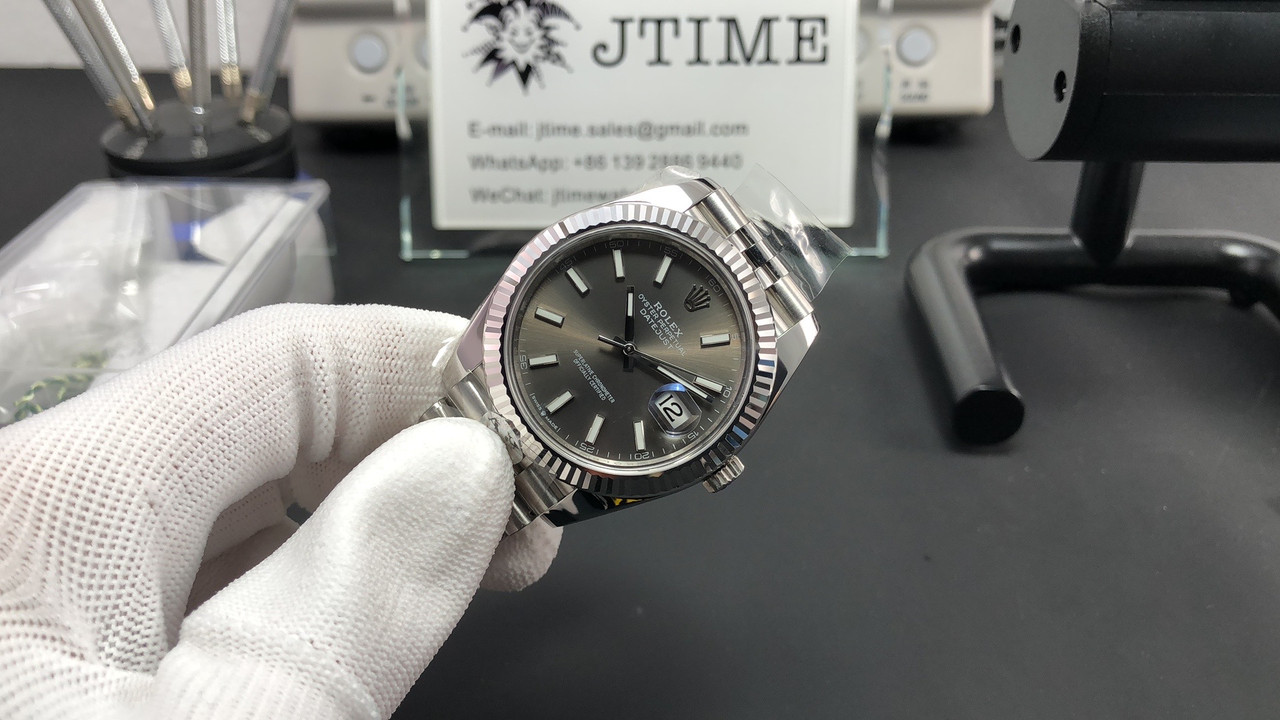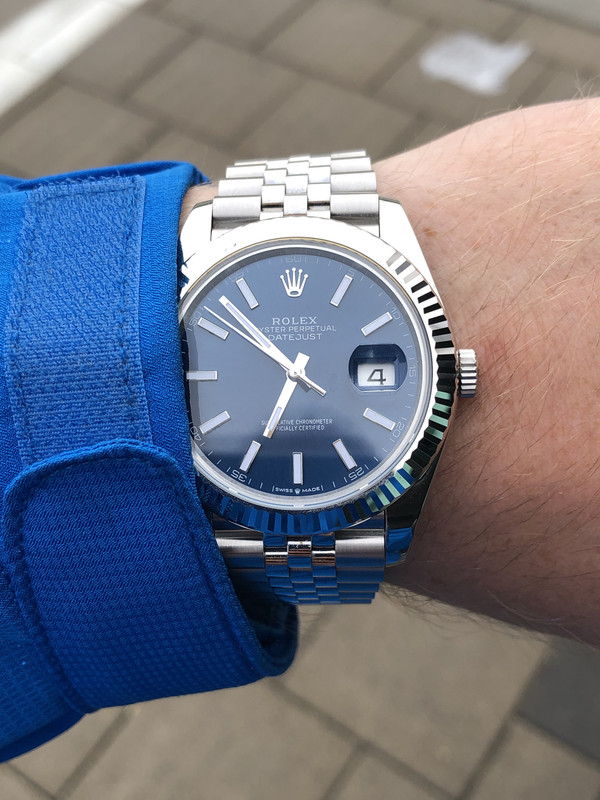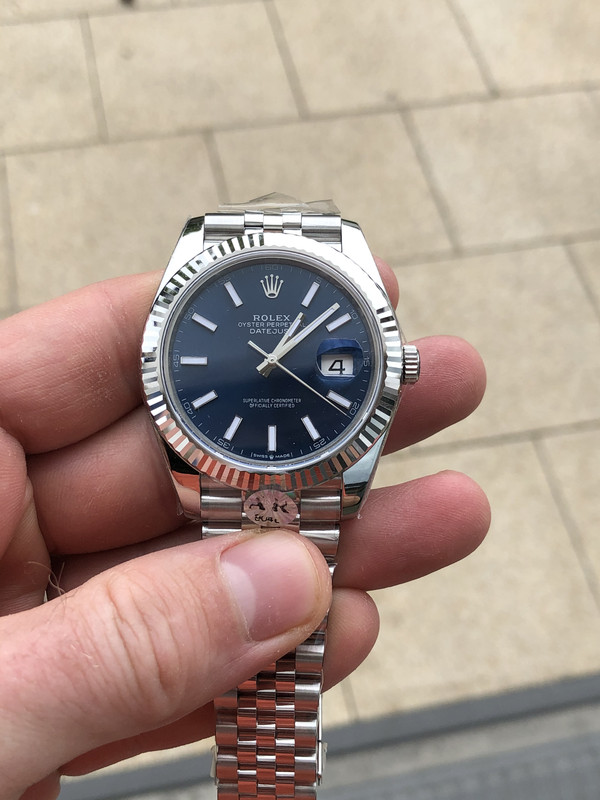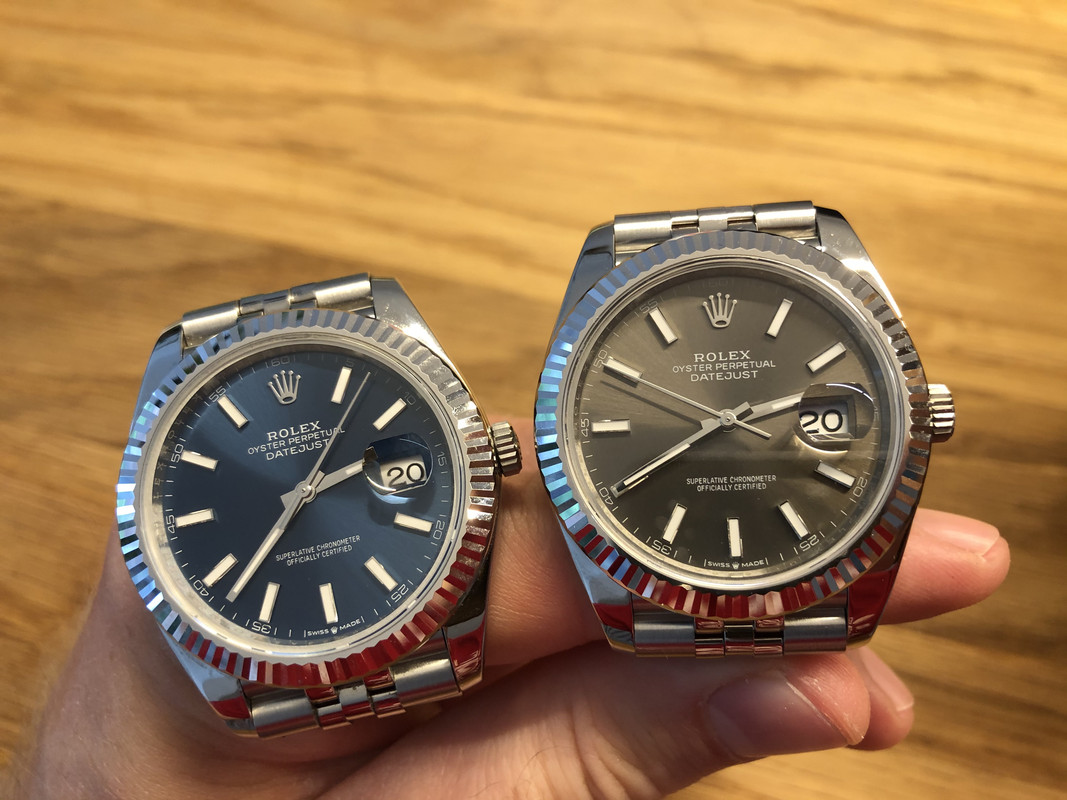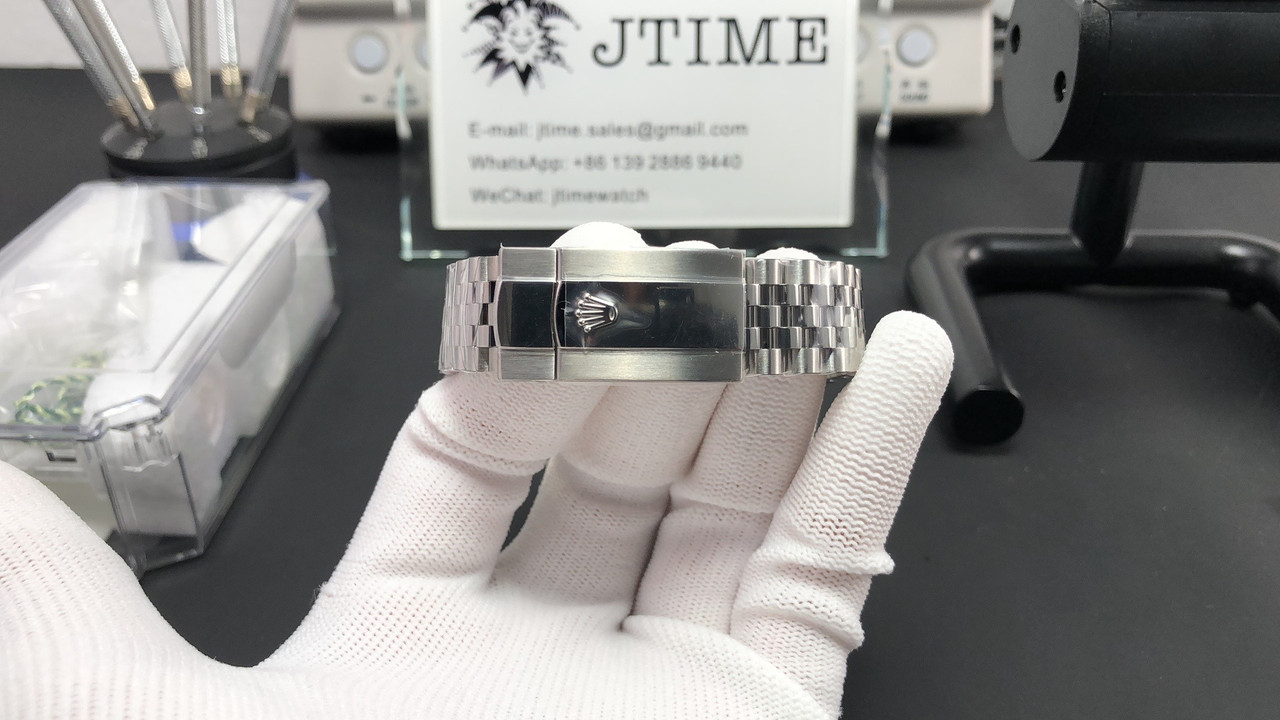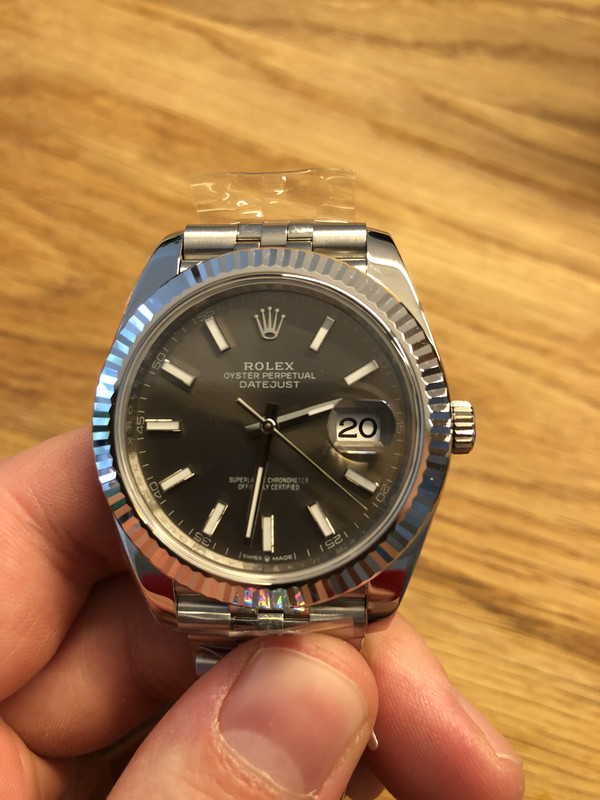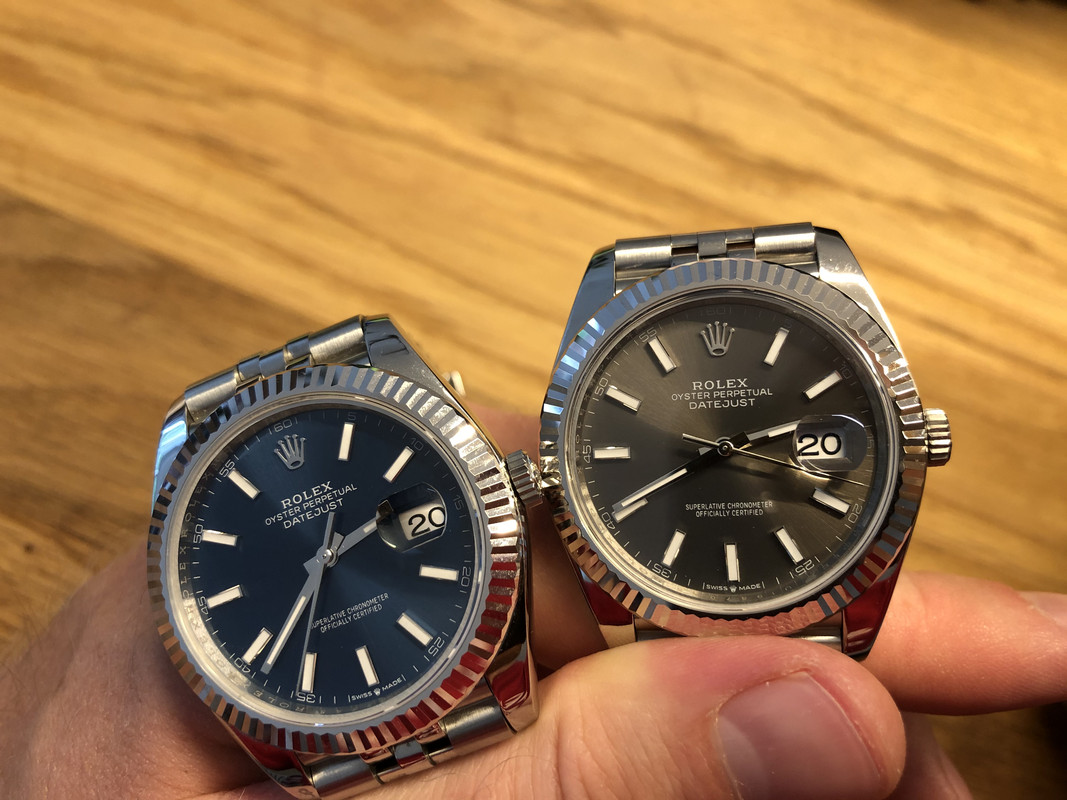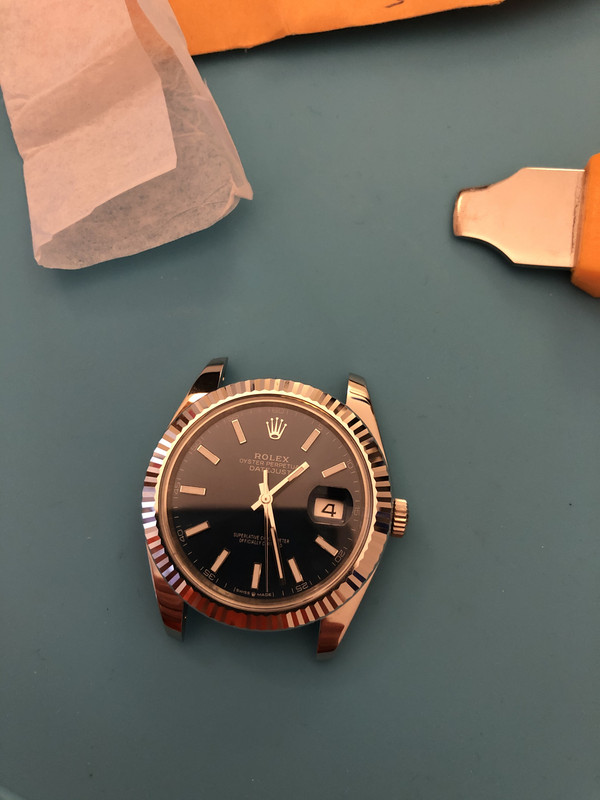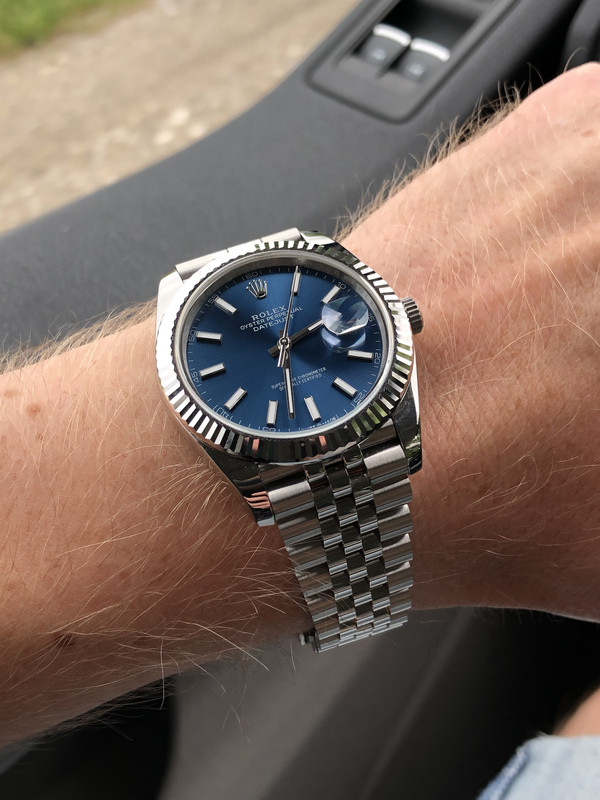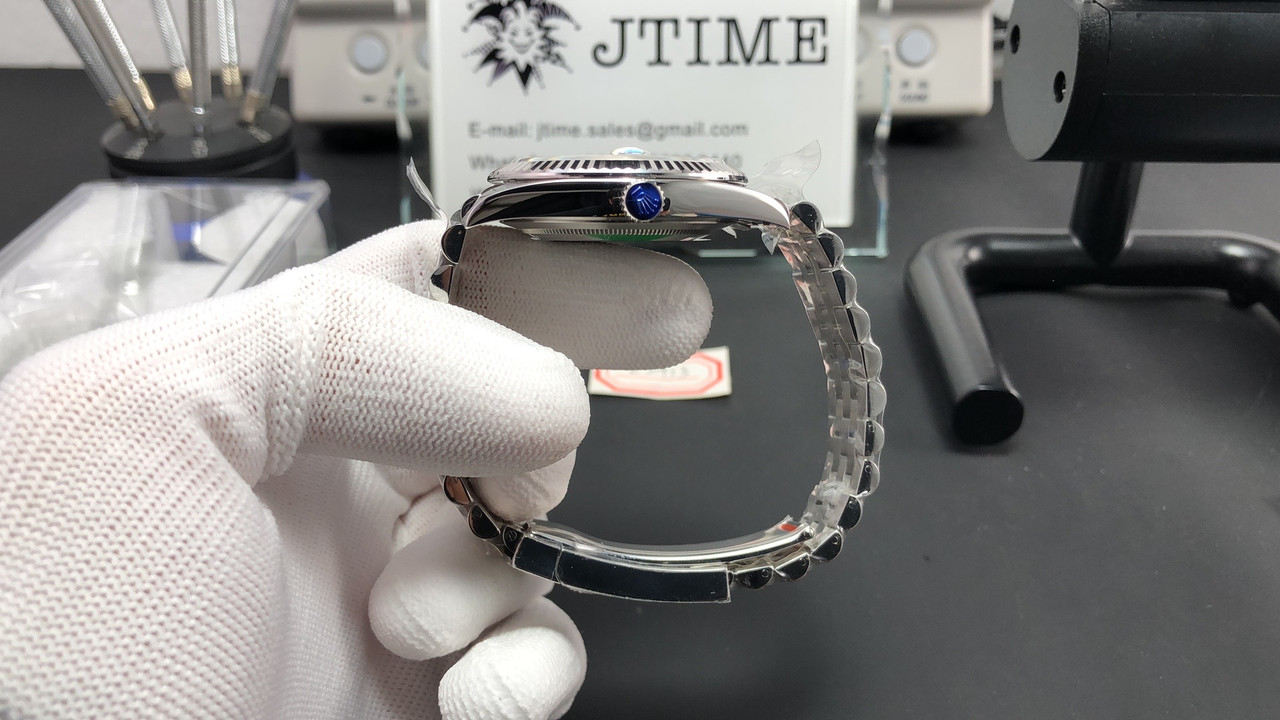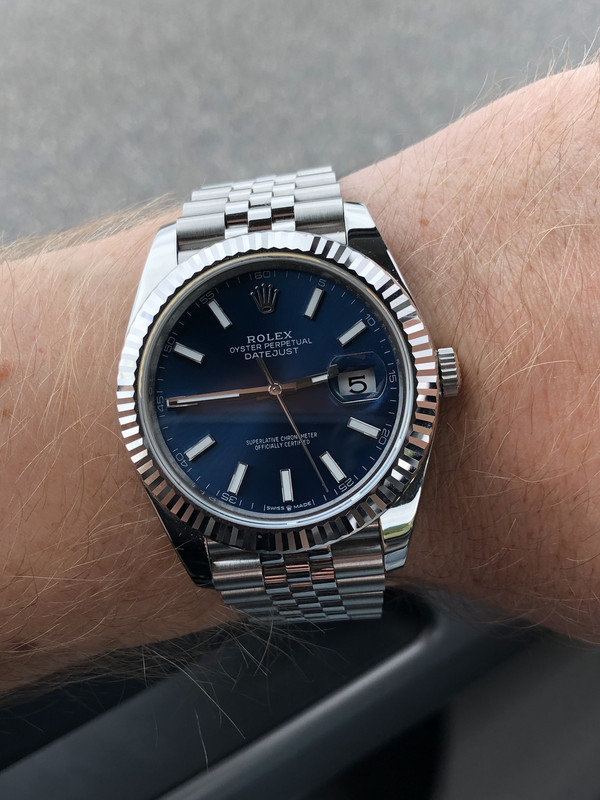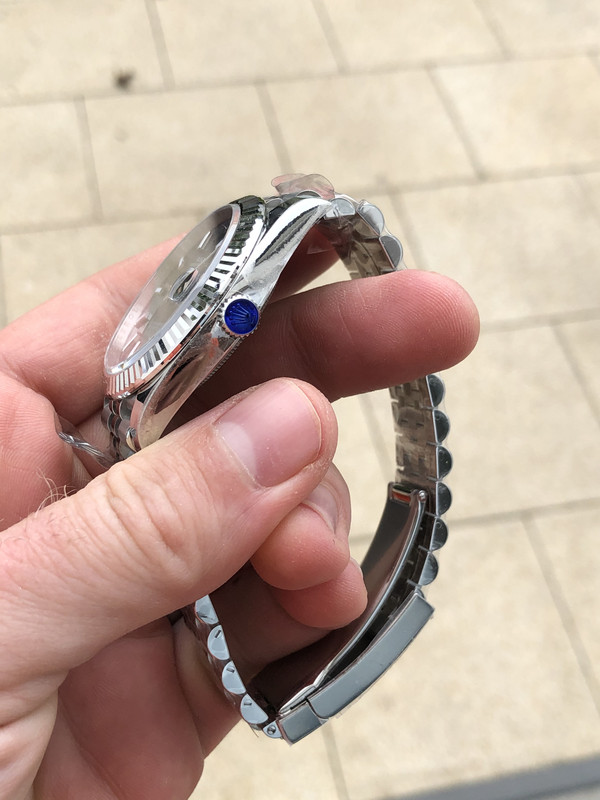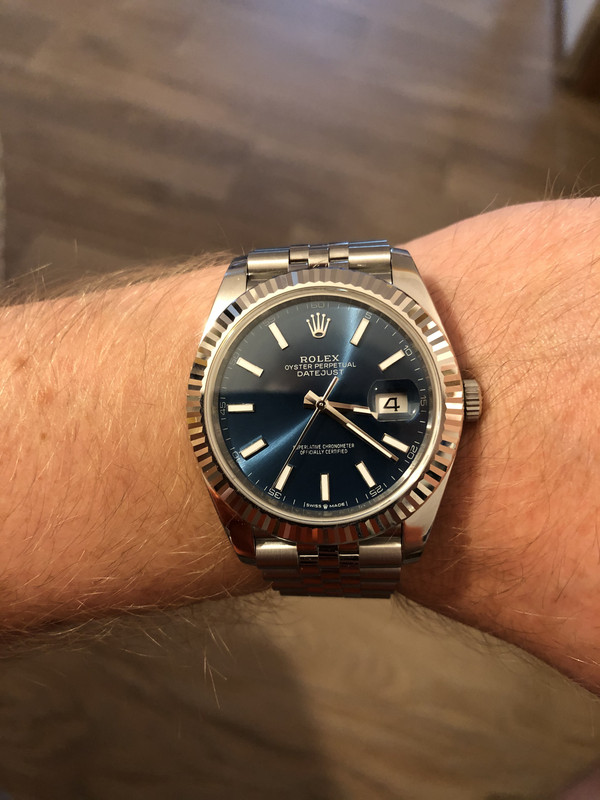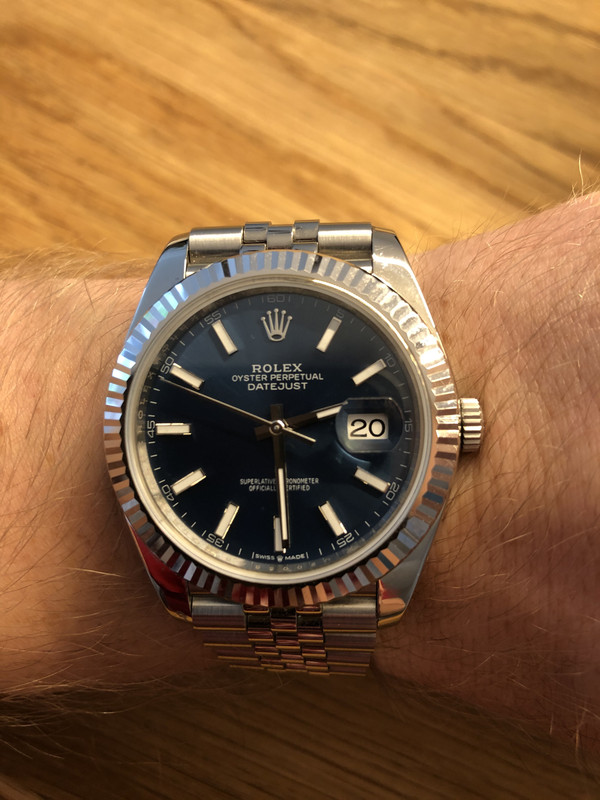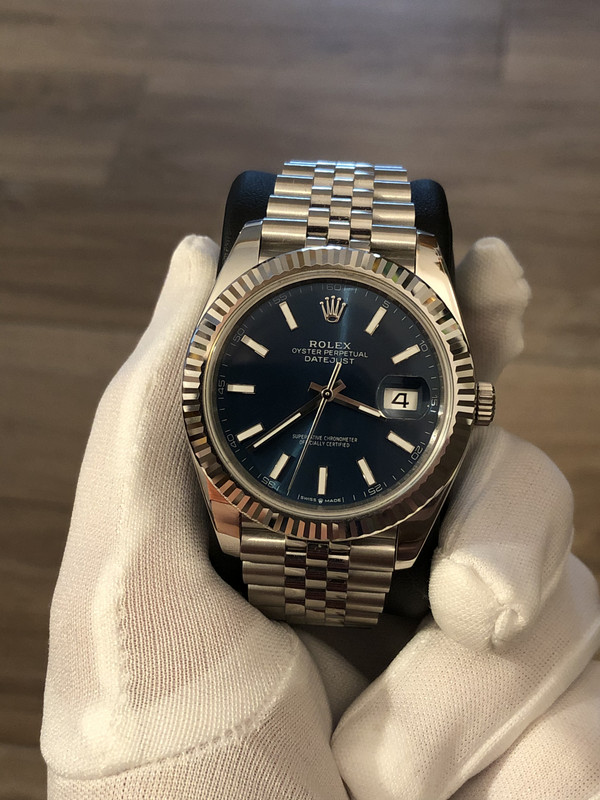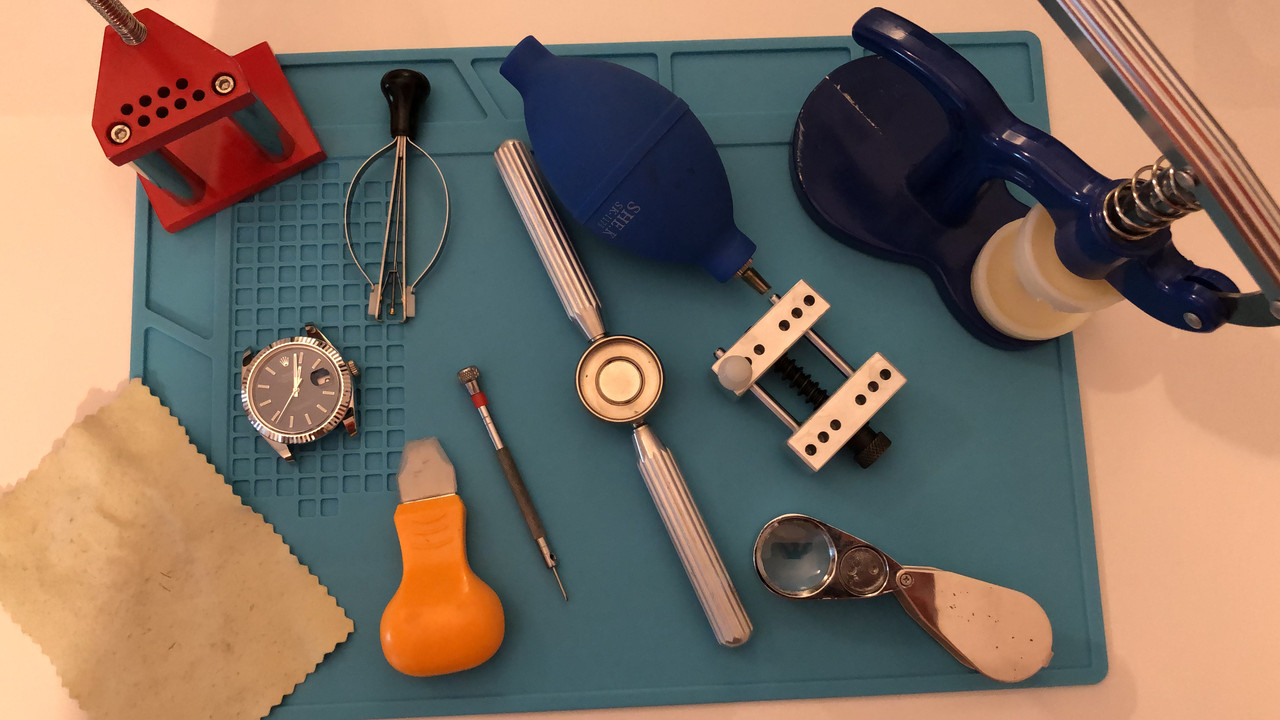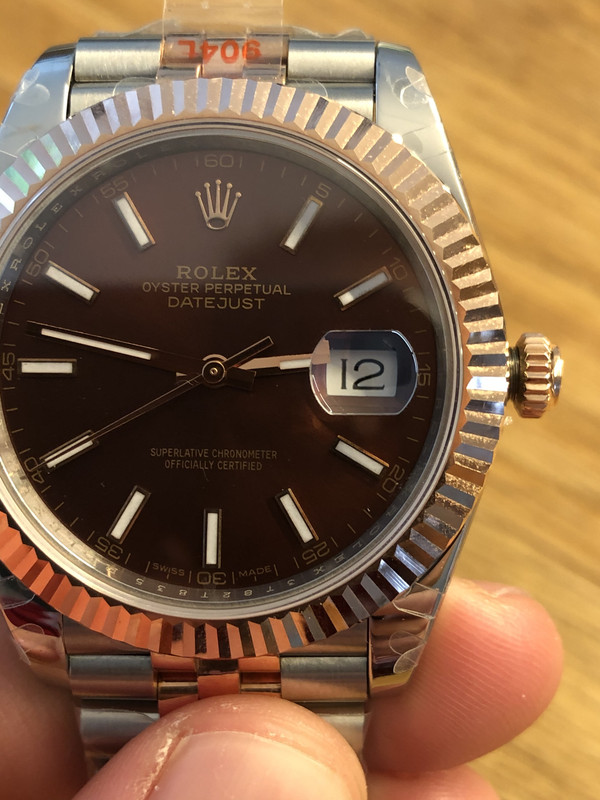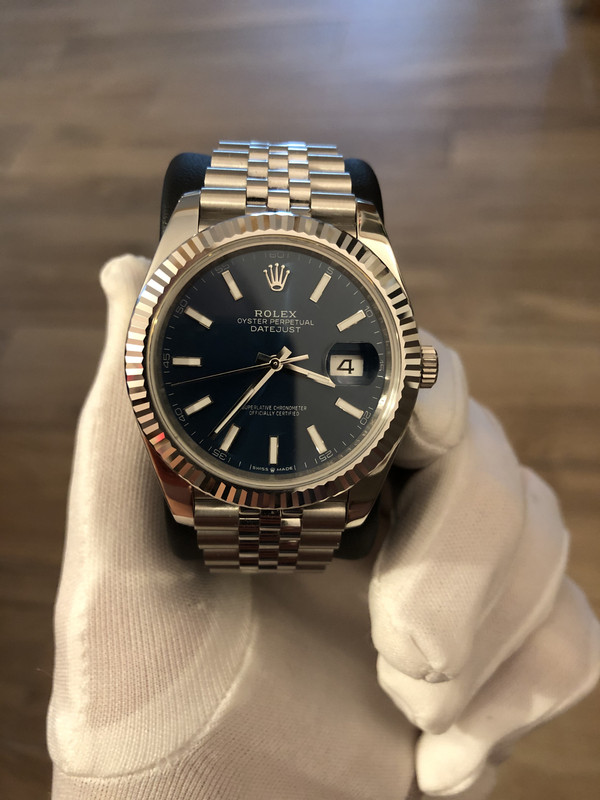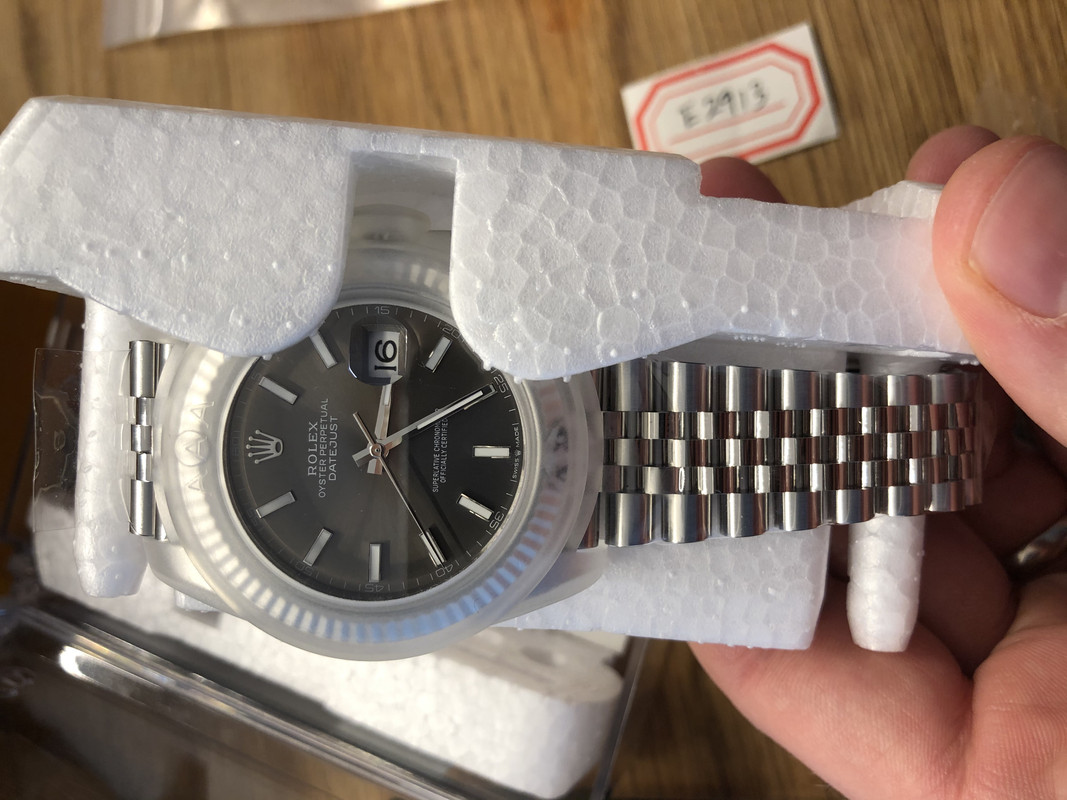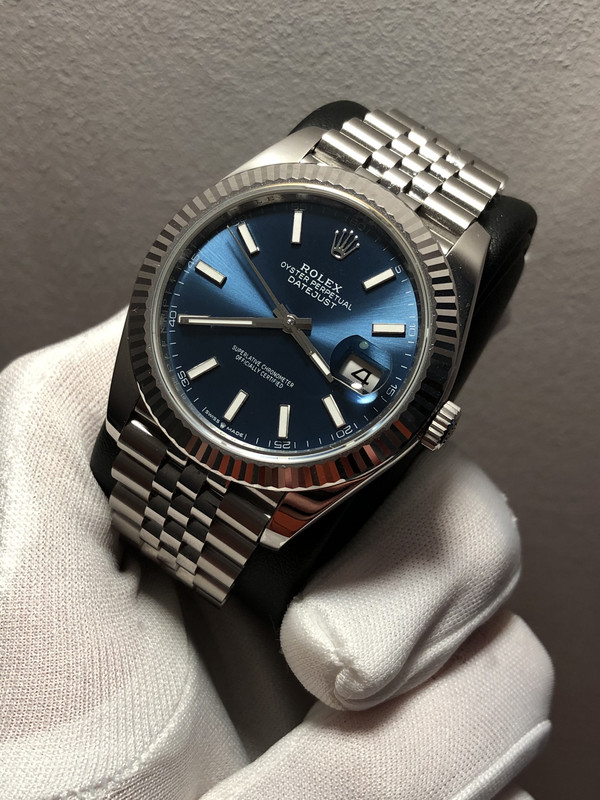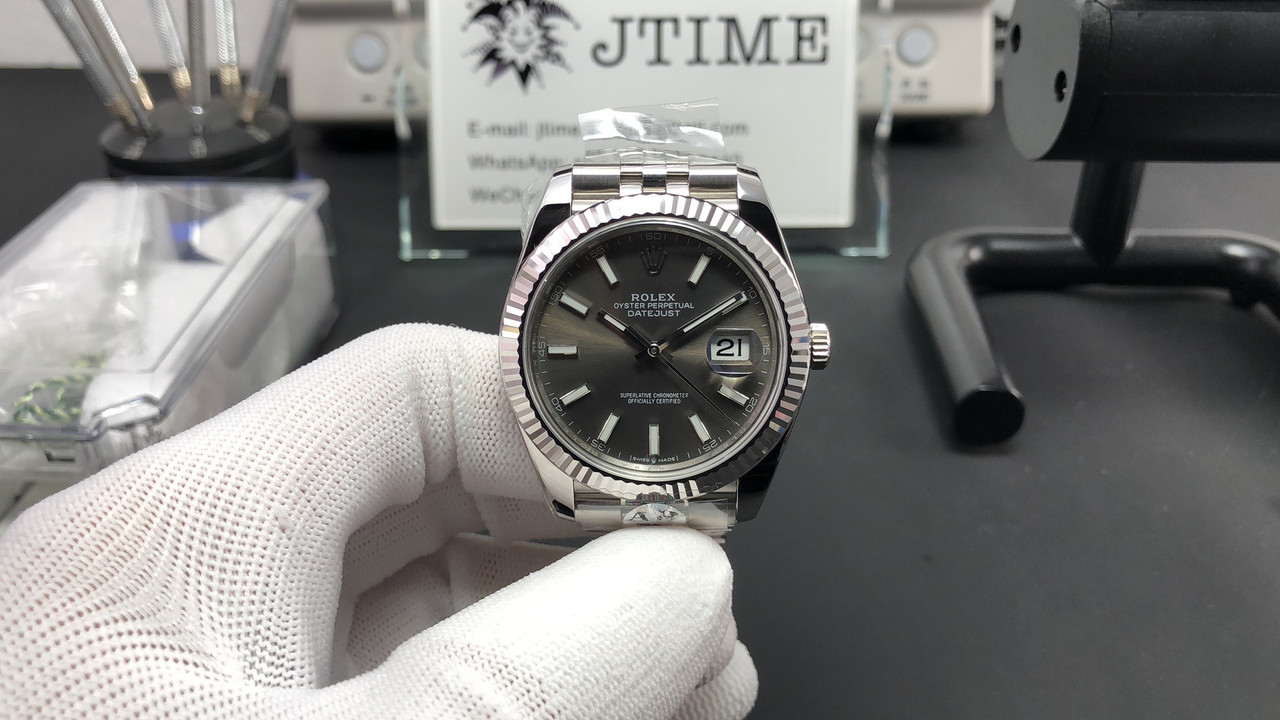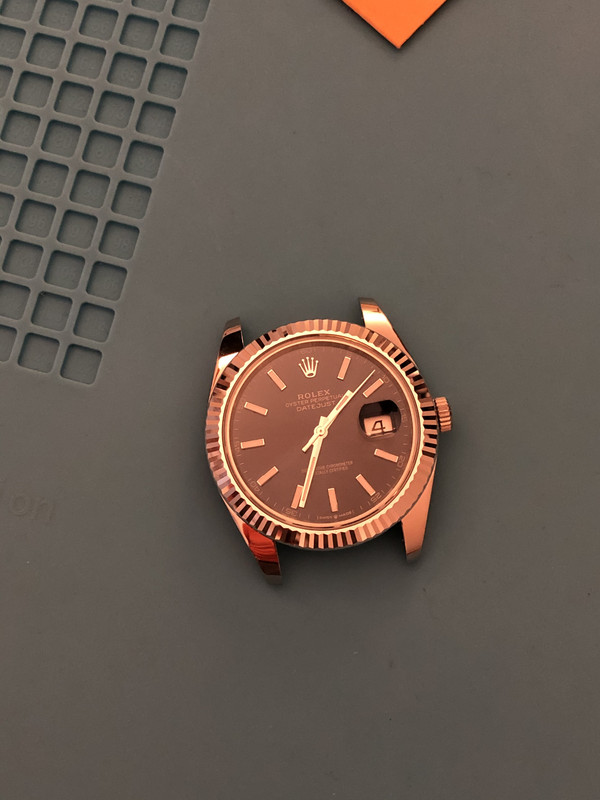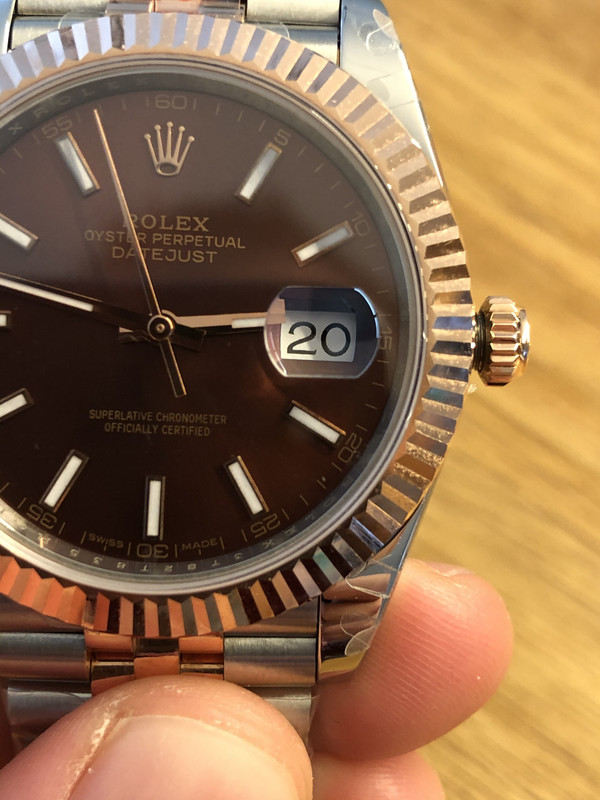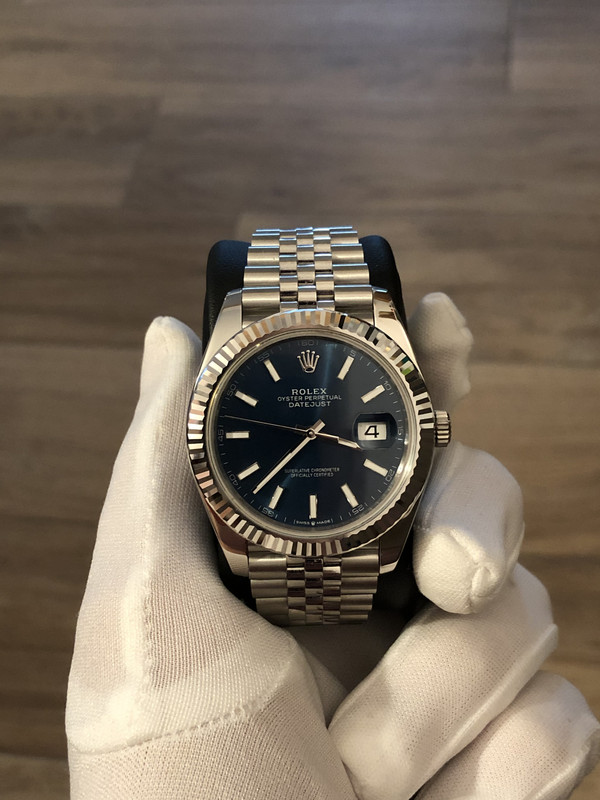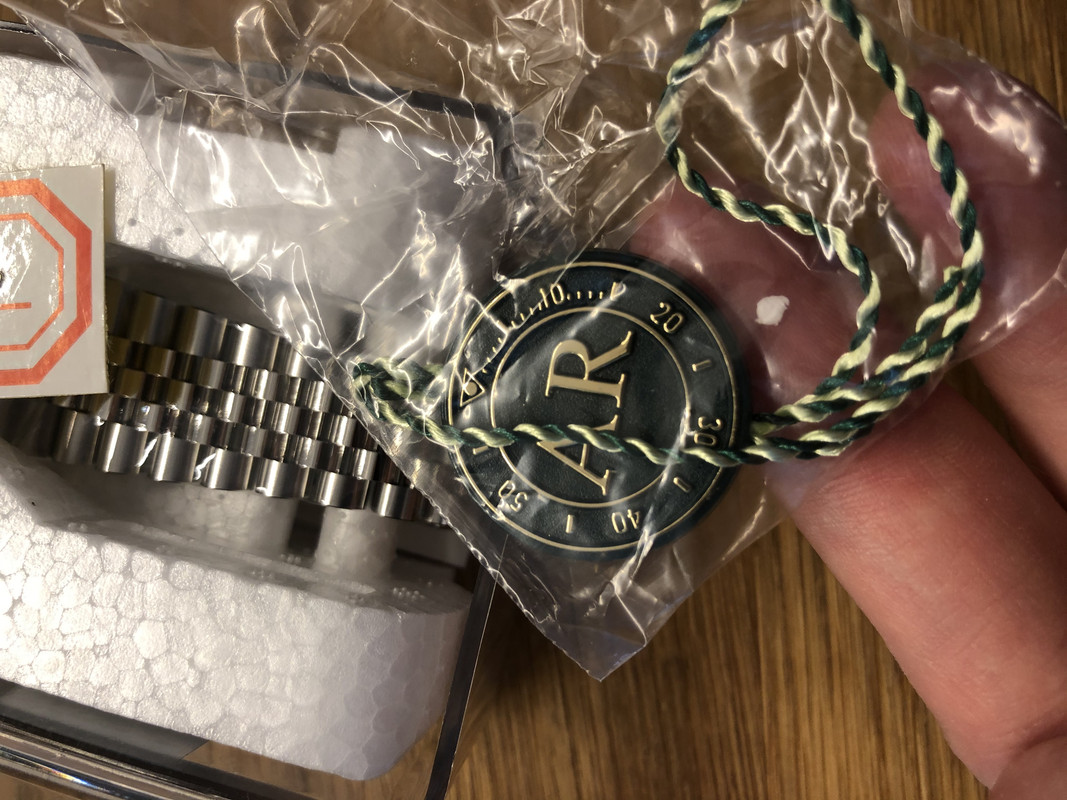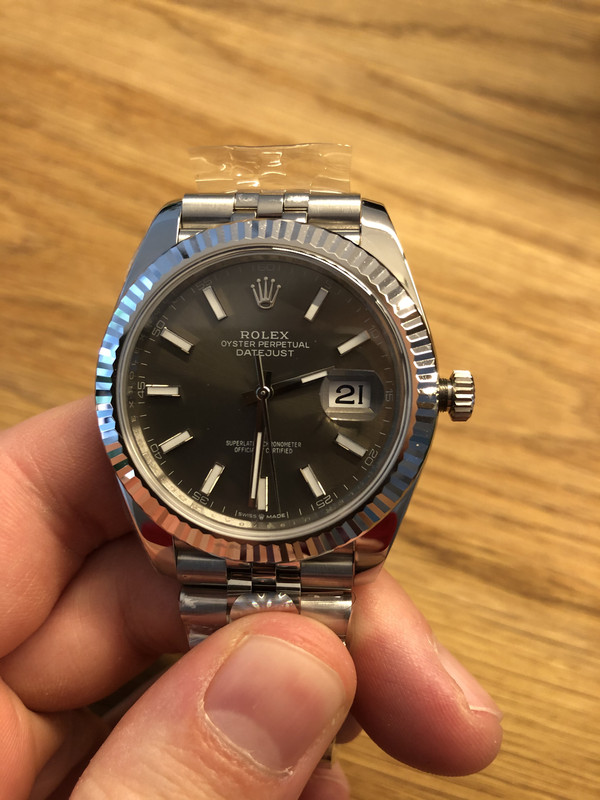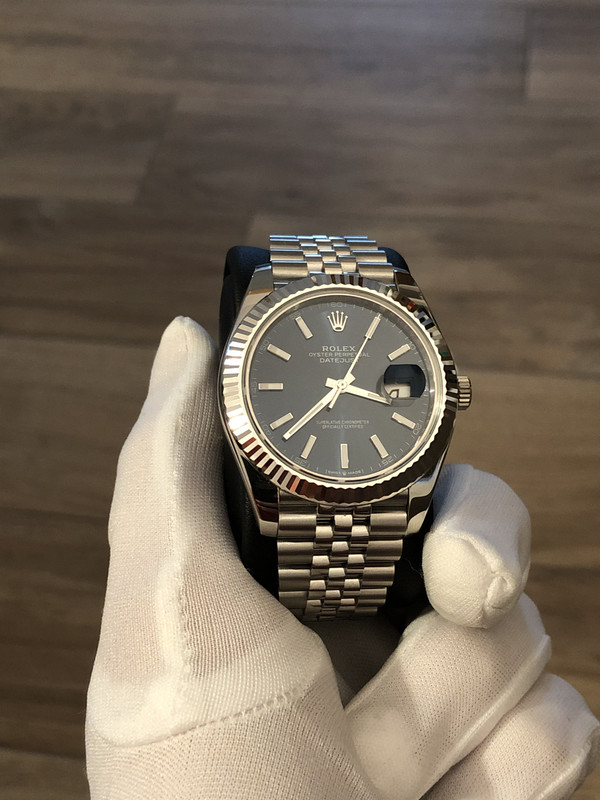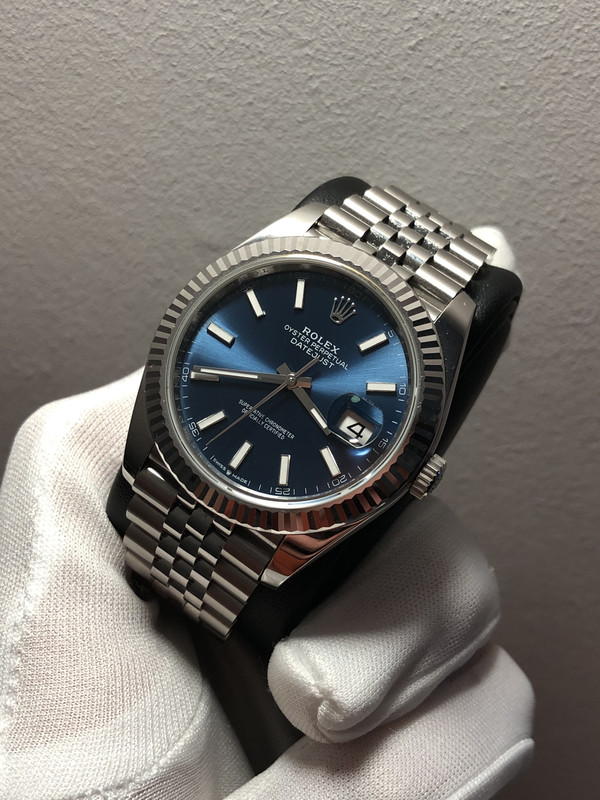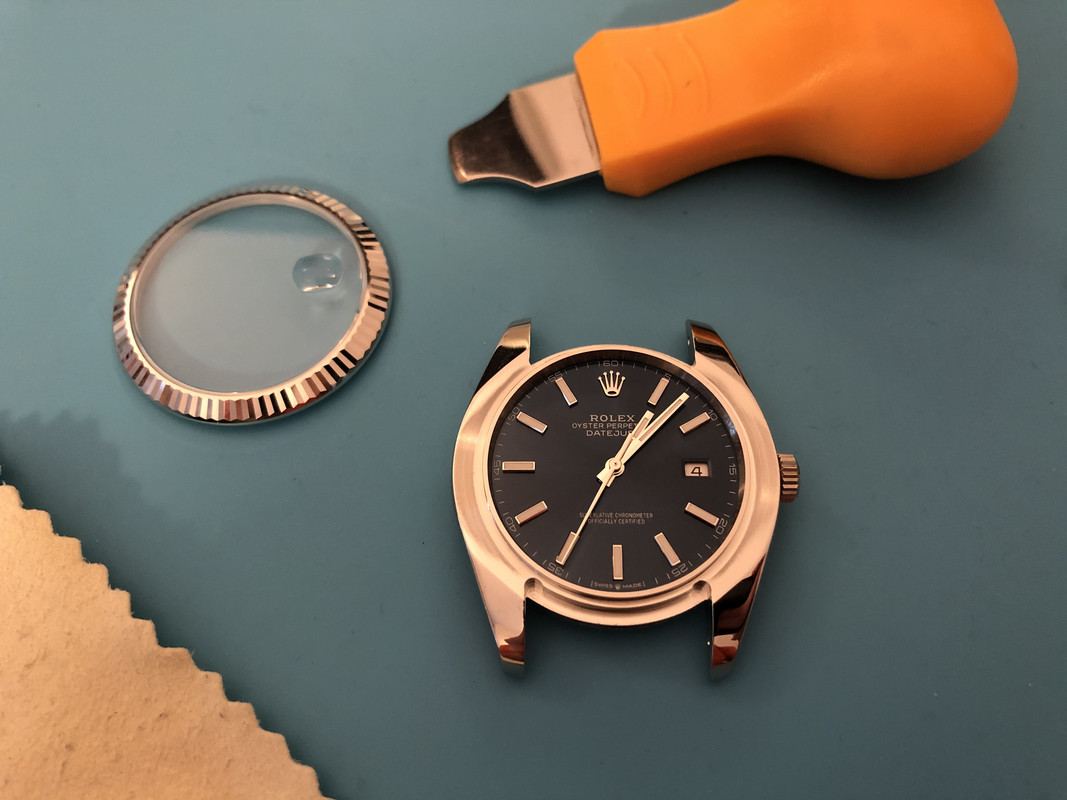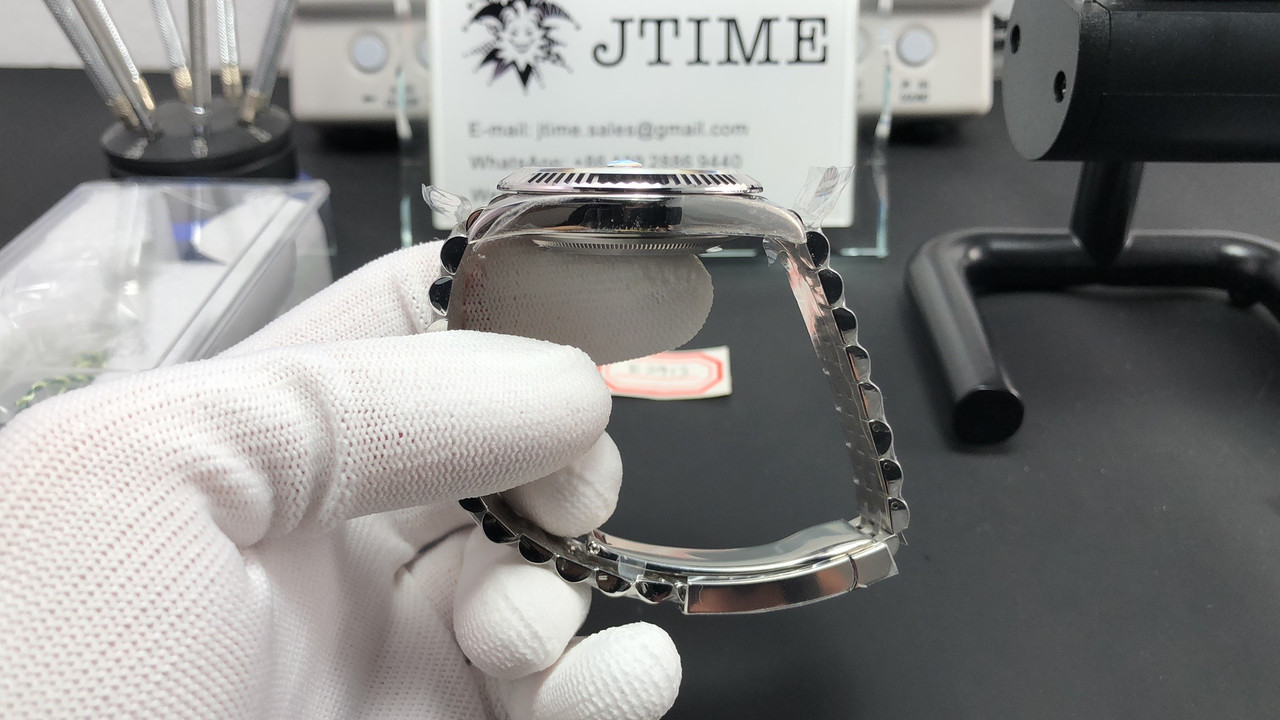 Now onto the GMF 126331 Brown dial with wrapped jubilee review
To me, this is the more interesting watch / review as it doesn't seem that there is any reviews of a two tone Datejust Roségold model on jubilee bracelet yet.
As mentioned, I purchased this GMF version based on Li's recommendation because he said it's better quality for the price instead of the equivalent Noob version.
My intention was to build a Franken with and replace the following parts
- gen Brown dial
- gen date disc
- gen Roségold hand set
- gen Roségold fluted bezel
- gen Roségold crown
- Prof / Clark or Gen crystal
Thus, again I didn't care about the little details which might not be correct as the major parts will be replaced anyway.
I was not able to find this GMF version on any of the TDs website. Even JTime hasn't listed it (but he recommends it
).
Only TS-station had listed this one.
First thing I noticed from the website as well as from QCs later:
The Roségold crown has a completely wrong shape. No clue what the Chinese makers had drunk before creating this crown. No bid deal for me as I will replace the crown by a gen one. But could be a huge disadvantage for someone else, because such a crown costs 350-400€ and can't be sourced easily like the regular steel ones.
The correct part number for Roségold DJ41 crown is 24-605-5.
However, it's useless searching for it as there is ZERO for sale. Only thing you can do is using the previous Datejust crown 24-604-5. This will fit as well (at least on the ARF, no clue if it will fit on the GMF tube).
Case
IMO the GMF case has better lug shape and slightly thinner, more gen like lugs than the ARF.
Nonetheless while the gen has a thickness of 11,8mm, the ARF case is closer to gen with its 11,9mm vs. 12.4mm of the GMF. Of course, this can be caused by different gasket heights as well. It seems that the GMF has a slightly higher magnification which would then also lead to a higher gasket and result in a higher case size overall.
The rehaut seems better on the ARF.
Also stem heights is more gen like on the ARF. If you don't have both watches aside, I would say that most of us won't notice the stem heigh anyway.
The case back opens/closes very strong on the GMF and goes much smoother on the ARF. But again, nothing you will notice while wearing...
Weight
I ordered the GMF with wrapped rosegold jubilee bracelet.
After removing the rosegold bezel I directly felt a difference between my gen bezel and GMF. The gen bezel feels much heavier with its 10 grams of Roségold against the light GMF one, which might have a thin layer of Roségold only. I did compare the total weight of the TT GMF versus my SS ARF and the total watch differs in around 1.5 grams if all links are included at both (125,7 vs 124,2). Wow, not really much if you ask me. Doesn't seem like a heavily plated bracelet... anyway, the bracelet itself feels nice and ok.
Movement
The watch was offered on TS station with 3 different movement options. Li offered me the "highest" only. Thus, I assumed that the watch will feature the "best" option which is described as a "Swiss 2836" on TS website.
After receiving and checking the movement it seems to be an 2824 and not 2836. Fine for me but I don't know where the mistake has happened. Either it's regularly a 2824 and TS has a wrong description on their site or I received a 2824 instead of 2836. I don't know. Anyway, it's a Swiss ETA and that's good.
Rotor noise is quiet good for an ETA. Still there, based on its ball bearing construction, but no big deal and much better than the ARF rotor noise.
Color
Where shall I start... The color of the brown dial is a joke. It looks like a cheap chewing gum watch. With and without the gen aside. Especially if you put it into direct sunlight to see the sunburst. Then it looks like a hubba bubba watch.
The gen brown dial is much more classy and way darker. Seems like a similar problem like for the rhodium silver dial.
And then the rosegold...
The color tone of the bracelet and bezel is a bit too "pinkish". Depending on different lights, this is sometimes more and sometimes less visible.
That's fine once you keep it apart from gen parts. But my original plan was mixing the gen bezel with the GMF bracelet and this won't work. The gen rosegold is much more decent and not that intensive. You can see this once you put both next to each other.
The quality of bezel and bracelet seems good. Only the front part of clasp is not polished very well and shows some uneven reflections. But the rest feels and looks nice. Don't get me wrong, keeping the Roségold parts apart from gen parts won't spot any big flaws. But mixing them together is a bit obvious. That's why I decided to use the grey ss ARF case for a base to Franken as I will keep these parts together.
And if you replace the dial by a gen one, the watch looks really nice I guess.
Sapphire
The crystal seems ok, anyway the ARF crystal and black whole effect is definitely better. Nothing beats gen, but ARF is closer. Thus I replaced the crystal by an ARF one.
Date font
This round goes to GMF. The GMF date font is pretty nice and better than the ARF ones. Not every number is perfect, but 90% are as they should be. Thin, centered and nice.
So all in all I would recommend the following upgrades on this watch:
-gen dial
-ARF / Prof or Gen Crystal
-gen crown or reshape
Afterwards you will have a nice and elegant model to wear with a suit.
But don't mix it with other gen parts than above mentioned (just hands - if needed).
Finally, I would love to see the Noob and how they managed this model.
I am not that sure whether the GMF is the better option, but hard to say without seeing both life. Anyway, I'm thinking about buying the noob as well and pray that they have a Roségold color which can be also combined with gen. Why? Because I still need to find a solution for a bracelet on my Franken. Probably I will install a gen rubber b instead... let's see.
Thanks for reading