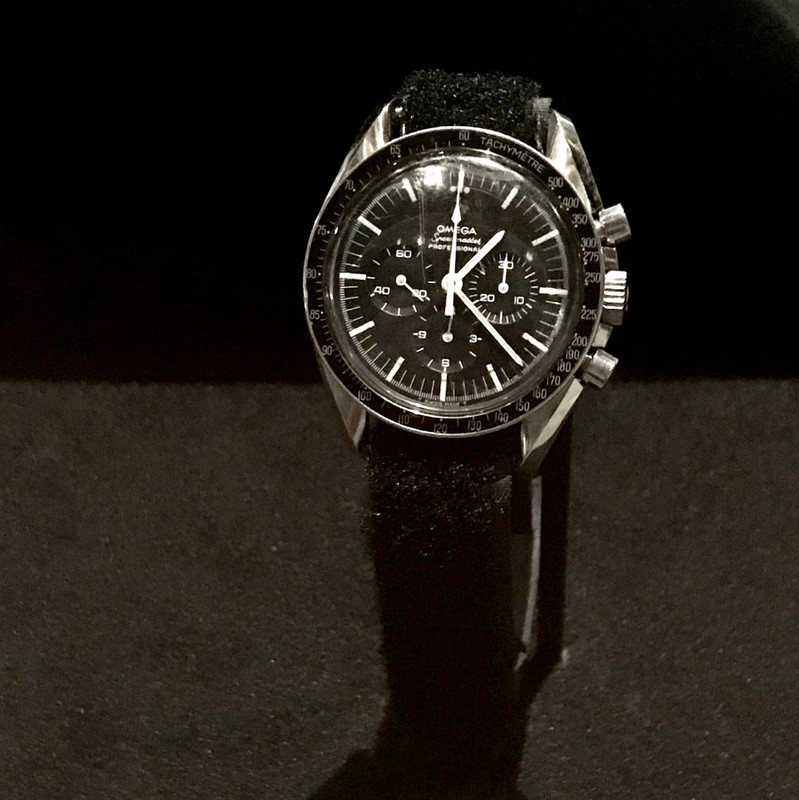 Dropped by our local museum the other day to take in the Apollo 11 command module, Columbia, with the fam. Very interesting exhibit - and of course of particular note was Michael Collins' space watch, a Speedmaster Professional reference 105.012.
We've all heard the tales of rigorous testing (11 to be exact) to three watch brands (Rolex, Longines, and Omega) back in 1964 by NASA program manager James Ragan. Treated like every other piece of equipment, these tools had to successfully endure the potential hazards of space flight. Rather than waste any time in testing, he chose evaluate the "worst" test first, the thermal vacuum test. Basically, it is a chamber that pulls a vacuum like that of space coupled with heaters & cold rings around the circumference, and a solar simulator. The Rolex was horribly deformed, the bi-metal hands the culprit, and the Longines was decimated. However, the Omega successfully functioned after the first test. It went on to pass every other test with flying colors.
The rigors of being a piece of space equipment didn't stop here. The watches were continuously checked and serviced immediately before every space flight. This wasn't any old routine service by any old watchmaker. Only one watchmaker in the world was selected to be certified for NASA service after extensive vetting by James Ragan.
Seeing this in the context of the other equipment utilized in the space mission only heightened my appreciation for this piece of history.
Welp, I know what watch has now made it to the top of the gen list...